Distance (One Way)
4.2 miles
Trail Description
Abrams Falls Trail is an easy to moderate hike near Townsend, TN and is a 4.2 mile trip one way with an average elevation gain of 260 feet per mile. The trailhead is located off of the 11-mile loop in Cades Cove. One of the most popular Smoky Mountains hiking trails in the park, the hike follows Abrams Creek and passes by Abrams Falls.
It takes about 3-4 hours to hike to the waterfall and back. The trail to the falls traverses pine-oak forest on the ridges and hemlock and rhododendron forest along the creek.
Due to the length and terrain of Abrams Falls Trail, some visitors may rate the hike as more difficult than moderate. Definitely do not attempt the hike in sandals or flip flops; there are many rocky areas and at least 3 narrow log bridges to cross. It is also worth noting that if you begin your hike late in the afternoon, you may have to return in the dark.
[+ Read More]
Abrams Falls Trail Elevation Profile

Tom Dunigan's Elevation Profiles
Elevation Grade
Fairly Flat
Paul Petzoldt Scale
Moderate
Hiker Tips & Trivia
Make the trip early and be aware that both the trail and the waterfall area can get very crowded due to the hike's popularity.
The waterfall's pool has a strong current and undertow that is not suitable for swimming. It has been rated as one of the most dangerous hikes in America for this reason.
Photo Gallery (7)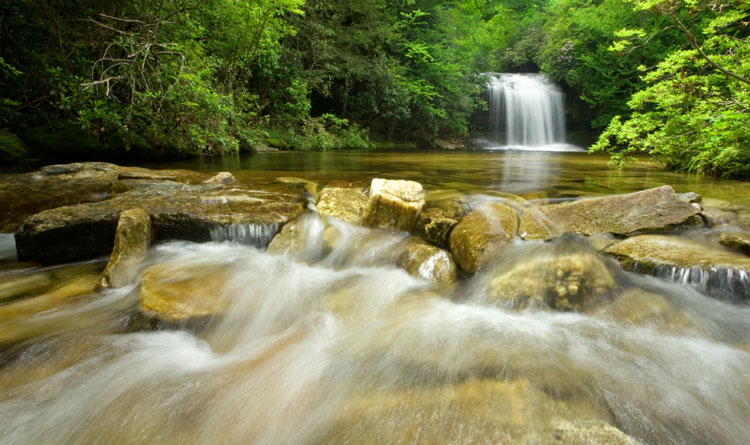 Trail Map
Complete List Of Hikes & Trails (69)
The above list of hiking trails in the Smokies is incomplete and constantly being updated. If you have information or photos you would like to contribute, please contact caroline@pigeonforge.com.
Featured Posts