Trail Description
Andrews Bald Trail is actually the first 1.8 miles of Forney Ridge Trail from the Clingmans Dome parking lot. You'll find the trailhead to the left of the base of the half mile paved trail to the Clingmans Dome observation tower. This hike in the Smokies is on the easier side of moderate; the only part that can be fairly challenging is the latter uphill climb of the last mile back to Clingmans Dome.
Andrews Bald is the highest bald in the Great Smoky Mountains National Park (5,860 feet) and offers some of the most magnificent views you'll find on either side of the Appalachian Trail. To reach the bald you'll take Forney Ridge Trail from the parking lot of Clingmans Dome for approximately 1.8 miles. The entirety of Forney Ridge Trail is actually 5.4 miles.
Andrews Bald Trail can be quite rocky, but this part of Forney Ridge was significantly improved by the Trails Forever reconstruction project from 2008-2011.
Andrews Bald Trail isn't very difficult on the first trek. Most of it is downhill from Clingmans Dome, and the trail improvements make it much easier to navigate the rocks, roots, and erosion. It's a great hike for any time of the year but most popular during the spring. Aside from incredible views of far away mountain ridges, other sights you'll enjoy atop Andrews Bald include flame azaleas, rhododendrons, and Fontana Lake.
[+ Read More]
Elevation Grade
Gentle Slope
Hiker Tips & Trivia
The first mile of the hike can be more strenuous, but becomes more moderate the farther you go.
Photo Gallery
(14)
Trail Map
Read More
Andrews Bald: An Easy Hike From Clingmans Dome
Andrews Bald is double peak mountain just south of Clingmans Dome. The bald is the highest of its kind in the national park; the grassy viewpoint sits an elevation of 5,950 feet - over a mile above sea level. It's a popular hiking destinat...
Read This Post
Smoky Mountain Hikes Under 5 Miles
Smoky Mountain hikes come in all shapes and sizes. With more than 800 miles of trail in the Great Smoky Mountains National Park, hikers can come up with endless combinations of possibilities for day hikes, backpacking trips, or just a simpl...
Read This Post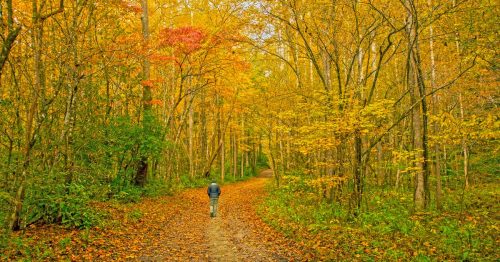 Top Fall Hikes in the Great Smoky Mountains
The Smoky Mountains in Tennessee are one of the most vital and thriving sources of beauty in the world today. With a wide variety of attractions, luxurious hotels, and picturesque mountains teeming with life and explosive color, there are t...
Read This Post
Featured Posts