Trail Description
The Appalachian Trail Smoky Mountains segment follows the border between Tennessee and North Carolina for 71.7 miles. This hike as a whole takes an average of about one week to complete. While the entirety of the trail stretches for 2,143 miles from Maine to Georgia, the Great Smoky Mountains section includes the highest point of the entire AT (Clingmans Dome at an elevation of 6,643 feet) as well as the longest continuous stretch above 5,000 feet in elevation (34 miles between Silers Bald and Cosby Knob.)
Notable locations along the Appalachian Trail Smoky Mountains include the fire tower at Mount Cammerer, Clingmans Dome, Newfound Gap, Charlies Bunion, Rocky Top, and Fontana Dam.
You will find white paint marks two inches wide and six inches high frequently all the way along this route, as well as blue paint marks that identify side trails and paths to shelters. "The A.T. is the only trail in the park marked by white blazes; look for white rectangles painted on trees or rocks." - Beth Giddens, Hiking Trails of the Smokies (5th edition)
Some hikers will start in the middle of the national park and head out on the AT in either direction. For example, Newfound Gap and Clingmans Dome are common places to begin due to their central location. These hikes usually take about 3 or 4 days.
The first section of the Appalachian Trail was completed in 1923, eleven years before the Great Smoky Mountains National Park was established. A driving force in establishing the AT in in Tennessee and North Carolina during the 1920s was Paul Fink. Paul Fink was an early 20th century backpacker, author, and historian. A year after Benton MacKaye proposed the entirety of the trail, Fink began corresponding with the AT leaders in New England. Early environmentalist Harvey Broome, along with seven others, sighted most of the route through the Great Smoky Mountains as he hiked all 71.4 miles of it in 1932 before the trail was completed. Five years later, the Civilian Conservation Corps connected the final ridge in Maine, and the Appalachian Trail was completed. It now passes through 14 states and 6 national parks.
[+ Read More]
Appalachian Trail Smoky Mountains Segment Elevation Profile
Photo Gallery
(4)
Trail Map
Read More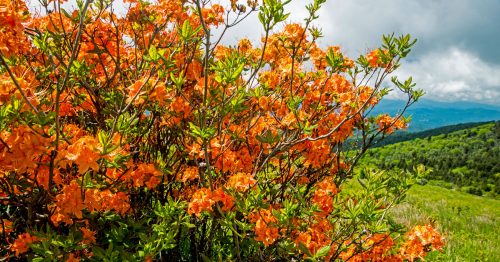 Wildflower Trails in the Great Smoky Mountains
Wildflower trails in the Smokies are not in short supply. From flame azaleas to rhododendrons, the Great Smoky Mountains are filled with so many glorious types of wildflowers. Check out these top wildflower trails this upcoming spring or su...
Read This Post
Hiking To Spence Field & Rocky Top or the Spence/Russell Field Loop
Spence Field is a grassy bald-like area marking the western end of Thunderhead Mountain in the Cades Cove area of the Great Smoky Mountains National Park. There are a few ways to reach it and make a full day hike out of it. The shortest rou...
Read This Post
Featured Posts