Trail Description
Baxter Creek Trail begins at the Big Creek Campground and ascends steeply through the forest. It is one of the toughest ways to reach Mount Sterling, and some say the out and back round trip hike is one of the most difficult day hikes in the Great Smoky Mountains. It is one of the steepest trails in the Great Smoky Mountains.
The steep and rough terrain of this side of the mountain is one of the reasons there is still old growth forest present. Many logging companies attempted to work the land in the century before it became part of a national park, but failed for a multitude of reasons. The little brown book Hiking Trails of the Smokies states: Be careful. This mountain seems to have a way of fighting back.
Baxter Creek Trail winds uphill through a shaded hardwood forest featuring many impressive boulder fields peppered with clubmosses and ferns. Much of the first few miles consists of long, steep rhododendron tunnels. Around mile 4 the trail approaches 4500 feet, and the surroundings get a lot greener as the elevation reaches spruce fir territory.
The end of Baxter Creek Trail immediately reveals the 60 foot fire tower atop Mount Sterling, built in 1935 by the Civilian Conservation Corps. The tower is 6 stories tall and offers 360 degree views at the very top. The stairs are very steep and surroundings very open; this climb is not for those afraid of heights. But it is worth it on a clear day with little wind.
[+ Read More]
Baxter Creek Trail (Mt. Sterling) Elevation Profile
Elevation Grade
Very Steep
Paul Petzoldt Scale
Strenuous
Shenandoah Scale
Very Strenuous
Photo Gallery
(17)
Read More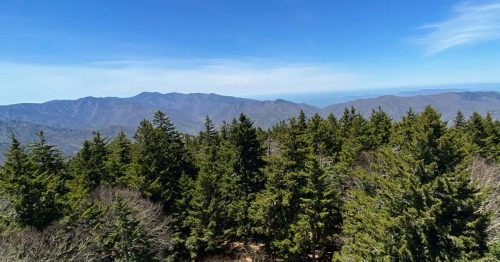 Mount Sterling: History & Hiking to the Fire Tower
Mount Sterling is located on the east side of the Great Smoky Mountains National Park and features a fire tower with the highest elevation of any fire tower in the eastern United States. The abandoned metal spire reaches 60 feet over the 5,...
Read This Post
Featured Posts