Boulevard Trail (Mt. LeConte)Moderate
Distance (One Way)
5.4 miles
Trailhead
Newfound Gap, A.T.
Trail Description
The Boulevard Trail is one of the more difficult of the 6 trail options for a hike to Mt. LeConte. The trail itself is 5.4 miles long from the AT to LeConte Lodge, but hikers must start at the Newfound Gap parking lot and hike the Appalachian trail for about 2.7 miles to reach it.
The Boulevard provides some of the most beautiful views of surrounding mountains of any LeConte trail. There are countless open areas on the way up for hikers to pause and look out.
Because of its difficulty, the hike is not one of the more crowded ones in the area. The first two miles of the trail are a steady climb. The trail does not dip below 5,000 feet for the entire hike. From Newfound Gap to Mount LeConte the total elevation gain is 1,547 feet. The Boulevard Trail and AT junction is just above 6,000 feet in elevation.
Along the way some of the views you can choose to stop and enjoy include High Top, Myrtle Point, Newfound Gap, Icewater Spring, and The Jumpoff.
"Many people assume that because this hike begins at such a high elevation that this must be the easiest trail to the summit of Mt. LeConte. Don't be fooled. This is a very tough hike. The trail rises and falls many times as it crosses the ridgeline between Mt. LeConte and the main crest of the Smokies." - Hiking In The Smokies
[+ Read More]
Other Mt. LeConte Trails: Alum Cave Trail (Mt. LeConte) (5 m) Brushy Mountain Trail (Mt. LeConte) (4.9 m) Bullhead Trail (Mt. LeConte) (5.9 m) Rainbow Falls Trail (Mt. LeConte) (6.5 m) Trillium Gap Trail (Grotto Falls, Mt. LeConte) (8.9 m)
Elevation Grade
Fairly Flat
Paul Petzoldt Scale
Moderate
Hiker Tips & Trivia
Hikers recommend taking a break about ⅔ of a mile in to enjoy the views of the North Carolina side of the Smoky Mountains
"The Boulevard, which never falls below 5,700 feet, is one of the crookedest and most precipitous ridges in the mountains." - Paul J. Adams, 1966
Photo Gallery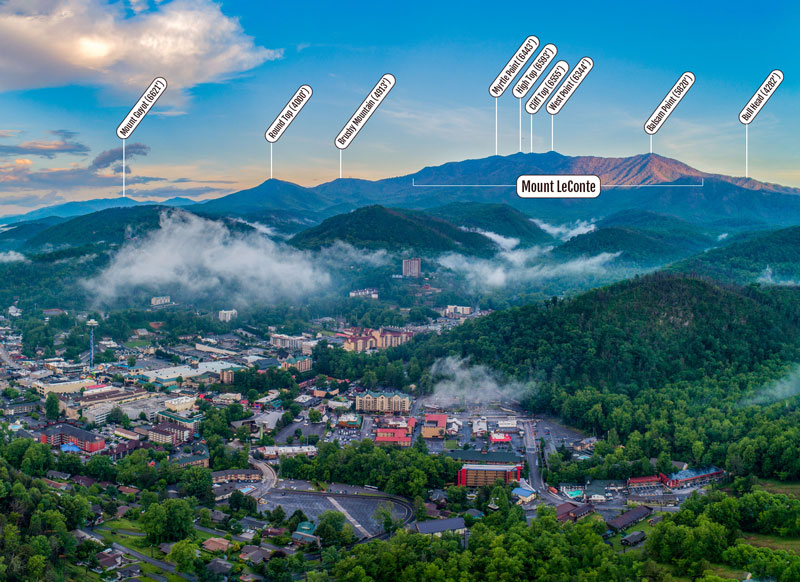 Trail Map
Complete List Of Hikes & Trails (63)
The above list of hiking trails in the Smokies is incomplete and constantly being updated. If you have information or photos you would like to contribute, please contact caroline@pigeonforge.com.