Trail Description
Charlies Bunion, part of the western wing of the Sawteeth, is a bare rock face at 5,565' with beautiful panoramic views of the surrounding area. Following the Appalachian Trail from Newfound Gap, you can reach the vantage point with about an 8 mile roundtrip hike. Head northeast on the AT toward Icewater Spring.
This hike travels to rock crags along the state-line ridge, the main crest of the Smoky Mountains. By taking the AT trailhead in the corner of the Newfound Gap parking area, this segment will lead you to the rock outcropping, Charlie's Bunion. Along the way you'll pass the crossings for Sweat Heifer Creek Trail and The Boulevard Trail, which leads up to Mount LeConte.
The first mile of this part of the trail gradually ascends about 300 feet over rocky terrain and typical Appalachian Trail steps. Depending on the time of year, the trail tends to be covered with trees.
You'll find a backcountry shelter, one of the nicer structures along this route, for Appalachian Trail hikers at Icewater Spring. Up to 12 people can sleep at the shelter with a permit and reservation from the National Park Service.
[+ Read More]
Charlies Bunion via Appalachian Trail Elevation Profile
Elevation Grade
Gentle Slope
Paul Petzoldt Scale
Moderate
Shenandoah Scale
Moderately Strenuous
Hiker Tips & Trivia
The trail is more crowded on weekends; for best results, try a mid-week hike.
Includes plenty of exposed cliffs, rough terrain, and uphill climbing.
Some of the most breathtaking views of the Tennessee side of the mountains.
Photo Gallery
(21)
Trail Map
Read More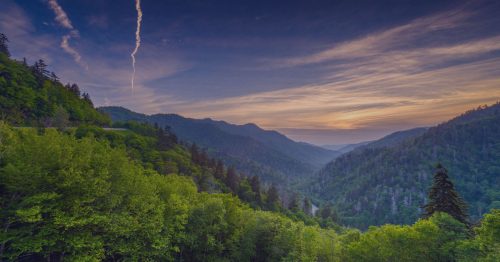 Gaps, Balds, Bunions, Knobs: Best Views In The Smoky Mountains
The best views in the Smoky Mountains are not hard to find if you're up for a little exercise. The national park is home to some of the most beautiful terrain in the country. And the best way to explore and take in all of nature's splendor ...
Read This Post
Featured Posts