Trail Description
Lower Mt. Cammerer Trail provides an alternate, longer route to reach the Mount Cammerer fire tower. The more popular and shorter trail is Low Gap. Lower Mount Cammerer trail is most often paired with a section of the Appalachian Trail and Low Gap Trail for a 16.2 mile loop hike.
While the trail might be considered quite long, it isn't nearly as difficult as the relentless incline of Low Gap Trail.
At 1.4 miles into the trail you will reach a 200 yard spur trail to Sutton Ridge overlook, providing views of Cosby Valley. The overlook is somewhat overgrown today, but with clear skies and leafless trees you can still experience quite the view.
This trail crosses over several prongs of nearby rivers about 12-15 times depending on recent precipitation. These water crossings include Tom's Creek, Riding Fork, Gilligand Fork, Rowdy Creek, Groundhog Creek and Carolina Prong.
At about 5.9 miles into the trail is a small spur trail to Phillips Cemetery. The trail is marked by a manmade log bench. The elevation of this location (3,504 ft) makes it the second highest cemetery in the entire national park. The cemetery contains somewhere between 8-10 graves with headstones and foot stones, all of which but one have no inscription.
"This certainly seemed an isolated and unlikely place to lay your loved ones to rest, balanced on a ridge spine on a mountain face nearly to the top of the state line, remote even in pioneer terms and probably inaccessible any time the higher elevations got snow. It turns out the area below here was once settled well up the mountainside, although the 1931 topo map does not indicate settlement or significant roads this far up." - GoSmokies.com
[+ Read More]
Lower Mt. Cammerer Trail Elevation Profile

Tom Dunigan's Elevation Profiles
Elevation Grade
Fairly Flat
Paul Petzoldt Scale
Strenuous
Shenandoah Scale
Moderately Strenuous
Photo Gallery
(12)
Trail Map
Read More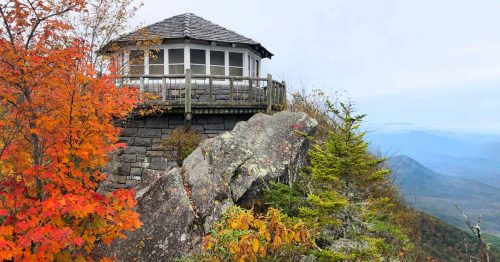 Mount Cammerer: The Hike & The History
Mount Cammerer is a popular hiking destination in the Great Smoky Mountains. At 4,928 feet, the summit's lookout tower provides panoramic views of the surrounding forests. The views are stunning especially in the autumn season. I hiked to t...
Read This Post
Featured Posts