Trail Description
Middle Prong Trail is a 4.1 mile waterfall hike that is often turned into a day loop. Along the way you'll find Indian Flat Falls and Lynn Camp Falls as well as many other smaller cascades.
To reach the trailhead, drive toward Cades Cove from the Townsend Wye and take a quick left onto Tremont Road. You'll continue on this road past Tremont onto a gravel portion for about 3.1 more miles. Just be sure to check Smokies Road Info on Twitter and the NPS Seasonal Road Closures page during the winter to make sure the road is open.
Middle Prong Trail follows an old railroad bed put in place by the Little River Lumber Company. The last logging operations in the national park were conducted here in 1939 - five years after the park was established. You will notice remnants of the railroad bed here and there, including large 6-pointed holes left from railroad spikes in large rocks. This area was also home to CCC Camp NP-3, also known as Camp W.P. Davis.
About 2 miles into the trail you'll spot a short spur trail on your right. Follow it for about 50 yards to find what's left of an old Cadillac with a couple fallen tree trunks on top of it. This is a remnant from the CCC camp; when the supervisor's car stopped running, camp members pushed it off the road and left it there.
Indian Flats Falls can be found about 3.5 miles into the trail. You'll cross a flatbed bridge over Indian Flats Prong where you'll have a great photo opportunity of the cascades.
There are a couple of ways to turn this into a nice loop hike. The longer of the two options uses the Appalachian Trail as a connector between Greenbrier Ridge and Miry Ridge Trail for a total of 20.3 miles - a doable day hike for those experienced enough and willing to wake up quite early. The shorter loop is the more obvious one: Middle Prong to Lynn Camp Prong to Miry Ridge and Panther Creek, then back down Middle Prong again for a total of 14.9 miles.
Long loop:
Middle Prong Trail: 4.1 miles
Greenbrier Ridge Trail: 4.2 miles
Appalachian Trail: 2.4 miles
Miry Ridge Trail: 2.5 miles
Lynn Camp Prong Trail: 3.7 miles
Middle Prong: 2.3 miles
Short loop:
Middle Prong Trail: 4.1 miles
Lynn Camp Prong Trail: 3.7 miles
Miry Ridge Trail: 2.5 miles
Panther Creek Trail: 2.3 miles
Middle Prong: 2.3 miles
[+ Read More]
Middle Prong Trail (Indian Flat Falls) Elevation Profile

Tom Dunigan's Elevation Profiles
Elevation Grade
Gentle Slope
Paul Petzoldt Scale
Moderate
Shenandoah Scale
Moderately Strenuous
Photo Gallery
(14)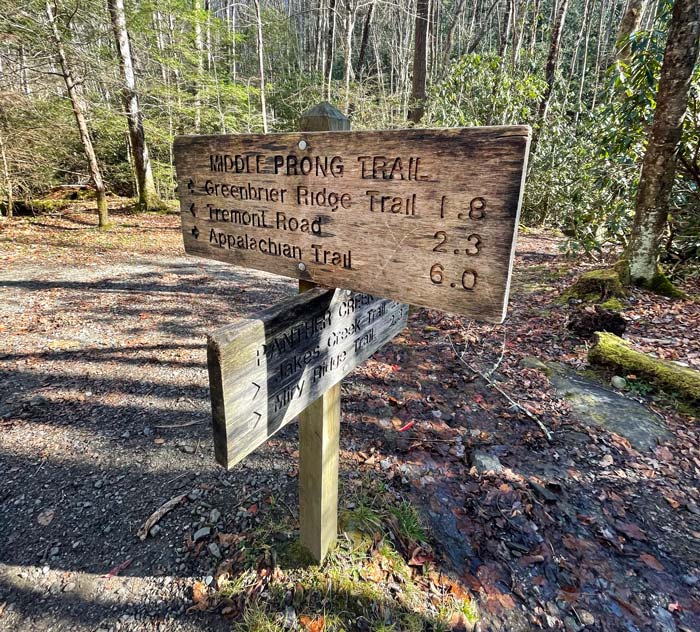 Trail Map
Read More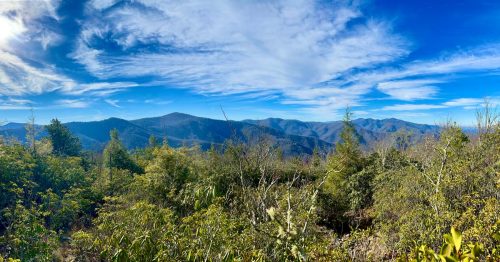 Smoky Mountain Loop: Jakes Creek, Miry Ridge, Lynn Camp Prong, Middle Prong + Panther Creek (17.7 Miles)
Smoky Mountain loop hikes are popular options for day hikers and backpackers alike. On a particularly sunny day in late November I set out on this 17.7 mile trek starting on Jakes Creek Trail near the Elkmont Campground. The other four trai...
Read This Post
Horse Trails: Top Destinations For Horseback Riding In The National Park
The Great Smoky Mountains National Park is host to more than 800 miles of hiking trails, about 550 of which permit horseback riders. You'll know you're on a horse trail when you make a quick lateral move to dodge some road apples. There are...
Read This Post
Featured Posts