Trail Description
Miry Ridge Trail is a 5 mile connector trail beginning at Jakes Gap at the end of Jakes Creek Trail and ending at a junction with the Appalachian Trail. It's most often traversed as part of a larger loop hike.
At mile 1.2 from Jakes Gap you will have the opportunity to climb up a rocky knob for some outstanding views of Mellinger Death Ridge and the surrounding mountains.
[+ Read More]
Miry Ridge Trail Elevation Profile

Tom Dunigan's Elevation Profiles
Elevation Grade
Gentle Slope
Paul Petzoldt Scale
Moderate
Shenandoah Scale
Moderately Strenuous
Photo Gallery
(7)
Trail Map
Read More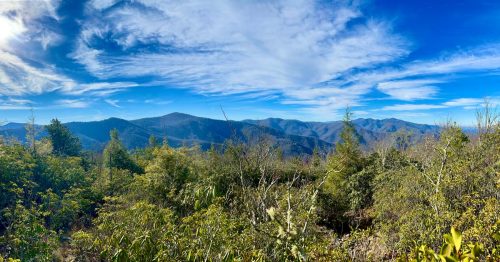 Smoky Mountain Loop: Jakes Creek, Miry Ridge, Lynn Camp Prong, Middle Prong + Panther Creek (17.7 Miles)
Smoky Mountain loop hikes are popular options for day hikers and backpackers alike. On a particularly sunny day in late November I set out on this 17.7 mile trek starting on Jakes Creek Trail near the Elkmont Campground. The other four trai...
Read More →
Featured Posts