Trail Description
Mt. Sterling Ridge Trail is a 5.3 mile horse and hiking trail on the west side of the Great Smoky Mountains National Park. It provides access to the Mount Sterling fire tower at the junction with Baxter Creek Trail.
From the junction with Mt. Sterling Trail near the fire tower, you will descend rapidly about 500 feet in elevation. The first half of the trail is mostly up and down, but the last three miles of the trail provides some of the flattest ground you can find in this high of an elevation in the national park.
[+ Read More]
Mt. Sterling Ridge Trail Elevation Profile

Tom Dunigan's Elevation Profiles
Elevation Grade
Fairly Flat
Paul Petzoldt Scale
Moderate
Photo Gallery
(6)
Trail Map
Read More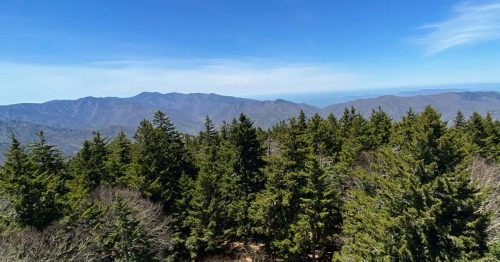 Mount Sterling: History & Hiking to the Fire Tower
Mount Sterling is located on the east side of the Great Smoky Mountains National Park and features a fire tower with the highest elevation of any fire tower in the eastern United States. The abandoned metal spire reaches 60 feet over the 5,...
Read This Post
Horse Trails: Top Destinations For Horseback Riding In The National Park
The Great Smoky Mountains National Park is host to more than 800 miles of hiking trails, about 550 of which permit horseback riders. You'll know you're on a horse trail when you make a quick lateral move to dodge some road apples. There are...
Read This Post
Featured Posts