Trail Description
Noland Creek Trail is a historical trail in the Swain County, North Carolina area of the national park. There are said to be more than 200 cemeteries around the length of the trail and countless ruins from the old settlements that populated the area before the park was established.
Noland Creek Trail passes through Solola Valley, which was a heavily populated area before the Great Smoky Mountains National Park was established. Its name comes from the Cherokee word for squirrel: salali.
There are many sites along the trail where ruins of old homesteads and ranger stations can be seen. Past campsite #64 and to the right you will find a fieldstone chimney standing amongst other debris. This is the site of an old ranger station that burned down in 1979, according to the book History Hikes of the Smokies.
Another interesting piece of history in this area is The Road To Nowhere about a half mile after the trailhead on Lakeview Drive. When Fontana Lake and the national park were established, the families that had lived there for generations were forced out of the area. The highway that led to the old communities was flooded by the lake, and the government promised to replace the road so those displaced could get back to the sites of their family cemeteries. Unfortunately an environmental issue too expensive to correct eventually stopped construction of the road. Lakeview Drive now ends with a bridge unofficially referred to as "The Road To Nowhere."
With all the history that this trail carries, some say that it is haunted. There is a legend of a settler who became lost when he was looking for his daughter. He was mysteriously killed in a community near the north shore of Lake Fontana. Hikers have reported a "glowing orb" or "guiding light" in the area, perhaps there to guide lost hikers back to safety.
[+ Read More]
Noland Creek Trail Elevation Profile

Tom Dunigan's Elevation Profiles
Elevation Grade
Gentle Slope
Paul Petzoldt Scale
Strenuous
Shenandoah Scale
Very Strenuous
Hiker Tips & Trivia
There are 3 unbridged creek crossings along Noland Creek Trail
Photo Gallery
(3)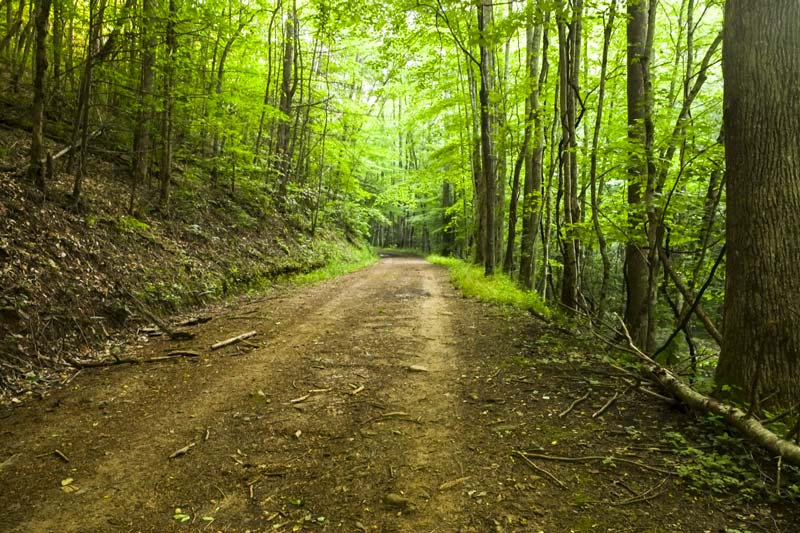 Trail Map
Featured Posts