Rainbow Falls Trail (Mt. LeConte)Difficult
Distance (One Way)
6.5 miles
Elevation Gain
3,993 feet
Trailhead
Cherokee Orchard
Trail Description
Rainbow Falls Trail is one of the 6 trails leading to Mount LeConte; it's also one of the most popular. The waterfall is located about 2.7 miles from the trailhead. The falls hike is very popular by itself, but for the more adventurous, passing the beautiful falls and continuing on to the summit of Mt. LeConte is also a possibility.
The hike to Rainbow Falls is rated moderate to hard. The trailhead begins 2.4 miles up Cherokee Orchard Road. This is accessible from Historic Nature Trail/Airport Road (light #8) in Gatlinburg. Rainbow Falls is at 4,000 feet in elevation and if your timing is right, mist from Roaring Fork Creek's spill over the 80 foot ledge creates a rainbow in the early afternoon.
The entirety of Rainbow Falls Trail extends 6.5 miles all the way to Mount LeConte. At 5.9 miles it intersects with Bull Head Trail, then Alum Cave Trail at 6.4 miles, and Trillium Gap at its very end.
[+ Read More]
Rainbow Falls Trail (Mt. LeConte) Elevation Profile
Other Mt. LeConte Trails: Alum Cave Trail (Mt. LeConte) (5 m) Boulevard Trail (Mt. LeConte) (5.4 m) Brushy Mountain Trail (Mt. LeConte) (4.9 m) Bullhead Trail (Mt. LeConte) (5.9 m) Trillium Gap Trail (Grotto Falls, Mt. LeConte) (8.9 m)
Elevation Grade
Very Steep
Paul Petzoldt Scale
Strenuous
Shenandoah Scale
Very Strenuous
Photo Gallery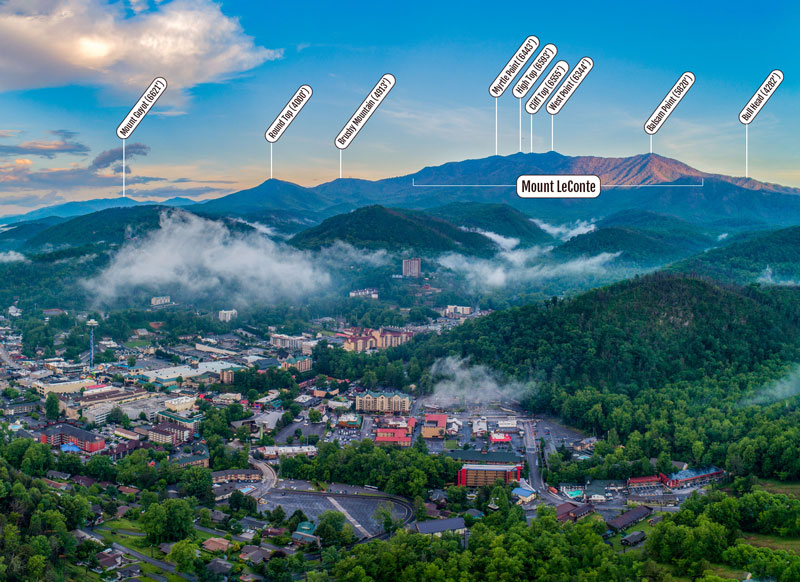 Trail Map
Complete List Of Hikes & Trails (63)
The above list of hiking trails in the Smokies is incomplete and constantly being updated. If you have information or photos you would like to contribute, please contact caroline@pigeonforge.com.