Trail Description
Rich Mountain Loop Trail is actually the name of a single 3.4 mile trail from the Cades Cove Loop, but it is most often combined with Indian Grave Gap (2.6 of 3.7 miles) and Crooked Arm Ridge (2.2 miles) trails to create an 8.7 round trip mile loop hike.
The first mile and a half of Rich Mountain Loop trail is steadily flat around the base of the mountain before the intense incline. In the last two miles hikers will gain about 670 feet per mile on the way to the junction with Indian Grave Gap trail. This uphill climb includes a few switchbacks and many long, steep hills.
Rich Mountain Loop trail has 7 water crossings. They are fairly easy to rock hop across, but waterproof boots are recommended. There is also a section of the trail that can get very wet after a good rainfall; it will appear as if you have run out of trail and that the path ahead is nothing but a rocky stream. Look ahead and to the left to find the switchback where the trail continues.
To begin the hike, park at information center before the 11 mile Cades Cove loop. You will find the trailhead on the right side of the road just where the loop begins. From here you'll go a half mile before reaching the intersection with Crooked Arm Ridge Trail. The most common route for the loop hike is to continue on Rich Mountain Loop to the left.
Just before the incline at around 1.4 miles on Rich Mountain Loop Trail you will find John Oliver's cabin, built in 1818. It is one of the oldest structures in the entire national park.
You will hike the entirety of Rich Mountain Loop Trail (3.4 m) before reaching Indian Grave Gap Trail. From here you will take a right and hike 0.8 of a mile before reaching the intersection with Rich Mountain Trail. Continue on Indian Grave Gap. Around 0.3 of a mile past this intersection, you will encounter a spur trail to the left leading to Cerulean Knob, the highest point on Rich Mountain. There is a nice flat area here with several cement blocks to sit on and a small area to build a fire, making it a good lunch spot. In the winter you can see some great mountain views beyond the bare trees.
Beyond Cerulean Knob, you will continue on Indian Grave Gap for less than 2 miles before reaching the intersection with Scott Mountain Trail and Crooked Arm Ridge. Continue downhill on Crooked Arm Ridge for a series of switchbacks to return to the base of the mountain. Just before returning to the 0.5 mile stretch of Rich Mountain Loop back to the parking lot, you will come across the 25 foot Crooked Arm Falls.
[+ Read More]
Rich Mountain Loop Elevation Profile

Tom Dunigan's Elevation Profiles
Elevation Grade
Fairly Flat
Paul Petzoldt Scale
Strenuous
Shenandoah Scale
Strenuous
Hiker Tips & Trivia
"Do you hate sitting in Cades Cove Loop Road traffic? If so, the Rich Mountain Loop just might be the perfect hike for enjoying the beauty of Cades Cove - without having to waste a lot of time sitting in 11 miles of gridlock." - Hiking In The Smokys
While this hike does provide plenty of sweeping mountain views beyond bare winter trees, it is better suited as a spring or summer hike. Winter conditions can make sections of these trails very damp and muddy.
You will find many beautiful wildflowers on these trails in the springtime.
Photo Gallery
(13)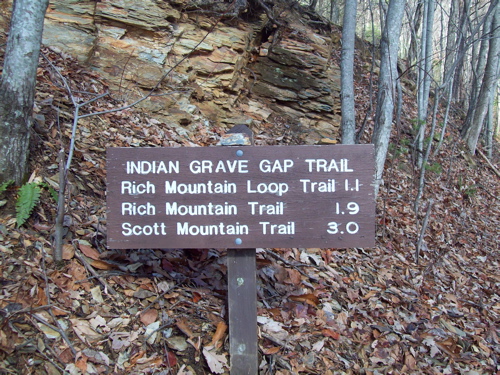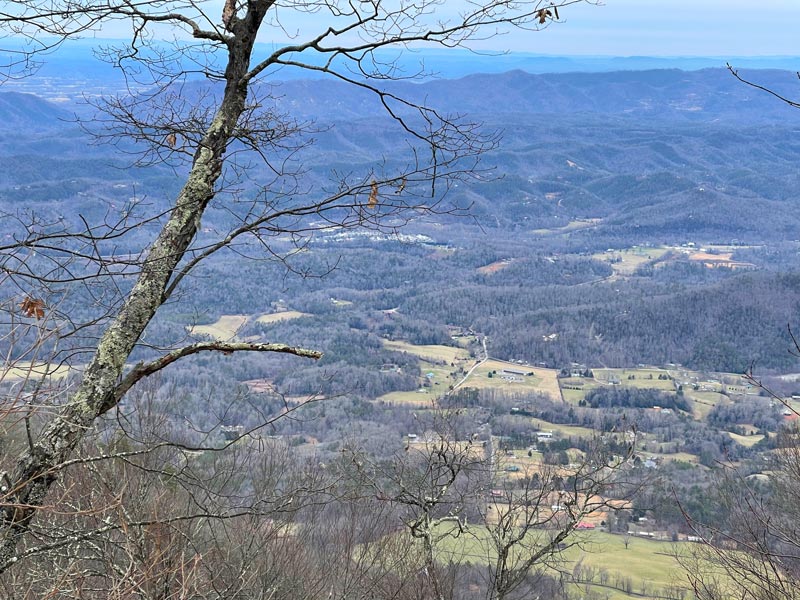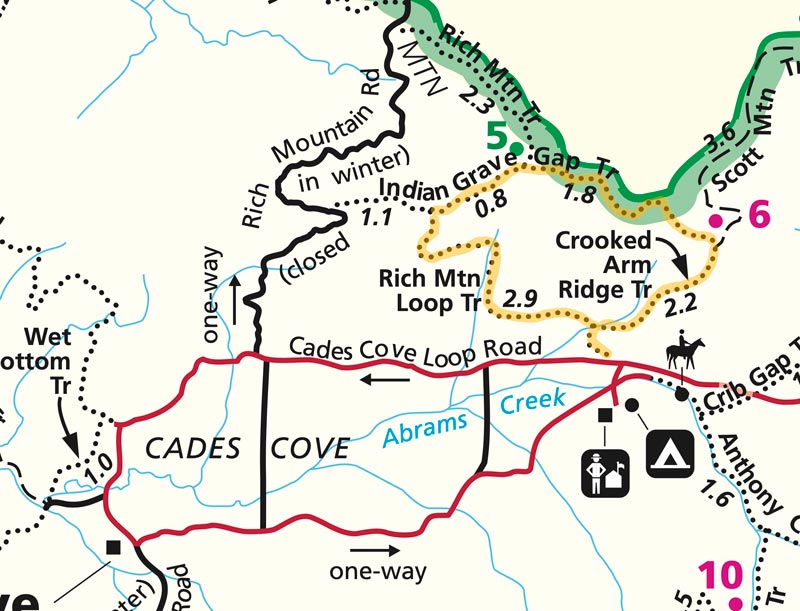 Trail Map
Featured Posts