Trail Description
Swallow Fork Trail is a fairly difficult 4 mile hike from Big Creek Trail to Mount Sterling Ridge Trail. During the spring it is an excellent place to see a variety of wildflowers.
The trail has around 4 unbridged water crossings (Swallow Fork & McGinty Creek) as well as one footbridge crossing around the 1 mile marker. The footbridge marks a lovely place to stop for lunch or a snack.
The majority of the trail is very foresty. Just after the 3 mile marker, you'll begin to see some nice mountain views (including Mount Guyot) through a few breaks in the trees.
Some of the wildflowers you might see on this trail include Fraser's sedge, Jack-in-the-pulpit, ramps, trout lily, spring beauty, trillium, yellow goldenrod, purple aster, jewelweed, and wild stonecrop.
[+ Read More]
Swallow Fork Trail Elevation Profile

Tom Dunigan's Elevation Profiles
Elevation Grade
Fairly Steep
Paul Petzoldt Scale
Moderate
Shenandoah Scale
Moderately Strenuous
Photo Gallery
(7)
Trail Map
Read More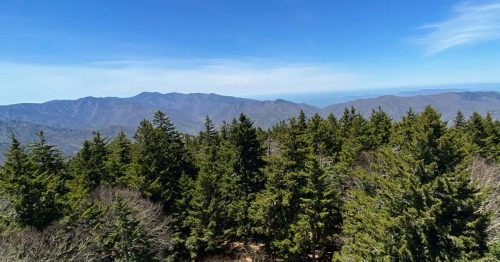 Mount Sterling: History & Hiking to the Fire Tower
Mount Sterling is located on the east side of the Great Smoky Mountains National Park and features a fire tower with the highest elevation of any fire tower in the eastern United States. The abandoned metal spire reaches 60 feet over the 5,...
Read This Post
Featured Posts