As you explore hiking in the Smokies, you'll have a particularly rich experience when you pay attention to the natural community around you. The vast deciduous and coniferous forests of these mountains are an amazing site. Trees, birds, mammals, and wildflowers combine each season to provide spectacular scenery. There are more than 800 miles of hiking trails in the Great Smoky Mountains National Park. For an alphabetical list of trails, click here.
Hiking Trails by Location
Need a map? Sometimes the difference between trail names and the hikes to specific locations in the Smoky Mountains can get a little confusing, so we put together a useful group of lists to help hikers determine where they're going and what they'll find along the way. Also see our alphabetical trail index for more information.
Trails by Location
ABC Trail Index
Show Complete List Of Hikes & Trails (58)
The above list of hiking trails in the Smokies is incomplete and constantly being updated. If you have information or photos you would like to contribute, please contact caroline@pigeonforge.com.
Waterfall Hikes
Hiking in the Smokies during the summer can be a burden if you don't have proper shade and a way to cool off. Waterfall hikes and swimming holes are great destination choices for those hot summer days. Also be sure to check out the top 4 waterfalls in the Smoky Mountains.
Waterfall Hikes
Hikes With Views
If you're just looking to see the best sights of the Smoky Mountains, start here. The national park is filled with scenic locations that you can reach by hiking in the Smokies. Gaps, balds, bunions and knobs are abundant with stellar scenery if you know how to reach them.
Hikes With Views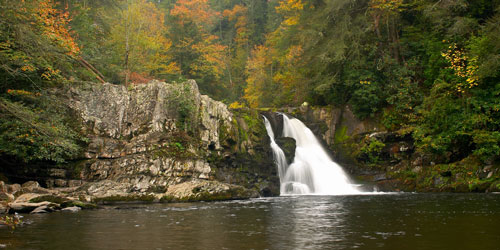 Seasonal Hikes
Some of the best times to hike the Great Smoky Mountains are spring and fall. Temperatures are mild and the splendor of abundant spring wildflowers or autumn forests of red and gold prove a thrill for every audience. In winter months, experience the snow-covered mountains; visit in the summer to enjoy cool coves with crisp, fresh air in the depths of the forest.
Seasonal Hikes
Easy Hikes
Not all trails in the Smoky Mountains are as intense as you'd think. There are plenty of easy hikes to try out. These can be great for people who are just getting started with hiking or want to bring younger children along. Many of these trails have great scenery, streams and bridges, mountain views, wildlife, and historical features along the way.
Easy Hikes
Hikes For Beginners
Are you new to this whole hiking scene? No worries! We've picked out several great hikes for you to get started. Most of these are only a few miles at the maximum and are great for families adventuring out together. Also check out trails by difficulty ratings for more information on what exactly makes these hikes easy or hard.
Beginner Hikes
Kid Friendly Hikes
Get your little ones started early on the outdoors with these great kid friendly hikes in the Smoky Mountains. These trails are suitable for all ages because of their simplicity, length, scenery and interactive opportunities. Kids will be upping their game and really hiking in the Smokies in no time.
Kid Hikes
Stroller Friendly Hikes
Traveling with toddlers? Try one of the few paved trails in the park or some of the others than can still handle a stroller. Some of these trails, like the Sugarlands Valley Nature Trail, are even accessible by wheelchair. Trying to find some great mountain views without actually hiking in the Smokies? Take a look at this list of scenic overlooks you can drive to.
Stroller Hikes
Dog Friendly Hikes
Are dogs allowed in the national park? Only on certain trails: the Gatlinburg Trail in Tennessee and the Oconaluftee River Trail in North Carolina. If you plan on bringing Fido, know before you go with this helpful article on the National Park Service and their rules for dogs in the Great Smoky Mountains National Park.
Dog Hikes
Mt. LeConte Hikes
There are 6 hiking trails in the Smoky Mountains that lead to the summit of Mount LeConte: Alum Cave Trail, Bullhead Trail, Rainbow Falls Trail, Trillium Gap, Brushy Mountain Trail, and The Boulevard Trail. All of these hikes have different lengths and difficulties as well as a variety of features along the way.
Mt. LeConte Hikes
Hikes to Fire Towers
We all know there are many places in the Smoky Mountains to take in the astounding beauty of the surrounding forest. Fire towers and lookouts, some almost a century old, were built specifically to get the best vantage point of our national park in case of wildfires. There are a handful in the Smoky Mountains that you can hike to and climb yourself.
Fire Towers
Interpretive Trails
There's so much so see and explore in the Great Smoky Mountains. One way to make the most of your time in the hills is to learn as much as you can about the rich history and the colorful people who have called the mountains home. You can learn and soak up information by taking advantage of the resources along the interpretive trails in the Smokies.
Interpretive Trails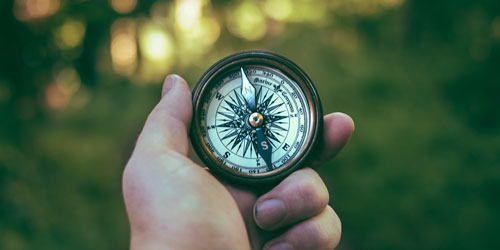 Safe Hiker Essentials
The National Park Service describes ten essentials for hikers: waterproof matches, a map and compass, a pocketknife, spare blanket or poncho, first aid kid, nylon cord, water, extra food, and two flashlights. When planning a hike always take these safety precautions: Let someone know where you are going and give them an expected return time so park authorities may be contacted if you do not return as expected.
Read trail signs, stay on the trails, and don't over estimate your hiking ability. Even if only out for a short walk, wear walking shoes or hiking boots, which are designed to give sure footing and ankle support. For day hikes longer than an hour or two, carry along water, a lunch or snacks, and rain gear. It rains frequently in the Smokies! Be prepared!
Bear Safety
It's no surprise that there is plenty of diverse wildlife in the Great Smoky Mountains National Park. Any time you're hiking in the Smokies, it's important to know how to respond to things like rattlesnakes and black bears. Take a look at this article on bear safety regarding campgrounds, trails, picnic areas, and what to do if you encounter anything threatening. Remember: leave the bears alone!
Bear Safety