LeConte Lodge is a small resort on top of Mount LeConte, the mountain with the tallest face east of the Mississippi river. It was established in 1925 and predates the creation of the Great Smoky Mountains National Park. At 6,593 feet above sea level, it can only be accessed via hiking trails.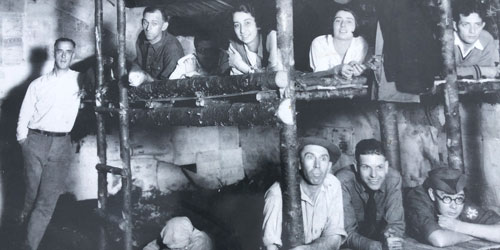 Visitors to Le Conte Lodge in 1928 slept on bunk beds lined with Fraser fir boughs. Men and woemn shared quarters in the rustic building.
LeConte Lodge: The Beginning
Before buildings stood atop LeConte, there was just a tent. Paul Adams was commissioned to host the first official camp there in 1925. Adams was a hiker and explorer who traveled up the mountain for the first time in 1918 and went on to hike it more than 500 times in his life. In 1926, Jack Huff was appointed the caretaker of the campsite and the first log cabin was built. Paul Adams went on to work as a trail guide for tourists and dignitaries in the Great Smoky Mountains.
The camp and lodge hosted a wide range of local and national dignitaries involved in the political debate about creating a national park in the Great Smoky Mountians. Ultimately, the beauty of Mount Le Conte helped convince these leaders of the area's value and its need for protection.National Park Service
LeConte Lodge Today
Today LeConte Lodge acts as an inn typically open from March to November. The lodge staff lives on the mountain in their own personal quarters. Guests can reserve a cabin and stay there overnight while the crew provides meals and other amenities. It's also a popular destination for day hikers, as there are 6 different trails that provide access to the Lodge.
Mt LeConte Hikes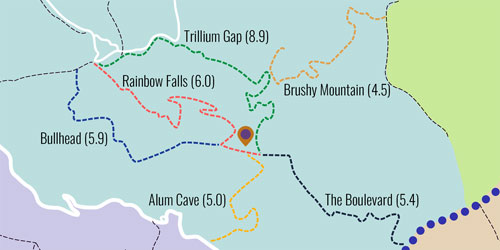 How To Reach The Lodge
Five hiking trails go straight up to the lodge, and there is a sixth that connects to create a variety of options for hikers. The most popular route is the 5 mile Alum Cave Trail and the second most popular is probably Rainbow Falls, which shares a trailhead with Trillium Gap. Close to the trailhead is also the least used route: the 5.9 mile Bullhead Trail. You can also take Brushy Mountain Trail which connects to Trillium Gap. You can hear what the staff has to say about each trail on their blog High On LeConte.