Lid'l Dolly's is a favorite Pigeon Forge store for visitors to the Smoky Mountains. Located in the heart of Pigeon Forge, Lid'l Dolly's has grown into an enormous factory filled with quilts, throws, blankets, accessories, home decor and more. It is a one-stop shop for some of the best souvenirs in the area, but did you know that their most well-known pieces are their hand-crafted southern belle dresses?
Lid'l Dolly's Dresses
Lid'l Dolly's dresses are a classic southern belle design, with western, inspirational, seasonal and holiday patterns. What many don't know is that all of these dresses are actually made by hand in the store. And while you might know that Lid'l Dolly's has dresses, did you know that they actually make dresses for little dolls too? Dresses range in size from newborn to 6x. You can also grab a matching dress for your little girl's favorite doll.
Lid'l Dolly's
Lid'l Dolly's Factory Store has 5 full time dress makers. They spend their days hand crafting each beautiful piece of clothing available for purchase. These ladies have been with the company for anywhere from 20 to 28 years, and they take great pride in their work. On any given day, you can find them inside the warehouse working hard to piece together lace and fabric into beautiful creations. At Lid'l Dolly's, everyone does every job. These women are experts on the entire process, from tracing the patterns to adding the finishing touches.
You can hear the sewing machines in the background as they hand-make the southern belle girls' dresses – which is such a rare sight/sound in today's "machine oriented" world!

Richa S., Tripadvisor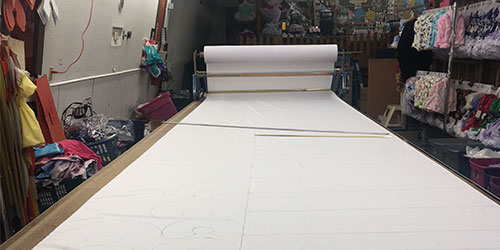 The First Step
The dress making process begins with a pen and paper. Each pattern is hand traced in the back of the shop. From the bloomers to the petticoat, great care is taken to make sure the patterns are the correct size and shape for each dress. When the tracing is complete, the next step is to cut each one. This is also done by hand, and while time consuming, makes for perfect and precise dresses every time.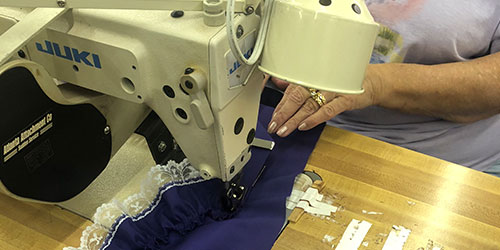 Let The Sewing Begin
When the patterns have been traced and cut, they are then used to cut each individual piece of the dress from fabric and lace. As this process continues, portions of the dress are assembled. Lace is sewed to fabric and pieces of the dress begin to come together. Fun fact: some of these ladies got their start sewing in home ec while in school. They sure have come a long way in their craft!
Final Touches
After the small details and parts are assembled, the dresses are usually in 2-3 pieces. The final step is to sew them all together to make one perfect dress. Each finished product is gorgeous by itself, but did you know Lid'l Dolly's Factory Store also offers slips, socks, bonnets and matching hair bows to make a complete outfit for your little one? These accessories make the perfect ensemble.
Lid'l Dolly's dresses not only pay homage to southern ancestry, but they are also a true art. Hard work goes into each piece. When you plan your visit to Pigeon Forge, make sure you have time to stop by and browse the large selection offered. Don't forget to listen carefully to hear the sewing machines whirring away in the background.