We all know that the Smoky Mountains are a great place to take a hike on your vacation. Maybe you've hit the trails just a couple times, or you're a seasoned hiker with hundreds of miles under your belt. While you may have already experienced hiking in the Smokies, have you ever experienced a hike with llamas? Smoky Mountain Llama Treks offers a unique opportunity to take a hiking tour with their pack llamas by your side.
Smoky Mountain Llama Treks
Smoky Mountain Llama Treks is located in Cosby, TN. This experience is exactly what it sounds like: Guests each get their own llama and you travel as a group to take a guided hike in the Smokies. The llamas are easy to walk, very friendly and will carry your gear along the way.
Business Info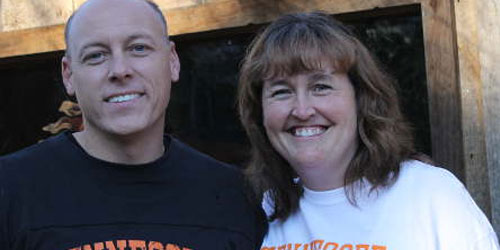 Meet The Owners
Joanna & Steve Garrett stumbled upon the Smoky Mountain Llama Treks business when it was up for sale in 2008. Ater Steve lost his job in the recession and decided to hike the Appalachian Trail, he returned home and decided he didn't want to be in the coorporate world anymore. The pair says a nudge from God led them to purchase the business, despite having no experience with llamas in the past. They purchased the llama farm 8 years ago and haven't looked back since.
Why llamas? What a great way to social distance, see nature, pet some soft llamas and meet some really nice people. We have had a lot of parents say that their kids complained about hiking in the smokies but when they walked their own llama there wasn't any complaining. The kids walked the approximately 1.5 mile hike with their llama and were shocked to find that the trek was over or that it was just the right length. We find that kids ages 5 and up do the best but all ages are welcome including the 80 yr old kids- our oldest client has been 84 (male and female).

Steve Garrett, Smoky Mountain Llama Treks
About The Llamas
There are 11 llamas on the farm, including 3 that retired from Mt. LeConte and 3 that didn't make it on the Mt. LeConte team. the remaining llamas are from texas and just 2 years old. Llamas at Smoky Mountain Llama Trek are extremely friendly. Most like to be petted and hugged. If you take a trek, ask your guide for tips about your specific llama to find out what it likes.
Meet The Llamas
The llamas are trained to be gentle and will not kick, bite or spit on people. The llamas cannot be ridden, but they will walk alongside you the entire way.
Available Treks
Smoky Mountain Llama Treks has three different options for hiking with llamas in the Smoky Mountains: Padgett Mill Trail, Foxfire Mountain Trail and an Overnight Trek.
Padgett Mill Trail
The Padgett Mill Trail trek starts at the llama farm and can be a short (1 mile, 1-1.5 hr or 2 mile, 1.5-2 hr) journey. This trail primarily travels through dense woods in the summer but offers a great spot along the way for a picturesque view of the National Park. During winter and spring, there are more visible mountain views.
Foxfire Mountain Trail
The Foxfire Mountain Trail offers a little bit of everything, including woods, streams, wildflowers and more. This trek begins at FoxFire Mountain Zipline park. When you arrive, you'll meet you guide and llamas and set out on a 2 mile, 2 hour trek complete with a creek, several bridges and gravel along the way.
Overnight Trek
For guests looking for a longer adventure, we recommend taking on an overnight trek with Smoky Mountain Llama Treks. They provide everything you'll need for a night of camping, including tents, sleeping bags, pillows, lanterns, propane stoves, coolers and more. You are responsible for food, beverages and paper goods. On day one, you'll hike with the llamas. Spend the night in the back country and then explore the Pisgah National Forest on day 2.
---
Visit The Llama Farm
If you're not interested in hiking but want to come get up close and personal with the llamas, stop by the Llama Treks farm. Booking this meet and greet will allow you to meet the herd, learn about their personalities, feed them and pet them. It's a great chance to learn about llamas and experience them up close. If you're taking the Padgett Mill Trek, a visit to the llama farm is included.
Smoky Mountain Llama Treks
On your next trip to Pigeon Forge, give a Smoky Mountain Llama Trek a try! These treks require advanced reservations, so be sure to visit their website to book.