National Trails Day is an annual event that takes place on the first Saturday in June. This event hopes to inspire people to celebrate, discover and learn about trails nationwide. Each year on this date, events are held nationwide to encourage people to get outdoors and enjoy trails and nature. Learn about some of the fun happening in East Tennessee on Saturday June 6, 2020.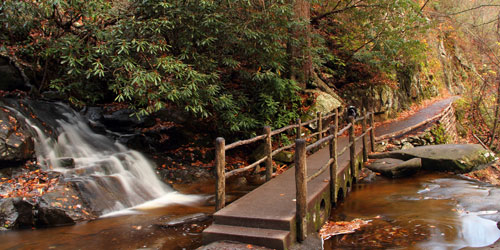 Smoky Mountain Hiking Club
The Smoky Mountain Hiking Club is a membership organization comprised of over 600 hiking and outdoor enthusiasts. Each member has a passion for the outdoors and for the Great Smoky Mountains. Each year on National Trails Day, this organization heads an event to beautify the Appalachian Trail within the National Park.
Appalachian Trail Work Day
Join the Smoky Mountains Hiking Club in beautifying the National Park on June 6, 2020. This year will be the 24th anniversary of this event. Each participant will receive a T-shirt and enjoy a picnic and door prizes at Metcalf Bottoms when the event is over. There is no charge to participate- just register, show up and help out to get in on the fun. RSVP to the Smoky Mountain Hiking Club's event by emailing ntdsmhc@gmail.com.
Event Info
Get Outdoors
One of the best ways to get involved with National Trails Day is to do something simple: Get outdoors! There are more than 850 miles of hiking trails in the Great Smoky Mountains National Park. If you're in the Smokies, there's no shortage of trails to take to commemorate this great day.
Hiking Trails
No matter where you are in the country or even the world, take time on June 6th, 2020 to get out and explore the trails near you. National Trails Day is also a great opportunity to get the whole family in on the fun with kid hikes and beginner hikes that everyone will enjoy.