There's a reason why foodies love Pigeon Forge. New restaurants in Pigeon Forge offer exciting ways to savor everything that makes East Tennessee delicious. You'll always find something new to try here in the Great Smoky Mountains, from swanky spots created by celebrity chefs to flavourful international cuisine.
---
Now Open: New Restaurants In Pigeon Forge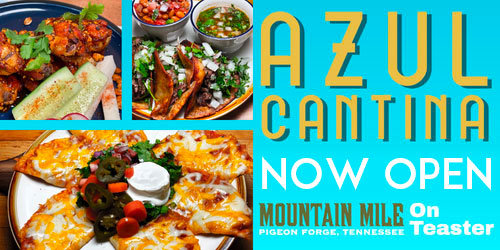 Azul Cantina
2655 Teaster Ln, Pigeon Forge, TN 37863
Azul Cantina is Pigeon Forge's first high-end Mexican cantina and grill located at The Mountain Mile Tower & Shops. The restaurant's chefs are passionate for innovative cuisine with flavorful proteins grilled to perfection Argentinian-Gaucho style. They serve up the classics like fajitas and delicious margaritas, as well as Hamburgeusa and queso grits.
Azul Cantina
Pizza Rio Wine + Bar
140 Showplace Blvd, Pigeon Forge, TN 37863
Pizza Rio offers a modern and cozy atmosphere with a Brazilian style of serving. The unique restaurant works with fresh ingredients, hand crafted cocktails, and a signature wine list.
Pizza Rio Wine + Bar
The Pines
230 Court Ave, Sevierville, TN 37862
The historic Pines Theater, established in 1944, has reopened with a modern twist on its own entertainment roots and reopening in late 2022. The Pines is a downtown entertainment venue with duckpin bowling, games, a bar and a full service restaurant.
The Pines
Pinchy's Lobster & Beer Co.
212 Court Ave, Sevierville, TN 37862
Crustacean Nation! Pinchy's Lobster & Beer Garden is a lobster and raw bar that opened in downtown Sevierville in fall of 2022. They offer New England-style seafood and southern hospitality. Well behaved dogs are welcome in the beer garden, where outdoor seating and heated fire pits are available year round.
Pinchy's Lobster Company
Trotter's Whole Hog BBQ
127 Bruce St., Sevierville, TN 37862
Trotter's Whole Hog BBQ is now open in historic downtown Sevierville. The casual, inviting atmosphere has 20 beers on tap, indoor and outdoor seating, and live music. The new restaurant was created to define East Tennessee in the world of whole hog barbecue and to establish roots for this cooking style.
Trotter's Whole Hog BBQ
Peaceful Side Social Creamery
7967 E Lamar Alexander Pkwy, Townsend, TN 37882
Peaceful Side Creamery offers a variety of unique ice cream flavors made with high-quality and locally sourced ingredients.
Jason Aldean's Kitchen & Rooftop Bar
644 Parkway, Gatlinburg, TN
Jason Aldean's Kitchen & Rooftop Bar has opened on the Gatlinburg parkway next to Ben & Jerry's. The restaurant features live music with a specific focus on the latest country trends from both local and national artists. Their menu includes burgers, hot chicken, and weekend specials on Friday, Saturday and Sunday.
Piccolo's Pizza
2509 Newport Hwy Suite 1, Sevierville, TN 37876
Piccolo's Pizza is a new restaurant in Sevierville. They offer pizza, calzones, pasta, wings and more from Monday through Saturday 11:00 am - 9:00 pm.
Sun Diner
644 Parkway, Gatlinburg, TN 37738
Nashville's Sun Diner has opened a new location in Gatlinburg. The restaurant's focus is on southern hospitality, delicious gourmet cuisine, and coffee served day and night. The Gatlinburg location offers breakfast and brunch, classic southern plates, and sandwiches and wraps.
The Corner Diner
3060 Teaster Lane, Pigeon Forge
The Corner Diner offers steamed sandwiches, smash burgers, and breakfast all day.
Archer's BBQ
1830 Winfield Dunn Parkway, Sevierville, TN
Knoxville's favorite barbecue joint has a brand new location in Sevierville. Stop by Archer's BBQ located conveniently on the right side of the parkway just 1.2 miles past Smoky Mountain Knife Works.
Red Jasper Beer Garden
2135 Wears Valley Rd, Sevierville, TN
Stop by Red Jasper Beer Garden near the cascades on Wears Valley Road to enjoy a wide selection of beers, food trucks, and waterfall views.
Dutch Bros Coffee
197 Forks of the River Parkway, Sevierville, TN
Dutch Bros Coffee has opened a new location in Sevierville. The company started in 1992 in Grants Pass, Oregon and now has more than 700 stores open nationwide.
The Hippie BBQ & Grill
611 Parkway, Sevierville, TN 37862
This new Sevierville BBQ restaurant is a 1970s themed, family-oriented sports bar specializing in BBQ, burgers and wings.
Brassa 51 Peruvian Cuisine
1304 Parkway, Suite 101, Sevierville, TN
Brassa 51 prepares high quality ingredients based on traditional recipes with a fresh twist. The culinary experts at Brassa challenge themselves daily to use the highest quality ingredients with a fresh interpretation on traditional recipes.
---
Best Places To Eat
The best places to eat in Pigeon Forge really run the gamut. You'll find everything from buttered-up Southern-style fare to fresh and spicy Pigeon Forge Chinese food on the menu here. In fact, the food you'll find on and off the Parkway takes inspiration from both the biggest names in the restaurant industry and from far-off places around the globe.
Best Places To Eat
Pigeon Forge's new coffee shops, ice cream spots, craft kitchens, and creperies offer good eats you won't find anywhere else. You can even take in spices from abroad thanks to great Indian food in Pigeon Forge, along with sushi restaurants and even a fresh Mexican cantina right here in the Smokies.
All Restaurants
No matter what you're craving, you'll find the flavorful fare to tickle the tongue in Pigeon Forge. Care for the classics? The newest restaurants in Pigeon Forge include steakhouses fit for a king's feast, as well as fresh East Coast-inspired lobster and traditional Southern barbecue joints with a modern twist.
All Restaurants
Pigeon Forge Sweets
Looking for a sweet treat? Pigeon Forge fudge is a standby, but there's more to try here in the Great Smoky Mountains. The newest sweet spots in Pigeon Forge serve sugar rushes like gourmet milkshakes with out-of-this-world toppings, frozen custard and creative concretes, colorful cupcakes, and even ice cream and doughnuts.
Sweets
The new restaurants in Pigeon Forge you'll find lining the Parkway and beyond make our Smoky Mountain city the perfect place to take time to enjoy the good stuff. With so many exciting places to try, each meal in Pigeon Forge is truly something special. What are you waiting for? Check out the new restaurants in Pigeon Forge and find a new favorite place now!