There's a reason why foodies love Pigeon Forge. New restaurants in Pigeon Forge offer exciting ways to savor everything that makes East Tennessee delicious. You'll always find something new to try here in the Great Smoky Mountains, from swanky spots created by celebrity chefs to flavourful international cuisine.
---
Now Open: New Restaurants In Pigeon Forge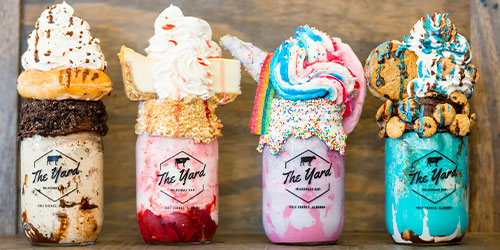 The Yard Milkshake Bar
2530 Parkway, Pigeon Forge, TN
The newest addition to The Yard Milkshake Bar franchise has landed in Lumberjack Square. Stop by to check out one of their unique, mouth-watering combinations. Choose from items like a cookie batter waffle sundae, praline pecan brownie ice cream, or even The Dolly, a Pigeon Forge exclusive, packed with all of Dolly Parton's favorite sweet treats.
Chicken Guy!
727 Parkway, Gatlinburg, TN
Chicken Guy! offers all-natural chicken tenders, skewers, sandwiches and salads, plus a variety of over 20 house-made sauces to choose from. Visitor favorites at the existing locations including the Bourbon Brown Sugar BBQ sandwich and the Triple Double Mint.
Chicken Guy!
Downtown Flavortown
2655 Teaster Ln, Pigeon Forge, TN
Guy Fieri and FACE Amusement present Guy Fieri's Downtown Flavortown to the Tower Shops at the Mountain Mile. Downtown Flavortown features a 300+ seat restaurant, a 14-lane Duck Pin bowling alley, a 10,000 square foot arcade, a full-service Tiki bar, and so much more.
Downtown Flavortown
Andy's Frozen Custard
852 Dolly Parton Pkwy, Sevierville, TN
Andy's Frozen Custard has always been fanatical about custard, and has served it with pride since March 19, 1986 when the first location opened in Osage Beach, Missouri. For more than 35 years, only the freshest ingredients have been used for a frozen custard experience you can't get anywhere else. "Andy's makes it fun to be a kid for a while!"
Smoky Mountains Creperie
812 Parkway Suite 111, Gatlinburg, TN
Smoky Mountains Creperie serves a wide variety of sweet and savory freshly made crepes. With a chef with more than 12 years of experience in restaurants and a caring and committed staff, the creperie serves up a fantastic experience and delicious treats to match. They also cater for all kinds of occasions including brunch, anniversaries, engagements, cocktail parties, receptions and dinners.
The Tennessee Grind Coffee & Tea
1436 Winfield Dunn Pkwy, Sevierville, TN
The Tennessee Grind is a new coffee shop offering locally roasted coffee, quality teas, freshly baked pastries, and sandwiches in an intimate and cozy environment. The new coffee shop is locally owned by a family excited to serve the community one cup at a time. You can find the shop on Winfield Dunn parkway off exit 407 near the Sevierville Golf Club.
Tulsi Indian Cuisine
3784 Parkway, #101 Pigeon Forge, TN
Tulsi Indian Cuisine is renowned for the lip smacking food of Northern India. Every dish on the menu is of the finest taste and is served to patrons after the exceptional work that the chef puts in. You can find this new restaurant in Pigeon Forge on the parkway across the street from Dolly Parton's Stampede and TopJump.
Roll On In
750 Winfield Dunn Parkway, Suite #140 Sevierville, TN
The newly opened Roll On In on Winnfield Dunn Parkway in Sevierville merges classic Asian dishes with a tex-mex twist - a unique twist on an already unique food. The new restaurant offers popular menu items like burritos, bowls, wonton tacos, sushi donuts and more. Roll On In will make your taste buds jump!
Cream & Sugar Sweet Shoppe
2655 Teaster Ln Pigeon Forge, TN
Cream & Sugar Sweet Shoppe is now open in the Tower Shops at the Mountain Mile in Pigeon Forge. It has rolled ice cream, chocolate dipped cones, all kinds of classic treats, homemade sweets and more for visitors to enjoy on their trip.
---
Best Places To Eat
The best places to eat in Pigeon Forge really run the gamut. You'll find everything from buttered-up Southern-style fare to fresh and spicy Pigeon Forge Chinese food on the menu here. In fact, the food you'll find on and off the Parkway takes inspiration from both the biggest names in the restaurant industry and from far-off places around the globe.
Best Places To Eat
Pigeon Forge's new coffee shops, ice cream spots, craft kitchens, and creperies offer good eats you won't find anywhere else. You can even take in spices from abroad thanks to great Indian food in Pigeon Forge, along with sushi restaurants and even a fresh Mexican cantina right here in the Smokies.
All Restaurants
No matter what you're craving, you'll find the flavorful fare to tickle the tongue in Pigeon Forge. Care for the classics? The newest restaurants in Pigeon Forge include steakhouses fit for a king's feast, as well as fresh East Coast-inspired lobster and traditional Southern barbecue joints with a modern twist.
All Restaurants
Pigeon Forge Sweets
Looking for a sweet treat? Pigeon Forge fudge is a standby, but there's more to try here in the Great Smoky Mountains. The newest sweet spots in Pigeon Forge serve sugar rushes like gourmet milkshakes with out-of-this-world toppings, frozen custard and creative concretes, colorful cupcakes, and even ice cream and doughnuts.
Sweets
The new restaurants in Pigeon Forge you'll find lining the Parkway and beyond make our Smoky Mountain city the perfect place to take time to enjoy the good stuff. With so many exciting places to try, each meal in Pigeon Forge is truly something special. What are you waiting for? Check out the new restaurants in Pigeon Forge and find a new favorite place now!