It's easy to see why the Great Smoky Mountains National Park is the most-visited national park in the country. Striking vistas, wooded trails, breathtaking waterfalls, scenic drives, rich history, and endless opportunities for recreation drew more than 14 million visitors to east Tennessee in 2021 alone. Entrance and use of the Great Smoky Mountains National Park have been free to visitors since it was dedicated by Franklin D. Roosevelt in 1940. However, 2023 is bringing a slight change to the nature lovers who come to the Great Smoky Mountains National Park. As of March 1, 2023, all vehicles that stop in the national park for more than 15 minutes will need a paid parking permit under a new program.
Parking tag machine at Metcalf Bottoms
New Parking Fees
The new program, called Park It Forward, will keep all funds collected through the sale of parking permits in the Smoky Mountains. This means revenue will be used to protect resources, preserve history, and improve the park experience - essentially paying it forward for generations of visitors yet to come! We've heard lots of questions about the new Park it Forward fees in the Great Smoky National Park and we've got answers. Check out the FAQ below.
Types Of Parking Passes
Fees from the Park It Forward Program won't take a huge bite out of your budget. A daily pass is just $5. A weekly parking tag is $15. You can purchase an annual parking pass for $40. These prices apply to all vehicles driven into the park, from motorcycles to motorhomes, regardless of how many passengers are on board. Simply put, it is not an entry fee.
Why Parking Tags?
Most of us have felt the strain of increasing costs lately, and this includes the Great Smoky Mountains National Park. It is the most-visited national park in the country and sees an increasing number of guests each year, up 57% over the past decade. This influx creates a need for ongoing infrastructure maintenance and the preservation of resources. The new parking fees will help support these critical needs.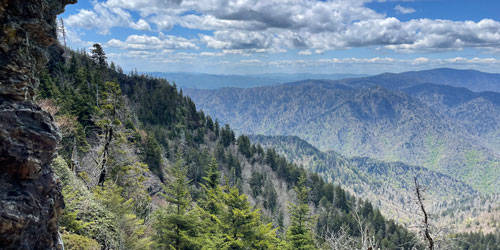 Where Does the Money From Parking Fees Go?
One hundred percent of the revenue generated through the Park It Forward Program will stay in the Great Smoky Mountains National Park. The money will go toward maintaining trails, roads, historic structures, and facilities. The funds will also support trash and custodial services, increase national park staff, and help pay for improvements to the visitor experience.
Where Can I Buy a Parking Pass?
Buying a parking tag is a cinch! You can purchase daily and weekly passes online at Recreation.gov starting February 21, 2023 and an annual tag from the GSMA website. You can also buy a tag onsite in the Great Smoky Mountains National Park at the following locations. Asterisk indicated automated fee machine only.
Gatlinburg Welcome Center
Swain County Visitor Center
Townsend Visitor Center
Parking Pass Display
If you purchase a daily or weekly parking pass online, you must print your parking pass before you get to the park. Annual passes come in sticker form. Your parking pass must include a license place number matching the vehicle in which it is displayed. Passes must be physically displayed on your vehicle's dashboard. Entrance to the Great Smoky Mountains National Park is still free, and always will be. You don't need a parking pass if you're just driving through the park or parking for less than 15 minutes.
The parking tag program does not guarantee you will get a parking spot. It's still a good idea to plan your visits to the most popular park destinations, like Cades Cove, during off-peak times to ensure parking availability. The best way to guarantee a parking spot is to arrive early. The new Park It Forward program helps make planning future enjoyment of the Great Smoky Mountains National Park even easier thanks to the improvements it funds.