A Pigeon Forge ATV rental is a great way to explore the Great Smoky Mountains National Park. These different vehicles allow you to take the road less traveled and see the sights in an exciting new way. Read on to learn about the different types of ATVs you'll find in the area and what you need to know before you take one on the road.
Pigeon Forge ATV Rental
ATVs are all-terrain vehicles. They are sometimes referred to as side by sides, OHVs, RZRs or UTVs and are designed to help you conquer a variety of terrain. Pigeon Forge ATV rentals are great for visitors looking to experience drives in the Smoky Mountains in a fun new way. There are a variety of rentals available to meet your needs.
Vehicle Rentals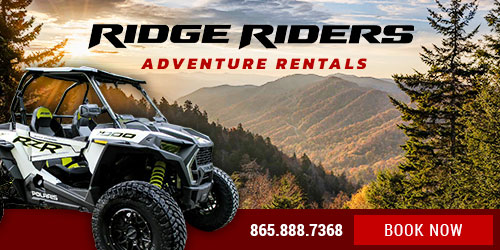 UTV Rentals
Ridge Riders offers top of the line UTV, golf cart, bike and other recreational vehicle rentals that you won't find anywhere else in the area. Their top priorities are safety and quality, assuring nothing but a top notch rental for all visitors. You can make a reservation for a vehicle online or give them a call.
Ridge Riders
RZR Rentals
Tennessee Mountain Tours has side by sides available as rentals to take on tours of the Smoky Mountains. They have the 2020 Kawasaki KRX1000, complete with fold up windshields, comfortable seating and plenty of space for riders. These are two seat, street legal side by sides for use on road only.
More Info
Smoky Mountain Jeep Rentals
Smoky Mountain Jeep Rentals has Jeep Wranglers available to rent for your Pigeon Forge vacation. They have a variety of Jeeps available, plus options for top down and open-air door upgrades. Enjoy the Smoky Mountain air in the summer months while you cruise the area.
More Info
Are ATVs Street Legal?
One of the most frequently asked questions about Pigeon Forge ATV rentals is "Are they street legal?" The short answer: Yes! All of the rentals listed above are street legal. ATVs are allowed on roads where the speed limit is less than 40 mph. You might often see these vehicles driving around in the Great Smoky Mountains National Park. Important note: Jeep rentals are allowed on all roads.
ATVs: What's The Difference?
There are many different types of ATVs. Traditional ATVs involve a single rider, or a rider with one passenger seated behind them. UTVs, RZRs and SXS are generally a bit larger than normal ATVs, with extra space for multiple riders seated next to one another (driver & passenger) or in a row behind the driver and passenger. Many of these vehicles are created for off-road use, however it is important to note that ATV rentals in Pigeon Forge are for road use only.
No matter where you rent from, be sure to verify the rules and expectations for your Pigeon Forge ATV rental. Most companies will require a security deposit, proof of insurance and other details before you are allowed to rent. Drive safe and get exploring on your next trip to the Smokies!