A great way to feel like you are at home on your trip to the Smoky Mountains is to stay at a Pigeon Forge RV park. Bring your own rig, set up camp and enjoy some incredible amenities in a space that is truly your own. Pigeon Forge RV parks boast a wide variety of amenities vary from site to site, meaning you can pick the perfect RV resort for your trip based on what you need.
What They Offer
RV Parks in Pigeon Forge are more than just campsites with hookups. They offer unique amenities on each site and for the community as a whole. RV resorts may also offer different types of camping, including camping cabins, tent camping and glamping opportunities. Booking a site is easy, and with many options around the area they are a great chance to get outdoors with some extra comfort on your trip.
Community Amenities
Depending on the Pigeon Forge RV resort you choose, you will be treated to a wide variety of amenities. Typically, all RV resorts will have water and electric hookups for individual RVs, in addition to fire rings and patios. For the campsite as a whole, some Pigeon Forge RV parks offer swimming pools, playgrounds, laundry facilities, stunning views and more.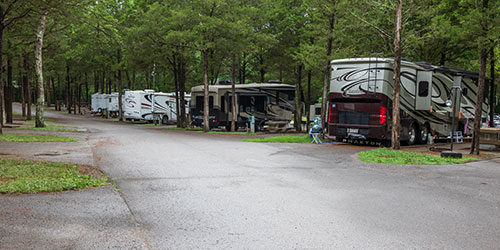 Incredible Locations
Pigeon Forge RV Parks are scattered around the area, meaning you can stay near what is most important to you. If you want to be near the parkway, further into the mountains, or a campground on the river, you'll have plenty of options to choose from. Each RV park highlights an aspect of their location, whether it be proximity to Dollywood, the Parkway or Clingmans Dome. No matter what brought you to the mountains, you'll find a place to stay close by.
Home Away From Home
One of the biggest perks to staying at a Pigeon Forge RV resort is that you are in a true home away from home. You have your own space with your own comforts, parked right in the Smoky Mountains. You'll find peace in knowing you can return to your traveling home after a long day exploring Pigeon Forge and the mountains.
RV Resorts
On your next trip, consider packing up your group in an RV and staying at a Pigeon Forge RV park. Top notch amenities, a homey feel, and locations around the area make RV resorts a perfect lodging choice for your trip.