If you're planning a trip to Pigeon Forge, TN, then you have to consider visiting Dollywood while you're in town! This must-visit Pigeon Forge attraction is one of the country's most-loved theme parks, complete with thrill rides, award-winning shows, great restaurants and more.
Dolly Parton
What sets this park apart is its sweet Smoky Mountain charm. Namesake and part-owner Dolly Parton is originally from the Great Smoky Mountains area and she has incorporated all kinds of East Tennessee elements into her park. Dollywood spans more than 150 acres of land and welcomes nearly 2.5 million visitors each year.
Dolly Parton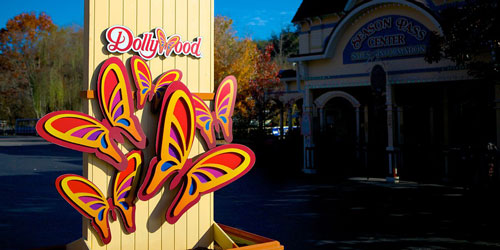 Where Is Dollywood?
Set in the region's foothills, the amusement park is located at 2700 Dollywood Parks Blvd, Pigeon Forge, TN 37863. Part of the park's draw is its picturesque setting. Dollywood is in Pigeon Forge, just 25 miles from the Great Smoky Mountains National Park, and many of its attractions draw from the region's rich heritage. The park showcases its Appalachian legacy by proudly displaying local folk arts, music and more.
Discount Tickets
There's no need to break the bank to enjoy a day (or more) at Dollywood! Check out our guide to discount tickets!. From signing up for an annual pass to taking advantage of military discounts, you'll find quite a few ways to find savings for a day at the park!
Discount Tickets
Dollywood Map
Getting around the park is easy! Dollywood is divided into 11 themed areas, each with its own ambiance and activities. Explore Wildwood Grove, Craftsmen's Valley, Rivertown Junction, The Village, The Country Fair, Timber Canyon, Jukebox Junction, Owen's Farm, Adventures in Imagination, Wilderness Pass, and Showstreet with our Dollywood map.
Dollywood Map
Splash Country
Jump in and cool off at Splash Country. Known as the premier water park in the Great Smoky Mountains, Splash Country a 35-acre destination with a wave pool and many waterslide attractions. Relax among the Mountain Waves or take a plunge down The Butterfly in the park's perfect waters!
Splash Country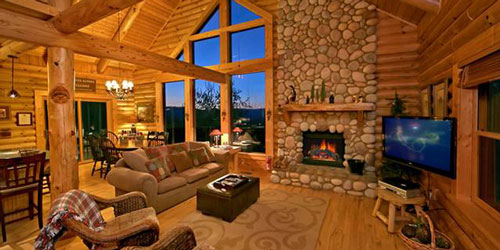 Cabins Near Dollywood
Find creature comforts in the many cabins near Dollywood you can enjoy on your next Pigeon Forge vacation. A Dollywood cabin is the perfect home-away-from-home on your Smoky Mountain escape, as you'll enjoy amazing mountain views and a location close to the action. Browse our listings and book your next retreat.
Cabins Near Dollywood
Hotels Near Dollywood
From posh resorts to rustic mountain lodges and everything in between, the hotels near Dollywood are diverse. Rest awhile and enjoy resort amenities as you take in amazing views of the Smokies. Take a look at our list of hotels you'll find near Dollywood and book your mountain getaway now!
Hotels Near Dollywood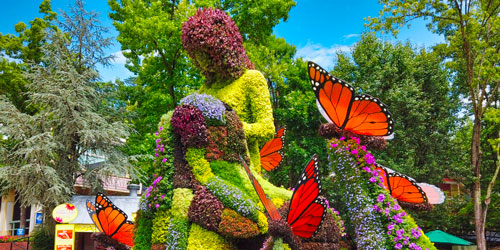 Spring at Dollywood
Spring is in the air at Dollywood! The annual Flower & Food Festival gives park guests a chance to take in fresh blooms and good eats. The event usually begins in April and wraps up in June. Half a million fresh flowers are brought in and restaurant menus are expanded with special seasonal treats for this fun festival.
Flower & Food Festival
Fall at Dollywood
Autumn brings more than a cool breeze into the Smoky Mountains! Dollywood's Harvest Festival is a fall event that celebrates the season's changing colors and spooky holiday with good fun. Fall festivities at Dollywood include Great Pumpkin LumiNights, a gospel jubilee, season eats, and much more! The event begins in late September and runs through late October.
Fall at Dollywood
Winter at Dollywood
Enjoy a holly, Dolly holiday season each winter at Dollywood! Dollywood's Smoky Mountain Christmas will get you in the holiday spirit with special events and celebrations based on wonder, harmony, joy, faith, and family. Make the most of the most magical season of the year with this fun festival.
Dollywood Christmas
Trolley to Dollywood
Make getting there easy by taking the trolley to Dollywood. Pigeon Forge's Fun Time Trolley makes stops at Dollywood and Splash Country, making it easy to make your way through town and to the parks! Explore trolley information and leave the hassle of driving and parking behind.
Trolley Info
Dollywood FAQ
Do you have questions about planning a trip to Dollywood? We have answers! Browse our Dollywood FAQ and get need-to-know information to make a perfect plan for a day at the park. Get the scoop on crowd levels, dining options, souvenirs, and other essential tidbits in one convenient place!
FAQ
Fun Facts
There's more to Dollywood than meets the eye. Check out fun facts about the theme park and learn 4 things you didn't know about Dollywood. Let these little-known facts guide you through the park planning process, help you appreciate the little nuances, and know what goes on behind the scenes.
Fun Facts
Mom's Guide to Splash Country
Want to spend a day at the waterpark with the family? Check out our Mom's Guide to Dollywood's Splash Country and get the scoop on how you can navigate the waterslides and water fun with children. First-had experiences and tips from a real mom make planning a day at the water park easy.
Mom's Guide
You Might Also Like
Dollywood is a lot of fun, but there are so many other opportunities for fun in Pigeon Forge! If you like Dollywood, you might also like other great Pigeon Forge attractions! From great pizza to mountain coasters and beyond, check out the expansive list of other fun activities to enjoy in Pigeon Forge.
If You Like Dollywood