If you're planning a trip to Pigeon Forge, TN, then you have to consider visiting Dollywood while you're in town! This must-visit Pigeon Forge attraction is one of the country's most-loved theme parks, complete with thrill rides, award-winning shows, great restaurants and more!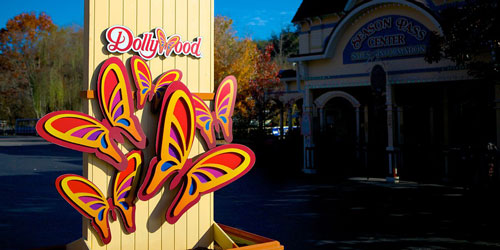 All About Dollywood
What sets Dollywood apart, though, is its sweet Smoky Mountain charm. Namesake and part-owner Dolly Parton is originally from the Great Smoky Mountains Area and she has incorporated all kinds of East Tennessee elements into her park.Set in the regions' foothills near Pigeon Forge, Dollywood spans more than 150 acres of land and welcomes nearly 2.5 million visitors each year. Part of the park's draw is its picturesque setting.
Where Is Dollywood?
Dollywood is just 25 miles from the Great Smoky Mountains National Park and many of its attractions draw from the region's rich heritage. The park showcases its Appalachian legacy by proudly displaying local folk arts, music and more.
---
Dollywood is divided into 10 unique themed areas:
Craftsmen's Valley: Attractions include the Dollywood Grist Mill, Valley Theater, Eagle Mountain Sanctuary, Wings of America Theater, Calico Falls Schoolhouse, the Tennessee Tornado coaster, Blazing Fury coaster, Daredevil Falls flume ride, Robert F. Thomas Chapel and folk arts and craft exhibits.
Rivertown Junction: Attractions include Tennessee Mountain Home, the Back Porch Theater and the Smoky Mountain River Rampage whitewater rafting ride.
The Village: Attractions include Dollywood Express steam train, Heartsong, a carousel and the Magic Laughmaker.
The Country Fair: Rides include The Dizzy Disk, the Amazing Flying Elephants, Lemon Twist, Shooting Star, Sky Rider, Veggietales Sideshow Spin Kid's Rollercoaster, Waltzing Swinger, Piggy Parade, Busy Bees, Lucky Ducky, Dolly's Demolition Derby, Santa's Workshop, The Scrambler, and the Wonder Wheel.
Timber Canyon: Attractions include the Mystery Mine coaster, the Thunderhead coaster, Lil' Loggers' Landing and Lumberjack Lifts.
Jukebox Junction: Attractions include Rockin' Roadway car ride and Pines Theater.
Owen's Farm: Attractions include the Mountain Slidewinder, the Barnstormer, Granny's Garden, Lil' Pilots Playground and The Pig Pen.
Adventures in Imagination: Attractions include the Dolly Parton's My People! show, Dolly's Home on Wheels and the "Chasing Rainbows" Dolly Parton museum.
Wilderness Pass: Attractions include the River Battle water ride, the SkyZip zip line attraction, Fire Fun Yard, Wild Eagle and the FireChaser Express.
---
Dollywood is open from early spring until after Christmas. The park's season is lined up with festivals, special events, concerts and more! No matter when you visit, Dollywood promises to entertain and excite the entire family! Consider making Dollywood a part of your next Smoky Mountain vacation. Browse PigeonForge.com for more vacation planning information, including lodging, attractions, events and more!