If you're planning a trip to Pigeon Forge, TN, then you have to consider visiting Dollywood while you're in town! This must-visit Pigeon Forge attraction is one of the country's most-loved theme parks, complete with thrill rides, award-winning shows, great restaurants and more!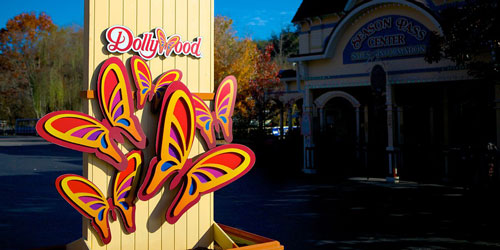 All About Dollywood
What sets Dollywood apart, though, is its sweet Smoky Mountain charm. Namesake and part-owner Dolly Parton is originally from the Great Smoky Mountains Area and she has incorporated all kinds of East Tennessee elements into her park.Set in the regions' foothills near Pigeon Forge, Dollywood spans more than 150 acres of land and welcomes nearly 2.5 million visitors each year. Part of the park's draw is its picturesque setting.
Dollywood Location
Where is Dollywood?
Dollywood is in Pigeon Forge, just 25 miles from the Great Smoky Mountains National Park and many of its attractions draw from the region's rich heritage. The park showcases its Appalachian legacy by proudly displaying local folk arts, music and more.
Dollywood Hours
When is Dollywood open?
Open about 9 months out of the year, Dollywood hours vary by season and are subject to change. The park is closed from January to mid March. For the majority of the year Dollywood opens at 10:00 am and closes between 6:00 and 9:00 pm. Winter months have later opening hours. For most of the summer, Dollywood is open until 9:30 pm. You can find their full 2020 operating calendar here.
Dollywood Prices
How much do tickets to Dollywood cost?
The current regular adult pricing for the Dollywood season are as follows:
One Day Ticket: $79
Two Day Flex Ticket: $99 (any 2 days in a 5 day period)
Three Day Flex Ticket: $109 (any 3 days in a 5 day period)
Regular Season Pass: $139
Gold Season Pass: $224 (includes parking, merchandise, & food discounts)
The above Dollywood prices do not include tax and are for adults ages 10-61 years old. Child and senior discounted prices are available. Prices are subject to change. Click here for more information on Dollywood prices.
Dollywood Fast Pass
How much is a fast pass at Dollywood?
Dollywood offers a TimeSaver pass for $44 plus tax. The TimeSaver pass allows for faster access to certain rides and shows. You can choose 10 of the following attractions:
Barnstormer
Dizzy Disk
Dragonflier
FireChaser Express
Mystery Mine
Sky Rider
Smoky Mountain River Rampage
Tennessee Tornado
Thunderhead
Waltzing Swinger
Wild Eagle
Drop Line
Lightning Rod
DP's Celebrity Theater
Pines Theater
Showstreet Palace Theater
There is also an Unlimited TimeSaver pass for $54 that allows unlimited expedited entrance to participating rides and shows.
Dollywood COVID Protocols
What is the mask policy at Dollywood?
Masks are required to be worn by all visitors ages 2 and older at Dollywood, Dollywood's Splash Country and Dollywood's DreamMore Resort. Masks are required at all ticketing areas, during park entry, on rides and in trams, in queues, in all indoor areas and in all places where guests cannot maintain 6 feet of distance outdoors.
What other precautions will be in place?
All guests will need to fill out a self-assessment health screening prior to entering the park. Social distancing markers are in place throughout Dollywood to ensure guests are adequately spaced. The park will also be at a limited capacity for the safety of staff and guests. Extra cleaning precautions are in place and sanitizing stations can be found throughout the park.
Do I need reservations to visit the park in 2021?
For the 2021 season, reservations will operate in the same way as 2020. This means that single tickets will be purchased for the specific date of your visit, and season passholders are strongly encouraged to reserve entry into the park in advance to guarantee admission.
---
Dollywood is divided into 11 unique themed areas:
Wildwood Grove
The newest addition to Dollywood, Wildwood Grove includes brand new rides like Dragonflier, The Mad Mockingbird, and Treetop Tower. When you get hungry stop by Till & Harvest for a whole new twist on traditional regional specialties. As you wander around Wildwood Grove, say hello to ambassadors like Flit & Flutter and Benjamin Bear, and listen to the authentic sounds of the Smokies from the Wild Roots Band.
Beyond an ancient hollow log and into a hidden land, Wildwood Grove beckons the explorer in all of us. Let curiosity be your guide as you journey ever deeper, past sparkling creeks, through a charming village, and under the mighty limbs of the great Wildwood Tree. This is where adventure takes root and dreams take flight.Dollywood
Craftsmen's Valley
Attractions in Craftsmen's Valley include the Dollywood Grist Mill, Valley Theater, Eagle Mountain Sanctuary, Wings of America Theater, Calico Falls Schoolhouse, the Tennessee Tornado coaster, Blazing Fury coaster, Daredevil Falls flume ride, Robert F. Thomas Chapel and folk arts and craft exhibits. Check out the point-of-view video below of the famous Blazing Fury!
Rivertown Junction
Strolling through Rivertown Junction is like taking a trip back in time. This area of the park is home to two iconic Dollywood attractions, both of which will let you experience the beauty, simplicity and sense of adventure you'll find only in the Great Smoky Mountains. Attractions include Tennessee Mountain Home, the Back Porch Theater and the Smoky Mountain River Rampage whitewater rafting ride.
The Village
Located just across from the Country Fair, The Village is a one of the most iconic Dollywood areas. Here you'll find an old-timey photo booth, a selection of shops and even a delicious place to get a snack! Attractions in The Village include Dollywood Express steam train, Heartsong, and the Magic Laughmaker. Spin around on the nostalgic carousel, which features 60 hand-painted animals!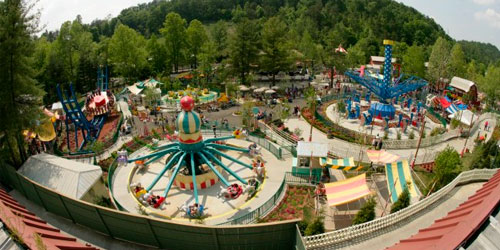 The Country Fair
Meet on the midway at Dollywood's charming Country Fair. This down-home portion of the theme park lets your experience the carnival-like fun and atmosphere of an old-fashioned day at the fair! From sampling fried foods to trying your hand at classic games like Lucky Duck, you'll love this blast from the past. Rides include The Dizzy Disk, the Amazing Flying Elephants, Lemon Twist, Shooting Star, Sky Rider, Spin Kid's Rollercoaster, Waltzing Swinger, Piggy Parade, Busy Bees, Lucky Ducky, Dolly's Demolition Derby, and more.
Timber Canyon
Pay homage to the Smoky Mountains' logging legacy in Timber Canyon at Dollywood. Enter this part of the park by strolling in down the 800-foot Timber Pass. This woodland wonderland offers an authentic Smoky Mountain experience thanks to its lush woody landscape and rustic surroundings. Attractions include the beloved Mystery Mine coaster, the Thunderhead coaster, Lil' Loggers' Landing and Lumberjack Lifts.
Jukebox Junction
Dolly's humble East Tennessee origins helped set her up for a lifetime of success! Learn more about her origins in Jukebox Junction, located right between Rivertown Junction and Adventures in Imagination. Attractions at Jukebox Junction include the wooden coaster The Lightning Rod, Rockin' Roadway car ride and Pines Theater.
Owen's Farm
Owen's Farm is nestled just outside Craftsman's Valley. This farm themed area is reminiscent of Dolly Parton's days spent at her mother's, Avie Lee Owens Parton, childhood home. This charming area of the park combines the new and old to make a can't-miss stop for family fun. Attractions include the Mountain Slidewinder, the Barnstormer, Granny's Garden, Lil' Pilots Playground and The Pig Pen.
Adventures in Imagination
Attractions include the Dolly Parton's My People! show, Dolly's Home on Wheels and the Chasing Rainbows Dolly Parton museum.
Wilderness Pass
Located at the park's far north end, Wilderness Pass is an adventure-themed area that taps into the Great Smoky Mountain's history of exploration. Adrenaline pumping attractions include FireChaser Express, the River Battle water ride, the SkyZip zip line attraction, Fire Fun Yard, and America's first wing coaster the Wild Eagle.
Showstreet
One of Dollywood's biggest draws is its classic country shows. If you're a fan of this American music genre, be sure to visit Showstreet. Located near the entrance to Dollywood, this section of the park is home to the Showstreet Palace Theater & Showstreet Gazebo, DP's Celebrity Theater, Southern Gospel Music Association, a delicious taffy kitchen for those with a sweet tooth, plus the Front Porch Café and frozen lemonade & ice cream shops. As soon as you enter the park, you'll be greeted by Showstreet's sounds, lights and action!
---
Dollywood is open from early spring until after Christmas. The park's season is lined up with festivals, special events, concerts and more! No matter when you visit, Dollywood promises to entertain and excite the entire family! Consider making Dollywood a part of your next Smoky Mountain vacation. Browse PigeonForge.com for more vacation planning information, including lodging, attractions, events and more!