If you like variety, you'll love Gatlinburg TN! This Smoky Mountain destination literally has it all: From kid-friendly fun things to do to rustic mountainside attractions you'll only find right here in the Smokies! Looking for nearby attractions and things to do in Gatlinburg? Gatlinburg TN is located just south of Pigeon Forge and borders the Great Smoky Mountains National Park.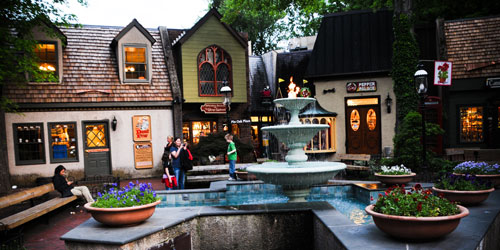 Where is Gatlinburg?
Getting there is simple: It's just a seven mile jaunt down the Parkway from the center of Pigeon Forge, which means you don't have to travel very far at all to enjoy some big Gatlinburg attractions and adventures! Because it's nestled just outside the national park, the Great Smoky Mountains give Gatlinburg a unique, alpine feel – all with a unique Tennessee twist.
Navigate
Things To Do In Gatlinburg
From downhill skiing to world-class attractions, you'll stay busy in Gatlinburg during all four seasons: Winter turns the area into a veritable wonderland with Smoky Mountain skiing and sledding; spring's mild temperatures make hiking the area's 600+ miles of trails pleasant; summer's sunny skies are perfect companions for rafting the mountain rapids; and fall brings a symphony of colors to behold and the mountains changes hues. There are always things to do in Gatlinburg!
---
Top Things To Do In Gatlinburg
Sugarlands Visitor Center
Nestled just inside the Great Smoky Mountains National Park, the Sugarlands Visitor Center is the perfect place to begin your mountain adventure. Learn about park activities, get up close and personal with the local flora and fauna, and even talk with a ranger at this NPS-operated center.
Learn More
Gatlinburg Sports
Located near Gatlinburg-Pittman High School and just north of the national park, Rocky Top Sports World is host to many football, lacrosse, basketball, volleyball and soccer tournaments. Many traveling teams come to the area to compete. With Mount LeConte serving as the backdrop to the outdoor facilities, the location is unique in its mountain setting.
Rocky Top Sports World
---
Top Places To Stay In Gatlinburg
Greystone Lodge On The River
Recently renovated, this Gatlinburg hotel with a water park is a casually luxurious destination that's great for families wanting to stay near all the fun of the parkway. Greystone Lodge on the River is within walking distance of Ripley's Aquarium. Kids will enjoy everything from the waterslide and outdoor pool area to the cozy bunkbeds in the guest rooms!
Greystone Lodge
The Appy Lodge
If you're looking to stay right on the Gatlinburg parkway, consider the newly renovated Appy Lodge. Each of the rooms at the Appy is named after an actual shelter on the Appalachian Trail and includes hardwood flooring, incredible walk-in showers, and high end finishes and custom décor throughout. And you can't miss the history that lines the hallways; see for yourself!
The Appy Lodge
Browse All Gatlinburg Hotels →
---
Top Gatlinburg Restaurants
Browse All Gatlinburg Restaurants →
---
Make the most of your next Pigeon Forge vacation by spending some quality time with plenty of things to do in Gatlinburg, TN with all of the amazing sites and attractions! Learn more about Smoky Mountain attractions and things to do in East Tennessee by clicking through PigeonForge.com.