Rainbow Falls Gatlinburg was one of the trails that suffered greatly from the Gatlinburg fires. My husband, friends and I had the opportunity to hike the Rainbow Falls Trail in the Smoky Mountain en route to Mount Leconte last week. Rainbow Falls Trail is one of six trails that hikers can use to access Mount Leconte and the historic LeConte Lodge. The five other trails are The Boulevard, Bullhead, Trillium Gap, Alum Cave, and Brushy Mountain Trails.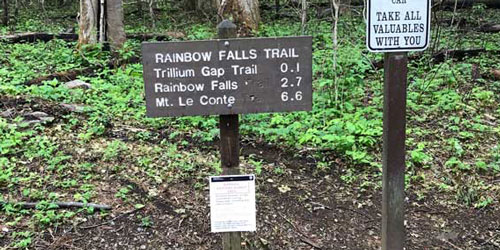 Rainbow Falls: The Trailhead
The trail currently is undergoing maintenance and is closed Monday 7:00 am through Thursday 5:30 pm until November 16, 2017 but is open to hikers Friday, Saturday, and Sunday. As we left the parking lot at the trailhead, we noticed the evident signs of active trail maintenance. The Great Smoky Mountains National Park crew is rebuilding part of the bottom of the trail. As we began to ascend, it became evident where the wildfires from last November touched the landscape.
Gatlinburg Fire Aftermath
Beautiful trees were burned out and left only the skeleton of the bark. It was a heartbreaking reminder of the night we watched the news come in that there was a massive wildfire in our beloved park and city. We were only left to wait to see as the morning light dawned what damage had been done to this natural wonder. While the remnants of burned trees remained, the beautiful bright green of new growth was a welcomed sight.
The scorched earth gave way to beautiful green foliage along the trail and stream. We headed up to Rainbow Falls Gatlinburg and enjoyed lunch next to the falls. Rainbow Falls Gatlinburg is an 80 foot high waterfall and is credited as being the tallest single drop waterfall in the Great Smoky Mountains National Park. As we continued up the trail, it seemed as if the wild fire damage was behind us. However, the landscape drastically changed as we begin to ascend further.
My friends and I commented that it looked like a movie scene. The barren mountainside was littered with tree trunks, dirt and rocks. Off in the distance, beautiful green foliage covered the mountainside. The juxtaposition of the two landscapes was startling and unsettling. The smell of char was prolific in the air. As before, we traveled a little further up the trail, the stark landscape broke into the lavish foliage once again.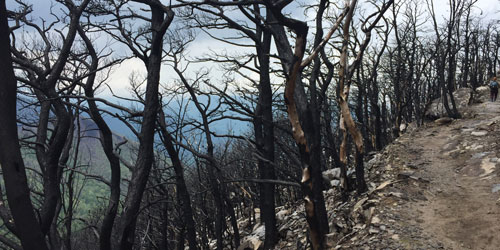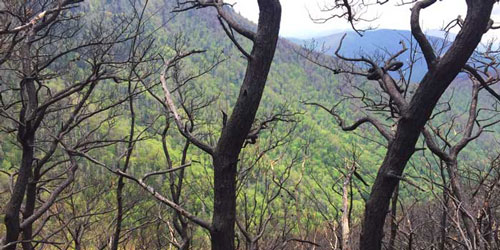 We finally arrived at the Lodge. Graciously, Mt. LeConte was spared by the wildfires. We enjoyed an evening of porch sitting, dinner, and storytelling with other hikers and the staff on the mountain. The fire damaged the foliage of the mountains, but did not damage the spirit of the Smokies. Read more about hiking Rainbow Falls on our trail guide.