Tennessee might be a landlocked state, but don't tell the folks at Ripley's Aquarium of the Smokies. Ripley's Aquarium in Gatlinburg is the perfect destination for a trip under the sea. Guests can marvel at all kinds of underwater delights, as the aquarium features more than 10,000 wet and wondrous creatures - including mermaids! Find Ripley's Aquarium mermaids performing Thursday, Friday and Saturday at 12:30 pm, 2:00 pm and 4:30 pm.
Ripley's Aquarium Mermaids
The living things of the sea at Ripley's Aquarium's 10 galleries are diverse. You'll find everything from playful penguins to scary sharks -- and even a few fantastical creatures. In fact, you'll find real, live mermaids making a splash at Ripley's Aquarium all year long. The Ripley's Aquarium mermaids are unlike anything you've encountered before. You can watch mermaids swim during daily mermaid shows. You can even enjoy meet-and-greets and photo ops with these fantastic and beautiful creatures.
The mermaid shows have been part of the Ripley's experience since 2016. Their display shows off skilled actresses and actors donning silicone fins and performing graceful underwater acrobatics in an 18,000-gallon saltwater tank. The mermaid show is unique, engaging, and most of all, realistic.
More Mermaid Magic
The mermaid magic doesn't stop there. The aquarium frequently hosts special mermaid sleepovers, where fans of the fin-tastic can enjoy mermaid-themed activities and even wake up to a mermaid breakfast. You can find more information about upcoming events and sleepovers at the Ripley's Aquarium of the Smokies sleepover events page.
Mermaid Sleepovers
We are so excited about having the Mermaids back at the Aquarium. They are such a great addition to our Aquarium for everyone to enjoy of all ages. Everyone loves to be entertained by the mystical beauty of the Mermaids.
Mermaid History
Mermaids have been a part of Ripley's Aquarium of the Smokies for nearly a decade. However, mermaid culture and the idea of actresses and models adopting a mersona goes back more than three-quarters of a century. Perry Newton first brought mermaids to life in 1947 at a roadside attraction in Weeki Wachee Springs, Florida. He started with an 18-seat theatre built around a freshwater spring carved naturally from limestone and then hired pretty girls to put on fabric fins and perform for the public.
Visitors could see mermaids tossing a football and enjoying underwater picnics in Newton's first shows. By the 1950s, the attraction was nationally known and brought in thousands of guests each year. You can still see mermaid shows at Weeki Wachee 75 years later! Since then, mermaid culture has blossomed. You can now find live mermaid shows around the country at destinations including Las Vegas, Nashville, and of course, Gatlinburg.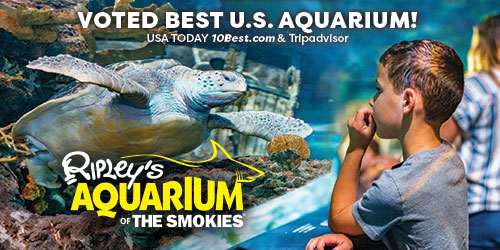 Plan Your Trip
Mermaid shows at Ripley's Aquarium of the Smokies offer diving and dancing delight. A visit to the aquarium offers a unique experience you'll love enjoying as part of your next Smoky Mountain vacation. You can find Ripley's Aquarium of the Smokies at traffic light #5 in Gatlinburg, just across the street from Cherokee Orchard Road.
Ripley's Aquarium
The aquarium is open 365-days a year, from 9 am to 10 pm during the week and 9 am to 11 pm on weekends. Parking is available at a city-owned garage just behind the aquarium for a $10 fee. Learn more about things to do in Gatlinburg and be sure to check out some of the top Pigeon Forge attractions on your way out.