Taking a scenic drive through the Smoky Mountains? Make sure that you give yourself plenty of time to stop and enjoy what this beautiful park has to offer. Plus, building in time on your road trip to get out and go for a hike will help you to stretch those legs after sitting in the car for a long time! Here are some stops along the way in the Smoky Mountains that will give you plenty to explore on your next road trip.
---
The Gatlinburg Trail
The Gatlinburg Trail is a great place to stop, get out of the car and stretch your legs with a nice scenic walk. The stunning trail will treat you to gorgeous mountain vistas and it is approximately 3.8 miles round trip. There are informational placards around the trail, so you can learn about the flora and fauna and history of the local area.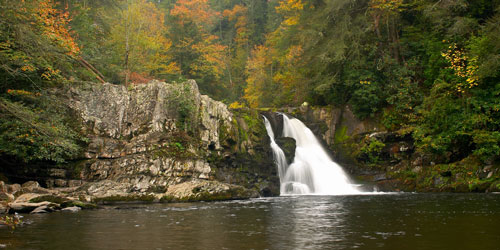 Abrams Falls
Another Smoky Mountain stop is the trail hike to Abrams Falls, which is recommended on the Trekaroo Blog. The walk is a short one that will take you to one of the many lovely waterfalls in the park with a pleasant 2.5-mile trek. It's an ideal walk if you are travelling with little ones and a great way to see more of the forest – so take your time and enjoy the natural beauty and tranquillity.
Cove Hardwood Nature Trail
Road Trip USA recommends the Cove Hardwood Nature Trail, which will wind through some of the tranquil and beautiful maple trees of the park. This is a great place to go for a walk in the fall, because the forest will be alive with the lovely oranges, reds, yellows and browns of the foliage.
Grotto Falls
Another popular park destination is Grotto Falls, which is located southeast of Gatlinburg on Trillium Gap Trail. There you will find a short, flat trail along a tumbling cascade that will lead you through a thick and beautiful hemlock forest. It's a fascinating place for nature lovers to explore and you will find plenty of salamanders slithering underfoot and mushrooms in the dense forest undergrowth.
Campbell Overlook
If you want to be awestruck by stunning views, stop at the Campbell Overlook that is located just off the wonderfully scenic Newfound Gap Road. This viewpoint offers excellent views of Mount LeConte and the surrounding forests, especially during the autumn when the leaves are changing colour. Make sure that you bring your camera with you to capture some of the stunning views – the National Geographic website recommends this spot as a great photo op.
These are just a few great suggestions for road trip stops in the Great Smoky Mountains, so make sure that you build lots of extra time into your trip so that you can stop and check them out. Interested in the best waterfalls in the Smokies? Check out our list of the top 4.