One of the best things about getting older is the new ability to find extra time to travel and enjoy life. And we think one of the best places to kick back and relax is right here in Pigeon Forge.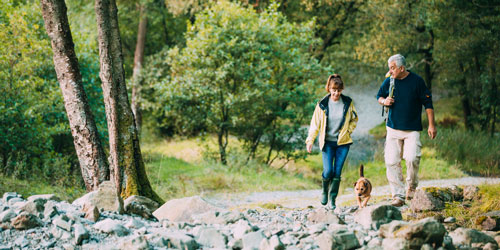 Senior Travel Tips
If you're a member of the silver set (or traveling with a senior), you'll likely find many things to do and enjoy in the Great Smoky Mountains, as there is truly something here for everyone. You can make the most of your Smoky Mountain vacation by keeping the following tips in mind.
Special Services & Accomodations
You'll find a few resources in the area to make your trip easier; don't be afraid to ask! If you're flying, you can request free wheelchair service — check with an with the airline for details. You can also make sure that the hotel, condo or cabin serving as your home away from home is set up to accommodate your needs.
Do you need a handicap-accessible bathroom? Prefer to have a room without stairs to navigate? Need a step stool to climb up on a tall bed? Need to rent a scooter to get around at an attraction? Just ask! Chances are the folks hosting your stay want you to be happy and healthy; don't hesitate to ask for any other mobility or accommodation-related services. But remember, if you'd like to take advantage of these services it is best to confirm them when you're making the reservation. Take time to talk with the booking agent about your needs.
Traveling With Medications
According to the Cornell University Center for Aging, silver travelers should always bring their medications in the original bottle. This could be lifesaving in case of an emergency. It's also a good idea to bring a separate list of the medications and dosages, along with any information about chronic health problems and the treating physicians. If you're flying, it's important that you pack your medications carefully.
According to AgingCare.com, all prescription and over-the-counter medications should be placed in a one quart zip-lock freezer bag, including also copies of any prescriptions and/or physician statements in the hand-carry bag. Do not place the pill combinations separately into a separate plastic box as "the next combined dosage." Packing medicine like this will likely not pass security standards. Additionally, enclose also any medical appliances such as extra braces or first-aid needs.
Be Savvy & Street Smart
Pigeon Forge is a safe community, but that doesn't mean it's OK to totally let your guard down. Unfortunately, some criminals see the elderly as easy targets. Consider carrying a more secure cross-body purse, or forgoing the pocketbook all together for a money belt worn under her blouse. And encourage dad to do the same; he can swap out his back pocket wallet for a passage wallet worn around the neck.
Community Resources
Back at the hotel, remember to keep the room secure. In addition to locking the room's deadbolt, be sure to secure any secondary locking device, like a chain or bar lock.
Do Your Homework
A little bit of planning can go a long way, especially when you're traveling with seniors. Take time to research each attraction you plan on visiting. There are tons of things to do in the Great Smoky Mountains, and you're sure to find something to accommodate everyone in your party!