Sevierville is a special place. It's within a day's drive of more than half of the US. It's known for being an affordable destination. There are dozens of hotels in the area to accommodate all kinds of guests and attendees. And you can't beat the Smoky Mountain scenery. These are all reasons why the Sevierville Convention Center is an ideal facility for all kinds of shows, conventions, functions, and events. Let's learn a little more about the Sevierville Convention Center.
Sevierville Convention Center
The Sevierville Convention Center is located at 202 Gists Creek Road in Sevierville, TN. It is just minutes off Winnfield Dunn Parkway (Highway 66). The center sits on top of a hill overlooking the Great Smoky Mountains and two perfectly manicured 18-hole golf courses. You'll find the Sevierville Convention Center less than 20 minutes from Pigeon Forge, about 30 minutes from Gatlinburg, and about 40 minutes from the Tyson McGhee Airport in Knoxville.
How Big is the Convention Center?
No matter what kind of event you're planning, there's room at the Sevierville Convention Center. The exhibit halls span 107,652 square feet. They can be broken down into two halls for smaller events. The larger of the two halls is 66,066 square feet; the smaller measures 41,496 square feet. The convention center's ballroom measures 19,290 square feet and can be broken into 4 rooms around 4,800 square feet.
You'll also find 4 meeting rooms each around 500 square feet, as well as a rotund, North Pre-function area, East Pre-function area, and South Surface Pre-installed tent anchors. This adds up to more than 120,000 square feet of event space.
Events at the Convention Center
The Sevierville Convention Center welcomes all kinds of events all year round. The center is specially designed to host events like competitive arts shows, trade and retails shows, car and automotive shows, meetings, conventions, retreats, seminars, banquets, receptions and holiday parties. A popular annual event is Ponies In The Smokies.
Events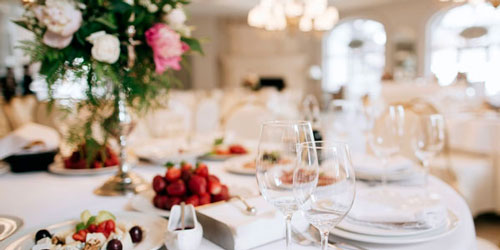 Weddings
Weddings are welcome at the city's convention center. The diverse space can accommodate almost any kind of event. The ballroom can hold up to 1,500 people, with smaller spaces available for smaller parties. Learn more about planning a Smoky Mountain wedding by clicking below.
Weddings