Cosby Campground is one of the largest in the Great Smoky Mountains National Park, boasting 157 comfortable campsites, three group sites for up to 20 people, a handful of RV sites for rec vehicles up to 25 feet, and is open seasonally from from mid-April to the end of October.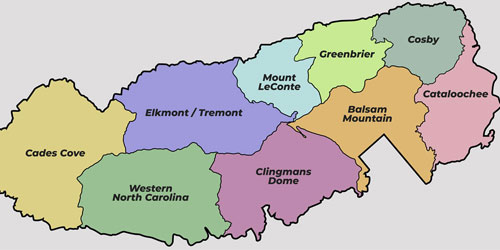 Cosby Campground Location
The Cosby campground is located on the far northeastern side of the national park above the Tennessee border. It is easily accessible by exiting from I40 and heading south on Tennessee Highway 32 for about a mile and a half. Turn right at the Cosby sign and find the campground 2 more miles down.
Navigate
About The Campground
The Cosby campground is most suitable for traditional tent camping, however there are a few RV sites. With 157 campsites, it is one of the largest in the park. The sites include 16x16 ft. tent pads, fire rings, grills and tables. There are 2 ADA sites, 3 group sites, and a picnic pavilion.
Map
Reserve
Name
Sites
Price
Elevation
Store
RVs
Cosby
157
$17.50
2,459
X
✓
Nearby Trails: Lower Mount Cammerer Tr, Low Gap Tr, Snake Den Ridge Tr, Gabes Mountain Tr
About Cosby, TN
Cosby is an excellent locations for visitors in the Smoky Mountains looking to stay away from crowds and explore off the beaten path. The little mountain town is full of quaint shops and dining options to explore. There are also some excellent attractions in the area, like Smoky Mountain Llama Treks, Rocky Top Sports World, and Carver's Apple Orchard.
Cosby