The largest frontcountry campground in the national park, Elkmont campground is also the most popular amongst Smoky Mountain visitors. It is open from mid-March to late November each year.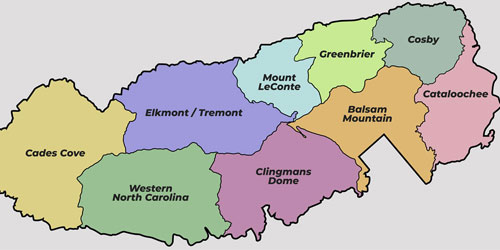 Elkmont Campground Location
The Elkmont campground is centrally located on the northern side of the national park between Gatlinburg and Townsend, Tennessee, just south of Wears Valley. You can reach it from Fighting Creek Gap Road heading west from US 441 and the Sugarlands Visitor Center near Gatlinburg.
Navigate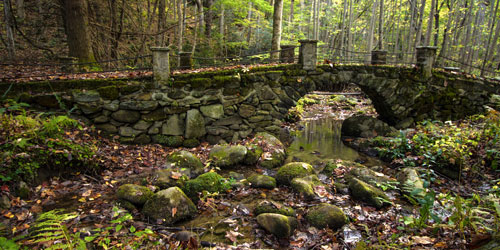 Elkmont Campground Info
Elkmont campground has 200 standard tent and RV campsites with paved driveways, gravel tent pads, fire rings, and picnic tables. The campground is also host to 20 walk-in campsites. Nine campsites are wheelchair friendly, and three of these have electrical hookups for medical equipment.
Map
Reserve
Name
Sites
Price
Elevation
Store
RVs
Elkmont
220
$25-27
2,150
✓
✓
Nearby Trails: Little River Tr, Cucumber Gap Tr, Jakes Creek Tr, Meigs Mountain Tr
Appalachian Clubhouse
In addition to traditional campsites, the Elkmont campground is also host to some historic buildings most frequently used for weddings. It is a 3,000 square foot facility with electricity, an open meeting hall, roofed porch with rocking chairs, and a ballroom with ceiling fans.
Reserve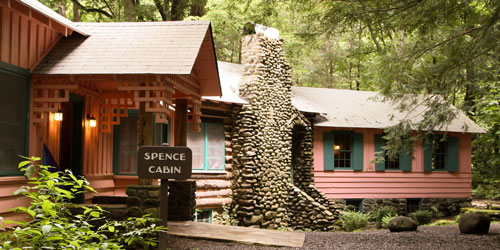 Spence Cabin
Spence Cabin near the Elmont Campground is a great place to rent for small family gatherings, reunions, and other celebrations. Like the Appalachian Clubhouse, the building is equipped with electricity and restrooms. It does not, however, have heat or air conditioning; there is a room with ceiling fans and a as fireplace.
Spence Cabin
Elkmont Ghost Town
This area is sometimes referred to as the Elkmont Ghost Town because of the abundance of old, abandoned buildings. Before the national park was established, there was a community here complete with a railroad line, a school, church and plenty of homes. Many of the remaining structures have been preserved closely to their original appearance.
Elkmont Ghost Town
About Elkmont
The former pioneer Appalachian community of Elkmont holds a great deal of history and is now home to a variety of fun Smoky Mountain activities. In addition to its many popular hiking trails, Elkmont is a great place for all ages to just walk around and explore. Look out for lots of standing chimneys, educational signs, and of course the legendary troll bridge.
Elkmont