The Great Smoky Mountains National Park boasts 150+ marked hiking trails for guests to explore. From waterfalls to mountain views, there are Smoky Mountain hiking trails for everyone in this vast area covering parts of Tennessee and North Carolina. For organizational purposes, we have divided up the national park into 8 segments and included the list of trails within each. You can also view the entire map of the Great Smoky Mountains divided into these locations..
Cades Cove | Cataloochee | Clingmans Dome | Cosby | Elkmont | Mt. LeConte | Smokemont | West Carolina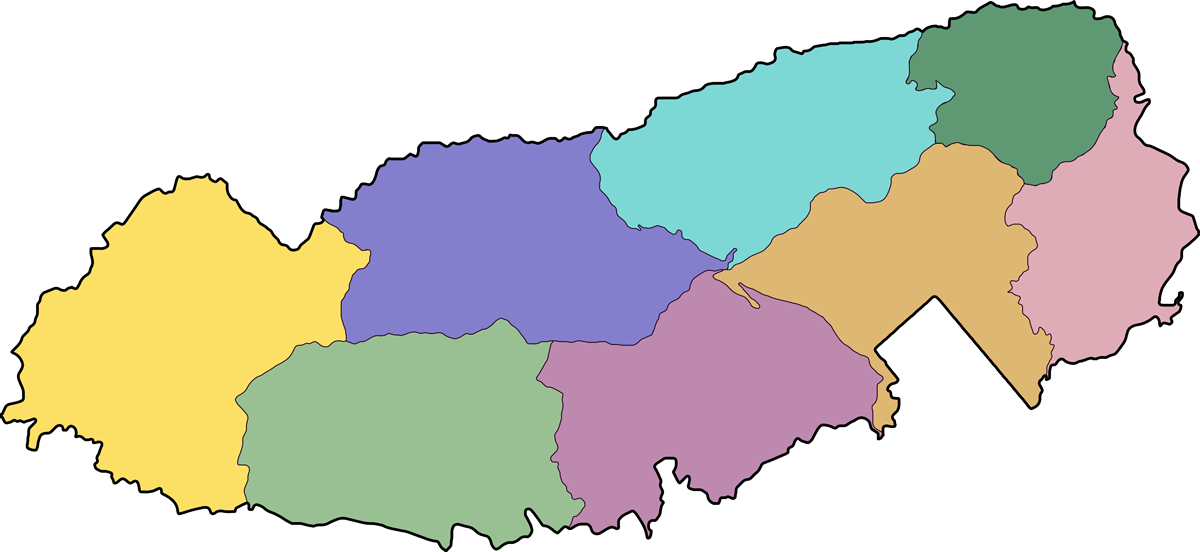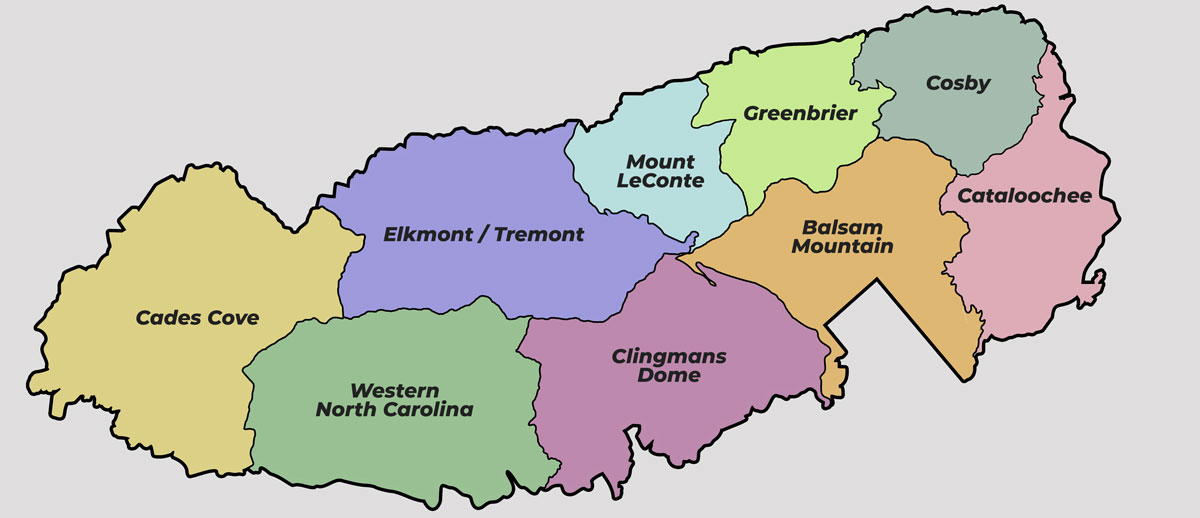 Complete List Of Hikes & Trails (72)
The above list of hiking trails in the Smokies is incomplete and constantly being updated. If you have information or photos you would like to contribute, please contact caroline@pigeonforge.com.
Cades Cove
| Trail Name | Miles | Intersections |
| --- | --- | --- |
| Abrams Falls Tr | 4.2 | Wet Bottom, Rabbit Creek |
| Ace Gap Tr | 5.6 | Beard Cane, Rich Mountain Rd. |
| Anthony Creek Tr | 3.6 | Crib Gap, Russell Field, Bote Mountain |
| Beard Cane Tr | 4.2 | Cooper Road, Hatcher Mountain |
| Bote Mountain Tr | 6.9 | Lead Cove, Finley Cane, West Prong, Anthony Creek, AT |
| Cane Creek Tr | 2.1 | Cooper Road |
| Cooper Road Tr | 2.5 | Hatcher Mountain, Beard Cane, Wet Bottom |
| Crib Gap Tr | 1.8 | Anthony Creek, Turkeypen Ridge, Lead Cove |
| Crooked Arm Ridge Tr | 2.2 | Scott Mountain, Rich Mountain |
| Finley Cane Tr | 2.8 | Turkeypen Ridge, Lead Cove, Bote Mountain |
| Gold Mine Tr | 0.8 | Cane Creek |
| Gregory Bald Tr | 7.3 | AT, Gregory Ridge, Long Hungry Ridge |
| Gregory Ridge Tr | 5.0 | Gregory Bald, Parson Branch Rd. |
| Hannah Mountain Tr | 9.5 | Rabbit Creek, Little Bottoms, Hatcher Mountain, Abrams Falls |
| Hatcher Mountain Tr | 2.6 | Little Bottoms, Abrams Falls, Cooper Rd, Beard Cane |
| Indian Grave Gap Tr | 3.7 | Rich Mountain Loop, Rich Mountain |
| Lead Cove Tr | 1.8 | Bote Mountain, Finley Cane, Crib Gap |
| Little Bottoms Tr | 2.5 | Hatcher Mountain, Bear Cane, Abrams Falls |
| Long Hungry Ridge Tr | 4.5 | Gregory Bald, Twentymile Loop |
| Rabbit Creek Tr | 7.8 | Wet Bottom, Abrams Falls, Hannah Mountain |
| Rich Mountain Loop Tr | 3.3 | Indian Grave Gap, Crooked Arm Ridge |
| Rich Mountain Trail Tr | 2.3 | |
| Russell Field Tr | 3.5 | Anthony Creek, AT |
| Schoolhouse Gap Tr | 2.2 | West Prong, Turkeypen Ridget, Chestnut Top, Scott Mountain |
| Scott Mountain Tr | 3.6 | Crooked Arm Ridge, Indian Grave Gap, Schoolhouse Gap |
| Turkeypen Ridge Tr | 3.6 | Finley Cane, Crib Gap |
| Twentymile Tr | 2.9 | Twentymile Loop, Wolf RIdge, AT, Lost Cove |
| Twentymile Loop Tr | 5.0 | Twentymile, Wolf Ridge, Long Hungry Ridge |
| Wet Bottom Tr | 1.0 | Abrams Falls, Cooper Rd, Rabbit Creek |
Cades Cove Area Map
Cataloochee
| Trail Name | Miles | Intersections |
| --- | --- | --- |
| Big Fork Ridge Tr | 3.2 | Rough Fork, Caldwell Fork |
| Boogerman Tr | 4.1 | Caldwell Fork, Mckee Branch, Big Fork Ridge |
| Caldwell Fork Tr | 6.3 | Boogerman |
| Cataloochee Divide Tr | 6.4 | McKee Branch, Hemphill Bald |
| Hemphill Bald Tr | 8.4 | McKee Branch, Cataloochee Divide, Caldwell Fork |
| Little Cataloochie Tr | 5.2 | Long Bunk, Pretty Hollow Gap, Palmer Creek |
| Long Bunk Tr | 3.6 | Mt Sterling, Little Cataloochee |
| McKee Branch Tr | 2.3 | Cataloochee Divide, Caldwell Fork |
| Mount Sterling Tr | 5.3 | Long Bunk |
| Mount Sterling Ridge Tr | 2.7 | Pretty Hollow Gap, Balsam Mountain |
| Palmer Creek Tr | 3.3 | Pretty Hollow Gap |
| Pretty Hollow Gap Tr | 5.6 | Mt Sterling Ridge, Baxter Creek, Palmer Creek, Little Cataloochee |
| Rough Fork Tr | 6.4 | Big Fork Ridge, Caldwell Fork, Hemphill Bald |
| Spruce Mountain Tr | 1.0 | Heintooga Rd |
Cataloochee Area Map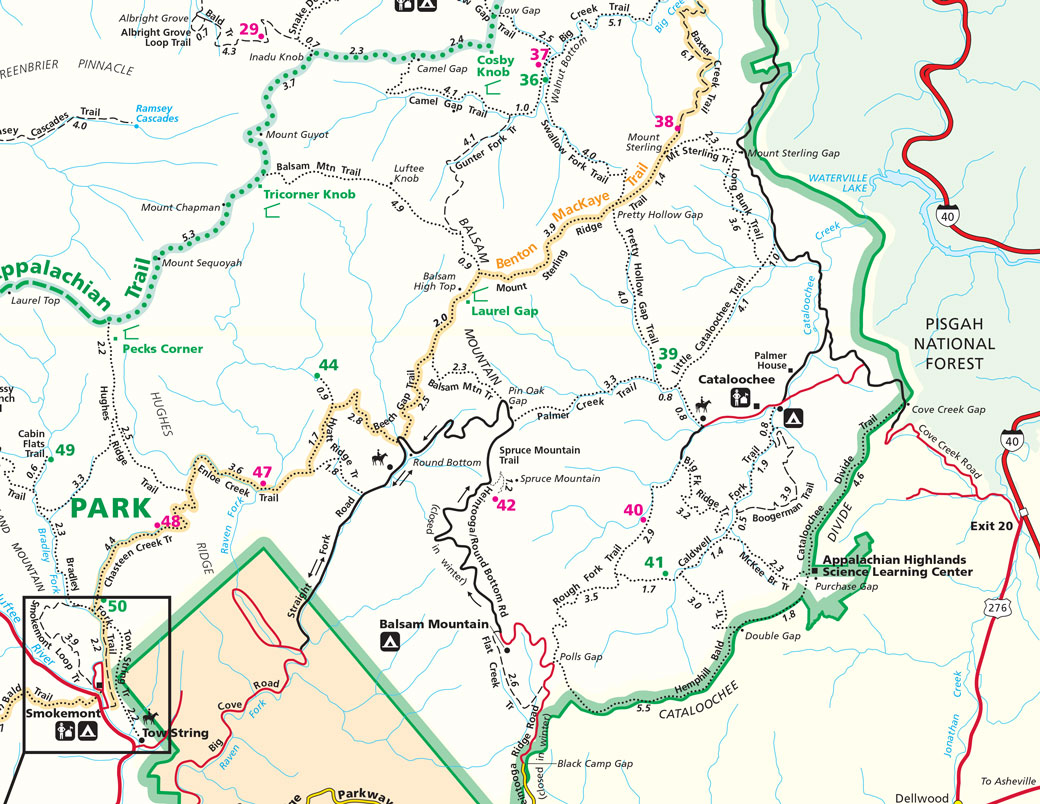 Clingmans Dome
| Trail Name | Miles | Intersections |
| --- | --- | --- |
| Clingmans Dome Tr | 0.5 | AT |
| Clingmans Dome Bypass Tr | 0.5 | AT |
| Cooper Creek Tr | 10.5 | Deeplow Gap, Mingus Creek |
| Deep Creek Tr | 1.7 | Deep Creek Horse, Juney Whank Loop, Indian Creek, Martins Gap, Pole Road Creek, Fork Ridge |
| Deep Creek Horse Trail Tr | 14.2 | Juney Whank Loop, Noland Divide, Deep Creek |
| Deeplow Gap Tr | 6.1 | Thomas Divide |
| Fork Ridge Tr | 5.1 | Deep Creek Tr |
| Forney Creek Tr | 11.4 | Jonas Creek, Forney Ridge |
| Forney Ridge Tr | 5.6 | Springhouse Branch, Clingmans Dome |
| Indian Creek Tr | 1.8 | Stone Pile Gap, Loop, Martins Gap |
| Indian Creek Motor Tr | 3.6 | Deeplow Gap, Thomas Divide |
| Jonas Creek Tr | 4.1 | Welch Ridge, Forney Creek |
| Juney Whank Loop Tr | 0.5 | Deep Creek Horse, Deep Creek |
| Kanati Fork Tr | 2.9 | Newfound Gap Rd, Thomas Divide |
| Loop Tr | 1.2 | Deep Creek, Sunkota Ridge, Indian Creek |
| Martins Gap Tr | 3.0 | Sunkota Ridge, Indian Creek |
| Mingus Creek Tr | 5.8 | Deeplow Gap, Newton Bald |
| Newton Bald Tr | 5.3 | Thomas Divide |
| Noland Creek Tr | 10.3 | Pole Road Creek, Noland Divide, Springhouse Branch |
| Noland Divide Tr | 11.6 | Pole Road Creek, Noland Creek |
| Pole Road Creek Tr | 3.3 | Noland Divide, Noland Creek, Deep Creek |
| Springhouse Branch Tr | 7.1 | Forney Creek, Forney Ridge, Noland Creek |
| Stone Pile Gap Tr | 0.9 | Indian Creek, Thomas Divide |
| Sunkota Ridge Tr | 8.6 | Loop Trail, Thomas Divide, Martins Gap |
| Thomas Divide Tr | 13.6 | Deeplow Gap, Stone Pile Gap, Kanati Fork, Newton Bald |
| Whiteoak Branch Tr | 1.8 | Springhouse Branch |
Clingmans Dome Area Map
Cosby
Cosby Area Map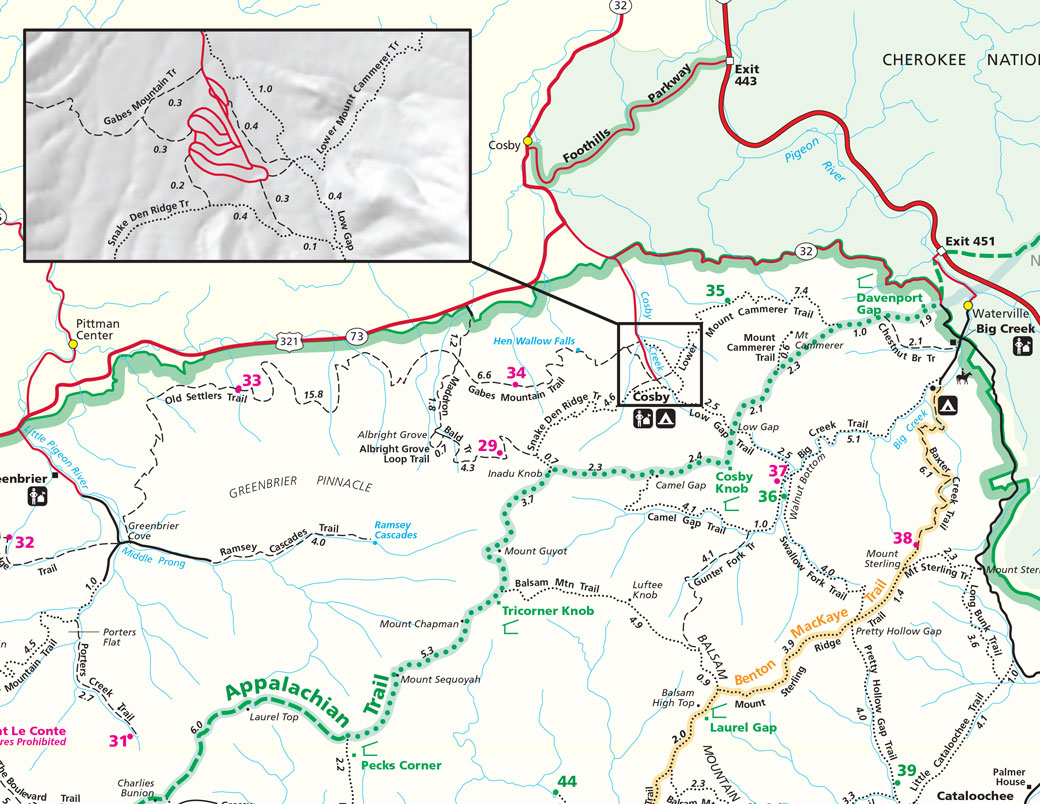 Elkmont
| Trail Name | Miles | Intersections |
| --- | --- | --- |
| Chestnut Top Tr | 4.3 | Schoolhouse Gap |
| Chimney Tops Tr | 1.8 | Road Prong, US 441 |
| Cove Mountain Tr | 8.5 | Sugarlands Visitor Center, Laurel Falls |
| Cucumber Gap Tr | 2.4 | Little River |
| Curry Mountain Tr | 3.3 | Meigs Mountain, Jakes Creek |
| Elkmont Nature Tr | 0.8 | Little River Rd. |
| Goshen Prong Tr | 7.6 | Little River, AT |
| Greenbrier Ridge Tr | 4.2 | Middle Prong, Lynn Camp Prong, AT |
| Huskey Gap Tr | 4.1 | Sugarland Mountain, Newfound Gap Rd |
| Jakes Creek Tr | 3.7 | Panther Creek, Cucumber Gap, Meigs Mountain |
| Little Brier Gap Tr | 1.4 | Little Mt. LeConte, Roundtop, Metcalf Bottoms |
| Little Greenbrier Tr | 4.3 | Little Brier, Laurel Falls |
| Little River Tr | 6.2 | Rough Creek, Huskey Gap, Goshen Prong, Cucumber Gap |
| Lumber Ridge Tr | 4.1 | Meigs Creek, Meigs Mountain |
| Lynn Camp Prong Tr | 3.7 | Miry Ridge, Middle Prong, Mt. LeConte Ridge |
| Meigs Creek Tr | 3.5 | Lumber Ridge, Meigs Mountain |
| Meigs Mountain Tr | 6.1 | Jakes Creek, Lumber Ridge, Meigs Creek |
| Metcalf Bottoms Tr | 0.7 | Little Brier Gap |
| Middle Prong Tr | 4.1 | Panther Creek, Lynn Camp Prong, Mt. LeConte Ridge |
| Miry Ridge Tr | 5.0 | Lynn Camp Prong, Panther Creek, Jakes Creek |
| Panther Creek Tr | 2.3 | Jakes Creek, Middle Prong |
| Road Prong Tr | 2.4 | Chimney Tops, AT |
| Rough Creek Tr | 2.8 | Sugarland Mountain, Little River |
| Roundtop Tr | 7.5 | Little Brier Gap, Little Mt. LeConte |
| West Prong Tr | 2.7 | Bote Mountain |
Elkmont Area Map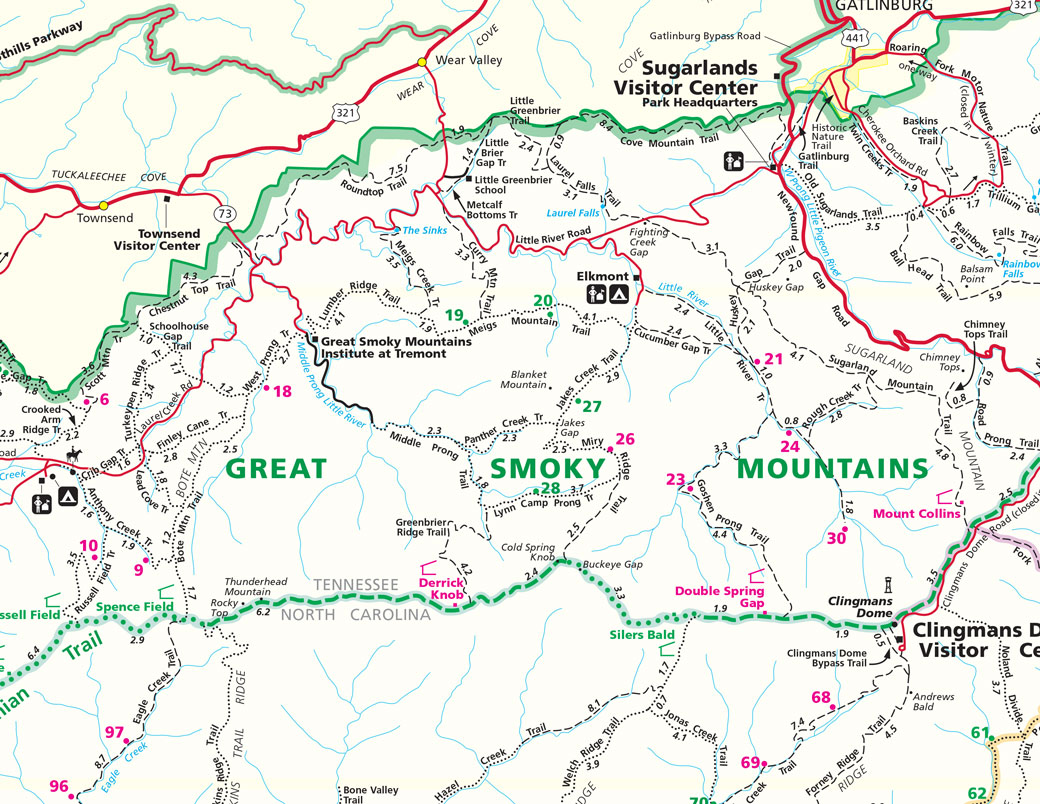 Mt. LeConte
| Trail Name | Miles | Intersections |
| --- | --- | --- |
| Alum Cave Tr | 5.0 | Newfound Gap, Bullhead |
| Baskins Creek Tr | 2.7 | Roaring Fork Motor Nature Trail, Grapeyard Ridge, Trillium Gap |
| Boulevard Tr | 5.4 | Brushy Mountain, AT |
| Brushy Mountain Tr | 4.9 | Trillium Gap, Boulevard, Porters Creek |
| Bullhead Tr | 5.9 | Old Sugarlands, Rainbow Falls |
| Gatlinburg Tr | 1.9 | |
| Grapeyard Ridge Tr | 7.6 | Baskins Creek |
| Laurel Falls Tr | 4.0 | Little Mt. LeConte, Cove Mountain, Sugarland Mountain |
| Maddron Bald Tr | 7.3 | Albright Grove Loop, Snake Den Ridge |
| Old Settlers Tr | 15.8 | Gabes Mountain |
| Old Sugarlands Tr | 3.9 | Bullhead |
| Porters Creek Tr | 3.6 | Brushy Mountain |
| Rainbow Falls Tr | 6.7 | Trillium Gap, Old Sugarlands, Bullhead |
| Ramsey Cascades Tr | 4.0 | |
| Sugarland Mountain Tr | 11.9 | Laurel Falls, Rough Creek, Huskey Gap, AT |
| Trillium Gap Tr | 8.9 | Old Sugarlands, Rainbow Falls, Brushy Mountain |
Mt. LeConte Area Map
Smokemont
| Trail Name | Miles | Intersections |
| --- | --- | --- |
| Beech Gap Tr | 5.3 | Benton MacKaye, Hyatt Ridge |
| Benton MacKaye Connector Trail Tr | 0.8 | |
| Bradley Fork Tr | 7.3 | Dry Sluice Gap, Chasteen Creek, Smokemont Loop, Tow String |
| Cabin Flats Tr | 0.9 | Dry Sluice Gap |
| Chasteen Creek Tr | 4.0 | Bradley Fork, Enloe Creek, Hughes Ridge |
| Dry Sluice Gap Tr | 4.2 | Cabin Flats, Grassy Branch, Hughes Ridge |
| Enloe Creek Tr | 3.6 | Hyatt Ridge, Hughes Ridge, Chasteen Creek |
| Flat Creek Tr | 2.6 | Heintooga Ridge Rd |
| Grassy Branch Tr | 2.5 | Dry Sluice Gap |
| Hughes Ridge Tr | 5.0 | Bradley Fork, Enloe Creek, Chasteen Creek |
| Hyatt Ridge Tr | 4.4 | Benton MacKaye, Beech Gap |
| Kephart Prong Tr | 2.0 | Sweat Heifer Creek, Dry Sluice Gap |
| Oconaluftee River Tr | 1.6 | |
| Smokemont Loop Tr | 3.9 | Bradley Fork, Newton Bald |
| Sweat Heifer Creek Tr | 3.7 | Kephart Prong |
| Tow String Tr | 2.2 | Bradley Fork |
Smokemont Area Map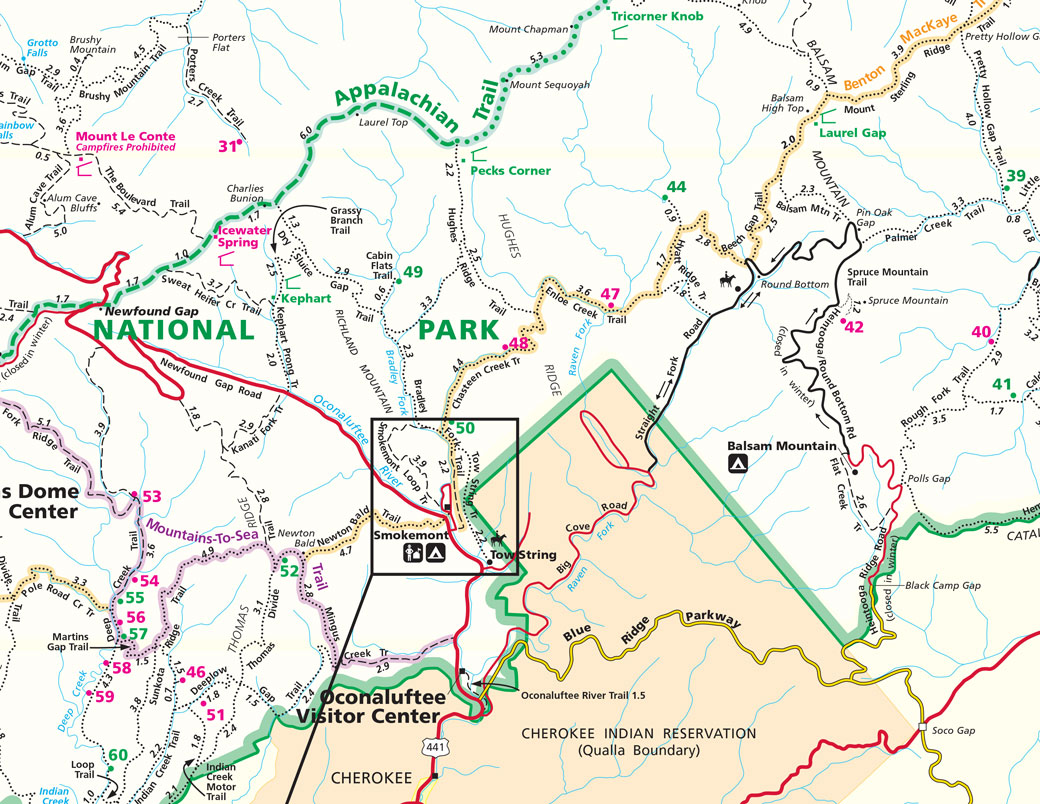 West Carolina
| Trail Name | Miles | Intersections |
| --- | --- | --- |
| Bear Creek Tr | 5.9 | Welch Ridge, Lakeshore, Cold Spring Gap, Forney Creek |
| Bone Valley Tr | 1.8 | Hazel Creek |
| Cold Spring Gap Tr | 3.5 | High Rocks, Bear Creek, Welch Ridge |
| Eagle Creek Tr | 8.9 | Lakeshore, AT |
| Goldmine Loop Tr | 2.0 | Tunnel Bypass, Whiteoak Branch |
| Hazel Creek Tr | 14.7 | Bone Valley, Cold Spring Gap, Jenkins Ridge, Jones Creek, Lakeshore |
| Hazel Creek Trail Access to Fontana Lake Landing Tr | 0.7 | |
| High Rocks Tr | 0.3 | Cold Springs Gap |
| Jenkins Ridge Tr | 8.9 | Hazel Creek, AT |
| Lakeshore Tr | 34.6 | Lost Cove, Eagle Creek, Ollies Cove, Hazel Creek, Bear Creek, Whiteoak Branch, AT |
| Lost Cove Tr | 2.7 | Lakeshore, AT, Twentymile |
| Ollies Cove Tr | 0.3 | Lakeshore |
| Tunnel Bypass Tr | 1.6 | Goldmine Loop |
| Welch Ridge Tr | 7.3 | Bear Creek, Jonas Creek |
West Carolina Area Map