You've tied the knot and now it is time to make the perfect getaway with your sweetheart! What better place to start your life together then on a honeymoon in Gatlinburg, Pigeon Forge and the Smoky Mountains? Start planning your honeymoon today with these ideas on where to stay, what to do and where to eat.
Where To Stay
When planning your lodging for your Pigeon Forge honeymoon, we have one piece of advice: think cozy. There's nothing better than being able to return to a quiet, warm atmosphere after a long day of exploring and adventuring with your sweetheart.
Cabins With Hot Tubs
What could be better than relaxing and spending time with your spouse in a private hot tub in the Smokies during your honeymoon in Gatlinburg? Renting a cabin with a hot tub is a great way to enjoy time outdoors no matter what season your honeymoon is. Soak up the sun in the summer, warm up in the winter and talk for hours with the one you love. Many hot tubs are even placed on the balconies of cabins, so you'll get some amazing mountain views while you relax.
Cabins With Hot Tubs
Cabins With Fireplaces
After a long day of exploring in Pigeon Forge, imagine coming back to your cabin, turning on the fireplace and kicking back on the couch with your husband or wife. Cabin rentals with fireplaces are the perfect place to retire to after a day trekking the National Park or touring the attractions on the parkway. Fireplaces provide cozy atmosphere that you'll want on your honeymoon in the Smoky Mountains.
More Info
Resorts & Spas
If you're looking to be closer to the action in Pigeon Forge or Gatlinburg, a honeymoon at a Pigeon Forge resort may be the way to go. Resorts offer a wider variety of amenities than a traditional hotel. These can include spas on the property, expansive pools and water parks, fire pits, condo-style rooms and more.
More Info
What To Do
You can't go wrong with a honeymoon in Pigeon Forge. There are endless activities to try out. Whether you're looking to work together as a couple or go head to head in a challenge, you'll find plenty to do in the Smoky Mountains.
Get Outdoors
There's nothing quite like the experience of exploring the Great Smoky Mountains National Park and doing it with the one you love makes the experience unforgettable. On your honeymoon in Gatlinburg, carve out some time to get out in nature and enjoy the great outdoors. Some of the most popular ways to see the national park include hiking, biking and taking scenic drives.
More Info
Experience An Adrenaline Rush
Fly into life as newlyweds on a Pigeon Forge zip line adventure! Zip lining is an adrenaline rush that is totally safe and offers incredible views of the mountains. You'll be strapped into a harness and then taken on a tour of the trees as you glide from one platform to another. Trying out a new activity on your honeymoon will make for lasting memories and a fun-filled trip.
More Info
See A Show
Laugh until you cry, work through the details of a crime or watch in awe as performers sing and dance to your favorite songs. Pigeon Forge shows offer a wide variety of entertainment perfect for your honeymoon. Choose a show that intrigues both you and your new spouse then sit back and enjoy the performance. There are even several dinner shows where you can enjoy both the show and an incredible southern meal.
More Info
Explore The Island At Night
The Island is a hub for shopping, dining, games, rides and more in Pigeon Forge. It's a perfect place for newlyweds to explore during the day but it is even more incredible at night. Head out after dark to watch the fountain water show with an incredible array of lights and music. Then, take a ride on the largest observation wheel in Tennessee and see the area from a new angle.
More Info
Get Competitive
A little healthy competition never hurt anybody and it can make for some fun rivalry between you and your loved one! Head to a Pigeon Forge go kart track and get ready to race. Go karting brings out the competitive side to everyone who tries it. Zip around the track side by side in a test to see who really is the better driver!
More Info
Where To Eat
You just got married, now it's time to splurge and treat yourself! Meals are a great time to sit down and reflect with your brand new husband or wife and reflect on your wedding day. These restaurants are must-visits for your trip.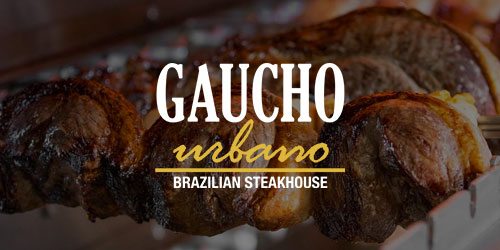 Gaucho Urbano
Get dressed up and ready for a beautiful dinner inspired by Brazilian culture. Start your meal at the gourmet salad bar with fresh veggies, salads, cheeses, meats and more. Then, try out some of the 16 cuts of meat available, each of which is hand carved and served table side. Sides available include rice, beans, farofa, mashed potatoes, beef stew, soups and more. If you still have room at the end of the night, Gaucho Urbano creates eight different desserts to satisfy your sweet tooth.
More Info
Alamo Steakhouse
Enjoy a steak dinner on your honeymoon at the Alamo Steakhouse, which has been recognized for having the best steak in Pigeon Forge for multiple years. Steaks at the Alamo are cooked over an oak fire. Before your main course, enjoy incredible apps like stuffed mushrooms and flame grilled oysters.
More Info
No matter what you choose to do, take time during your honeymoon in Gatlinburg to step back and appreciate the new life you are beginning together. Make lasting memories that you'll look back on and smile about on every anniversary to come.