Smoky Mountain wildflowers are abundant as you hike through the national park. You will find yourself standing within a peaceful alpine meadow peppered with colorful flowers pointing their faces towards the sun, or you might discover a bunch of Tennessee wildflowers blooming out of a fallen tree or scattered along the edges of the path. There are more than 1,600 species of flowering plants in the Smoky Mountains and at any point of the year there is some type of tree or vine blooming.
Creeping Phlox
This pretty purplish-blue flower tends to grow in clusters along roads in the national park and many hiking trails. They bloom in April and May and can be seen on trails like Cucumber Gap and Huskey Gap, as well as many others in the Elkmont area. These flowers can sometimes appear more pinkish-purple than blue as well.
Elkmont
White & Yellow Trillium
Trillium comes in many different varieties in the Great Smoky Mountains, but white trillium (Trillium grandiflorum) is probably the most abundant of all, with yellow following closely behind. In April there are many trails across the park where these gorgeous three leaved flowers completely dominate the flora of the hillsides. You'll find white erect trillium with darker centers and large flowered trillium with yellow centers.
Crested Dwarf Iris
Another purple beauty you might see in the Elkmont area, the crested dwarf iris is widely distributed at lower elevations of the Smokies. You're likely to see it lining the roadsides in April and May. It is one of the more common species of iris - the Tennessee state flower - in the national park. A few good locations to spot these Smoky Mountain wildflowers include Bud Ogle Nature Trail, Porters Creek, and Huskey Gap Trail.
Huskey Gap Trail
Lady's Slipper Orchids
A rare beauty, lady's slipper orchids most frequently appear in yellow and pink in the Smokies. There are several trails where you are bound to spot these elegant flowers; but be aware that orchid poaching is a serious offense. Of course you should never take wildflowers from the national park, but if you snap a photo of an orchid, do not post it with the trail name on social media. It's an easy way to help preserve the species by protecting these wildflowers from poachers.
Lady's-slippers form a symbiotic relationship with a fungus that is crucial for their survival. Poaching, a major problem for lady's-slippers, is made all the more tragic as they rarely survive transplanting. Combined with a low reproduction rate, their future seems bleak.

Campbell, Hutson, and Sharp's Great Smoky Mountains Wildflowers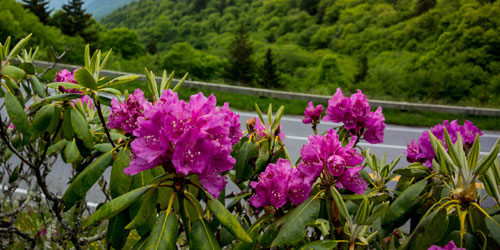 Rhododendrons
If you have been hiking in the Smoky Mountains you have probably spotted some rhododendrons, as these are two of the most prolific Smoky Mountain wildflowers you can find. There are a few variations including the Catawba Rhododendron and the flame azalea. They can grow up to 8-12 feet, sometimes growing as tall as a tree.
Chestnut Top Trail
An early blooming flame azalea on Chestnut Top Trail
Flame Azaleas
Depending on the elevation, these flowers may bloom between the months of April and July. The most common and popular places to find these are Andrews Bald and Gregory Bald during the summer. Botanical explorer William Bartram (1700s) called this flower the most gay and brilliant flowering shrub yet known.
Chestnut Top Trail
Star Chickweed
This pretty Smoky Mountain wildflower looks like a star, with five deeply cleft petals growing on long stalks. It is also known as "Birdseed" because birds find it particularly delicious. This flower can be eaten in salads or boiled in a similar fashion to spinach and it is high in vitamin C and A. According to Smoky Mountain hiking folklore you can use this flower to help you predict the weather – the blossoms will be spread out when the sun is shining to its fullest.
Trailing Arbutus
These dainty pink and white Smoky Mountain wildflowers grow in little clusters on a trailing shrub with woody stems, usually in dense mats hidden below the evergreen leaves and the litter on the forest floor. They have a wonderful scent that perfumes the forest air in late winter and early spring. This flower was almost destroyed in the early 20th century because it was so often picked for it's scent. It is now protected by law in several states.
The Trout Lily
This flower gets its name from the mottled patterns on its leaves, which echo the markings on speckled trout. It is a lovely yellow flower with long and slim petals. It grows as high as 6,000 feet, so when you are hiking in the high altitudes of the Smoky Mountains you might see it. You can also spot it on the Roaring Fork Motor Trail and at Porter's Creek between the months of March and May.
Fire Pink
This Tennessee wildflower has been compared to Dolly Parton because it is bright pink, showy and beautiful. They are charming, a little bit over the top and gaudy and everyone loves them. They bloom from April through June and sometimes into July. You can find them on dry, steep banks in elevations between 1,500 and 2,500 feet. Little River Gorge is a great place to catch a glimpse at these beauties.
These are just a few of the beautiful wildflowers you might spot while hiking in the Smoky Mountains. Which ones have you seen on your expeditions? The Great Smoky Mountains National Park has the highest diversity of plant life of anywhere in North America. Hiking through this alpine paradise gives you the chance to see many beautiful species of plants, some that are quite rare.