Wake up and breathe the crisp mountain air, sip your coffee on the deck Pigeon Forge cabin rental with mountain views and keep an eye on the wilderness – you might just see a deer or even a bear wandering out of the forest.
Encounters with wildlife are commonplace when visiting Great Smoky Mountains National Park and this pristine ecosystem is known for its old growth forests, rugged mountain peaks, mysterious caves and welcoming historic towns. It's no wonder visitors come from all over the USA and the world to lose themselves in this wild and beautiful landscape.
New Parking Pass Program Pays It Forward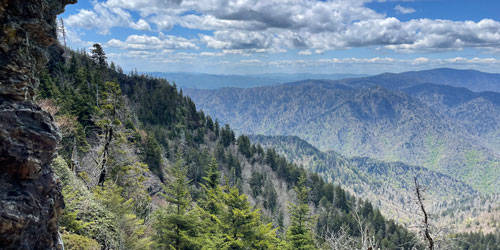 Scenic view from Alum Cave Trail
2023 Parking Passes
The Smoky Mountains are the only national park in the USA that doesn't charge an entry fee; however, as of March 2023, any visitor that stops in the park for more than 15 minutes needs a parking pass displayed in their vehicle. The pass is only $5 for a day or $15 for a week, so the GSMNP remains a great stop for any budget-conscious, nature-loving traveler.
Parking Pass Info
No Entrance Fee
Great Smoky Mountains National Park has had no entrance fee since the 1930s, but what is the story behind this decision? The park land was once privately owned. When the states of North Carolina and Tennessee paid to construct the Newfound Gap Road, they transferred ownership of it to the federal government. As a condition of this transfer, donors of the property stated that no license fee or toll should ever be imposed on people traveling on this road.
Free Activities in the Great Smoky Mountains National Park
Here are just a few of the adventures that you can look forward to when staying in Smoky Mountains National Park:
Cabins near the Great Smoky Mountains National Park
There are plenty of choices for where to stay when you are visiting Great Smoky Mountains National Park, including cabin rentals, campgrounds, hotels, motels and much more.