Spence Field is a grassy bald-like area marking the western end of Thunderhead Mountain in the Cades Cove area of the Great Smoky Mountains National Park. There are a few ways to reach it and make a full day hike out of it. The shortest route starts at Lead Cove Trail (1.8 m) to Bote Mountain Trail (2.9 m) and about a quarter mile on the AT to Spence Field.
Rhododendron tunnel leading to Spence Field
Where Is Spence Field?
In the early 1900s Spence Field marked the center of a 24 mile pasture stretching from Silers to Gregory Bald. Today most of it is overgrown, but the ideal spot for hikers is located on the Appalachian Trail somewhere between the intersections with Eagle Creek/Bote Mountain Trail and Jenkins Ridge Trail. This isn't obvious when you look at the national park's map, and there aren't any signs or markers to indicate that you've made it to the right place.
Why isn't it obvious? Spence Field shelter is located to the west of the Eagle Creek/Bote Mountain intersection with the AT. Three years ago I hiked the 13.2 mile Spence/Russell Field loop and fully expected to find this field around where the shelter was (by taking a right on the AT from Bote Mountain), and had no idea that the field I was looking for was just about a quarter mile in the other direction (left on the AT from Bote Mountain). The most field-like part of Spence Field and the spot with the best views is not where the backcountry shelter is.
Caroline at Spence Field with Rocky Top in the background (Sep 2023)
View to the south from Spence Field (Feb 2023)
Ways To Day Hike To Spence Field: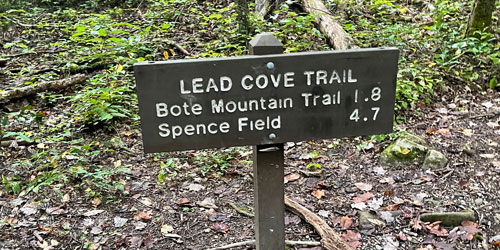 Hike #1 via Lead Cove
(10m R/T) The steep and short Lead Cove Trail is the quickest way to reach Spence Field. You will ascend rapidly (more than 1000 feet) for 1.8 miles through this mixed hardwood forest before taking a right on Bote Mountain Trail for 2.9 more miles. This tough trail will take you straight to the AT. From here, take a left for about 0.25 of a mile to find yourself in Spence Field.
Lead Cove Trail
Hike #2 via Anthony Creek
(11m R/T) If you're anything like me, you might prefer a bit more mileage if it takes some of the steepness out of the hike. I prefer taking the 3.5 mile Anthony Creek Trail because the first couple of miles are far more tolerable than the 12% elevation grade of Lead Cove. This trail intersects with Bote Mountain a little farther up; you'll take a right on it and continue for 1.7 miles before taking a left on the AT.
Anthony Creek Trail
Winter views from Rocky Top (Feb 2023)
Hike #3 to Rocky Top
(12.2-13.2m R/T) I hiked to Rocky Top three times before I realized I was walking straight through Spence Field on the way. Using either of the above routes (Lead Cove is 12.2 miles roundtrip and Anthony Creek is 13.2) to reach Spence Field, you can go about a mile further on the AT to reach Rocky Top. And you might as well! The 500 foot climb is strenuous but worth it to visit this iconic location.
Rocky Top
Fun Fact: This jagged peak of Thunderhead Mountain is said to have been the inspiration for the University Of Tennessee's fight song Rocky Top, written by Felice and Boudleaux Bryant. Go Vols! The views from this mighty mountain span nearly 360 degrees; you can even spot Fontana Lake on a clear day.
Hike #4: Russell Field Loop
(13.7m R/T) About 700 miles ago I hiked the 13.2 mile Spence/Russell Field loop without taking the 0.5 mile field trip east to what's left of Spence Field. Hike up to the AT with one of the above options and take a quick 0.25 trip to the left for the good views, then backtrack on the AT past the intersection with Bote Mountain. Continue for 2.9 miles before reaching Russell Field shelter and heading back down the mountain.
Spence/Russell Field Loop
Russell Field Trail
When is the best time to hike to Spence Field? The best views I've ever had from this location were on a clear February day; less surrounding brush makes it a solid winter hike if you're prepared for the cold. Hiking in the spring and summer is rewarding for different reasons. There's plenty of wildflowers and greenery on all these trails in the warmer months. But if you choose to hike it on a Saturday in the middle of September, you'd best be wearing Tennessee orange and prepared to hear a performance of Rocky Top.
It is also worth noting that all of the above hikes to Spence Field are considered strenuous for the average hiker. No matter which route you take, you're looking at at least 3,000 feet of elevation gain. Bring plenty of water and a good attitude with you to the top!
Caroline's GSM Hike Log