If it's your first time spending the holiday season in the Smoky Mountains, you probably have a lot of questions. The biggest one is probably What can I expect when I visit Pigeon Forge, Tennessee at Christmas? The Christmas season in Tennessee is one of the best times to visit and you will find no shortage of fun things to do, see and explore. Here are some of the things you can expect if you visit Tennessee at Christmas.
Winterfest Lights
Even without snow, the towns of Pigeon Forge and Gatlinburg are full of the Christmas spirit. Winterfest lights line the parkways throughout the season and bring plenty of holiday cheer to locals and visitors.
How To See Winterfest Lights
Winterfest lights are one of the most magical parts of Christmas in Tennessee. Pigeon Forge & Gatlinburg go all out with creative, fun displays to celebrate the holiday season. You can easily drive along the parkway and see all of the lights, but if you want to take a closer look or experience them in a new way, there are plenty of light tours and other ways to see Winterfest lights.
Ways To See Winterfest Lights
Taking Pictures
If you've ever tried to take pictures of Christmas lights, you know it isn't always easy to get a clear shot. While the twinkling lights provide a challenge for amateur photographers and your average tourist with an iPhone, it's not impossible to get a good picture. Check out our tips for photographing light displays for some tricks to help you get good results.
Photo Tips
Light Maps & More Information
Want to plan out your own drive to see the Winterfest lights or learn more about the displays? Our Winterfest lights map is a great place to find more information. In this guide, you'll find a great map with descriptions of each display. The site also features a ton of other information on events and activities happening throughout the winter season.
Winterfest Light Displays
Christmas Events, Decor & More
Your favorite local businesses know how to celebrate the holiday season in Tennessee at Christmas. Throughout November & December, you'll find businesses in Pigeon Forge decked out in festive decor with plenty of fun seasonal events and activities to take part in.
Christmas Shows
Throughout the holiday season, many of your favorite Pigeon Forge shows transform for the holidays. Christmas shows are a great way to celebrate the holiday season. Many of them have Christmas carols and songs to sing along with, while others crack jokes at the family feuds and fun we all have around the holidays. Make sure to book your tickets in advance to catch your favorite shows this Christmas season.
Christmas Shows
Holiday Parades
Early in the month of December, holiday parades take over the streets of Gatlinburg, Townsend and Sevierville. These three towns put on three awesome Christmas parades that visitors and locals love. You'll want to get to town early to set up your chairs so you can get the best view of the parade. You can even make a whole weekend out of it- this year the parades are on December 4, 5 & 6th!
Parade Info
The Polar Express
Celebrate Christmas by living out one of your favorite childhood stories. The Polar Express Train brings the beloved Christmas story to life on board the Great Smoky Mountains Railroad. Ride the train during the holiday season and experience the magic of the season, complete with hot chocolate, a reading of the story, a visit with Santa at the North Pole and more.
The Polar Express
Christmas At Crave Golf Club
Candy Christmas At Crave combines your love for sweet treats and the holiday season for a fun seasonal event. Crave transforms into a candy-themed winter wonderland from November to January, with almost 100 trees, 30,000 lights, 20,000 ornaments and all of the candy decor you know and love. They will even have opportunities for photos with Santa leading up to Christmas.
Crave Christmas
Titanic Christmas Celebration
Christmas at the Titanic Museum is an incredible event. The ship comes alive with the spirit of Christmas and is decorated beautifully with lights, tree, garland and more. The crew is extra cheery around the holiday season and can't wait to welcome you on board. Don't forget= this year reservations are required to board the ship, so be sure to book in advance!
Titanic Christmas
Dollywood's Smoky Mountain Christmas
Dollywood's Smoky Mountain Christmas is one of the most popular seasonal events in Pigeon Forge. For the Christmas season, Dollywood transforms into a winter wonderland with decorations, special light shows, Christmas productions, a 50 foot video motion Christmas tree and more.
Christmas At Dollywood
Santa Sightings
Spot Santa on your trip, tell him all about what's on your Christmas list and grab a photo with Saint Nick to commemorate the visit.
Where To See Santa
Santa makes appearances all around the Smoky Mountains during the holiday season. There's plenty of opportunities to find him and let him know what's on your wish list this Christmas. Santa sightings may look a little different this year with extra precautions in place to slow the spread of COVID-19, but Santa is still making his way around to spread cheer before the holidays.
Find Santa
Christmas Restaurant Guide
Enjoy your favorite holiday foods, delicious desserts & more at local restaurants that are open on Christmas Day.
Christmas Restaurant Guide
The biggest question we get around the holiday season is "Where can I eat on Christmas Day?" Even though it is a holiday, many restaurants in the area still open their doors to visitors and serve a delicious holiday meal. Check out our Christmas restaurant guide to find a list of restaurants in the area that are open on Christmas Day. Remember to pack your patience- there will be wait times and lines at most locations.
Christmas Restaurant Guide
What About The Weather?
Will there be snow? Do I need a big winter coat? What kind of clothes should I pack? Here's what you should expect the weather to be like in the Smoky Mountains around Christmas time.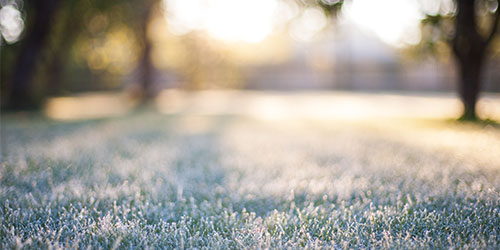 Weather Information
Pigeon Forge experiences average low temperatures in the 20-30 degree range, and average high temperatures in the 40-50 degree range throughout the month of December. There is variation in the temperature from year to year and it is very important to check the weather in the weeks before your stay. You may end up with a warm December trip, or you may want to pack some extra layers. It's best to be prepared for a variety of weather.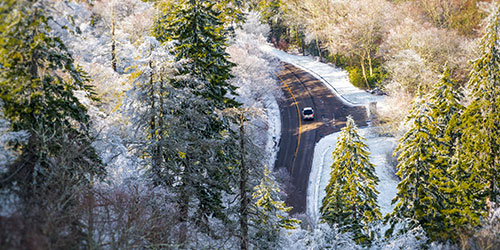 Will It Snow?
This depends on where you are in the Smokies! When you're roaming the streets in Pigeon Forge and Gatlinburg in December, you may get lucky and spot a quick flurry. On average, less than 2 inches of snow falls in December and it very rarely sticks to the ground. If you want to see snow on the ground, your best bet is to head up to higher elevations in the mountains, like Mount LeConte, where it is generally cold enough for snow to stick.
Snow Tubing In Pigeon Forge
It might not snow on your Pigeon Forge vacation, but there's still always snow in town if you look closely. Wondering how that's possible? Check out Pigeon Forge Snow on your Christmas trip to the Smokies. They offer year-round snow tubing and make real snow using special snowmaking technology in a emperature controlled space.
Pigeon Forge Snow
What Should I Wear?
One word: Layers. With temperatures varying, it is important to be prepared with plenty of layers. Bring clothes you can easily take on or off throughout the day, like jackets, flannels and sweatshirts. If you're hiking, boots with good grip are a great idea in case of snow or ice at higher elevations, but around town tennis shoes and other footwear are usually a safe bet.
As you can see, there's plenty happening in Pigeon Forge Tennessee at Christmas. Don't wait! Book your cabin or reserve your hotel room as soon as possible and celebrate Christmas in the Smokies!