If you have been feeling the urge to go on a shopping spree, the ideal opportunity is coming up soon. Tennessee Tax Free Weekend is one of the best shopping holidays of the year. The 2022 tax-free holiday weekend begins at 12:01 a.m. on July 29, 2022 and ends Sunday, July 31 at 11:59 p.m.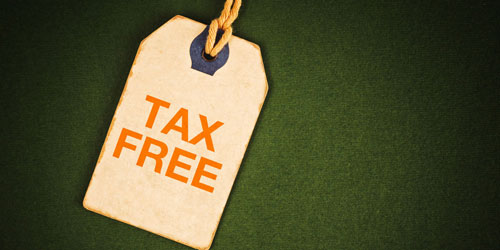 What is Tennessee Tax Free Weekend?
On this special weekend you will be able to stock up on clothes, school supplies, electronics and other items without having to pay sales tax. With the sales tax in Tennessee as high as 9.25%, shopping on this weekend can save you a lot of money. You'll be able to pay no sales tax on clothing under $100 per item, school and art supplies under $100 per item and computers under $1,500 per item.
There is no limit to the quantity of the items that may be purchased, as long as the purchase price of each of those items is below the threshold provided in the law. This is a great opportunity to buy all of your school supplies for the coming year, or to replace your worn out clothes and electronics.
Why Shop in Pigeon Forge?
Pigeon Forge is an excellent shopping destination and a great place to take advantage of the savings on Tax Free Weekend. There is a great selection of shops here where you can stock up on fashions, school supplies, electronics and everything else you might need.
Shopping
Start your shopping adventure at The Shops of Pigeon Forge, where you will find great stores such as Reebok, Eddie Bauer and Burlington Brands. These shops can be easily accessed just off the parkway at lights number 2 and 3. When you need a break from shopping you can sit in the lovely garden patio area and enjoy the peaceful sounds from the fountain. Another great place to shop is Pigeon River Crossings. offering more than 450,000 square feet of stores. Or head over to The Tanger Outlets in Sevierville and shop til you drop!
Tips for Making the Most of Tennessee Tax Free Weekend
Plan your trip in advance. This will be a very busy weekend and so it is important to know where you are going and what you need from each shop – so you can get your items efficiently and not get lost in the crowd.
Look around for coupons for the items you want to buy, so that you can add even more savings. We have coupons that can help you save on attractions, restaurants and lodging in Pigeon Forge.
Do a little bit of research beforehand to see which stores have the best prices on the items you want to buy.
Get to the shops as early as possible. The good deals will be in demand so you will have a better chance of snagging them if you get there right as the shops open.