Looking for places to eat for Thanksgiving in Pigeon Forge? Some of our favorite Pigeon Forge restaurants are opening their doors on Turkey Day, offering locals and visitors alike a chance to celebrate with family and friends without hassle! So why don't you leave the holiday cooking (and mess) to someone else? Here's a quick rundown of restaurants open in Pigeon Forge on Thanksgiving Day 2022.
Places To Eat On Thanksgiving 2022
Mama's Farmhouse
Mama's Farmhouse is known for preparing a delicious Thanksgiving dinner for Pigeon Forge visitors. For 2022 the meal will be served from 11:00 am to 9:00 pm. Adults are $27.99, kids are $12.99, and children under 5 eat for free. Check out their full Thanksgiving menu for more info.
Menu
Mama's Farmhouse
Other dining options within the Johnson Family of Restaurants will be open on Thanksgiving as well. They include all locations of Alamo Steakhouse (open 4:00 - 9:00 pm), Bennett's Pit BBQ (4:00 - 9:00 pm), Big Daddy's Pizzeria (4:00 - 9:00 pm), Maddog's Creamery & Donuts (open 7:00 am - 3:00 pm in Gatlinburg and 4:00 pm - 9:00 pm in Pigeon Forge), and J.O.E. & Pop's Sub Shoppe (4:00 - 9:00 pm).
Downtown Flavortown
Enjoy Thanksgiving brunch this year at Downtown Flavortown at the Mountain Mile. The specialty menu is served from 11:00 am to 7:00 pm at $33.95 per adult and $19.95 for children 9 and under. The special menu features a mason jar caesar salad station, a charcuterie station, plus options for breakfast, seafood, and entrees. Click below to check out some of the options.
Downtown Flavortown
Menu
Dolly Parton's Stampede
Why not spend Thanksgiving at the most fun place to eat in the Smokies? The famous four-course meal at Dolly Parton's Stampede is a delicious way to celebrate with family. Enjoy the original creamy vegetable soup paired with a hot homemade biscuit and a whole rotisserie chicken while you're entertained with this award-winning show.
Dolly Parton's Stampede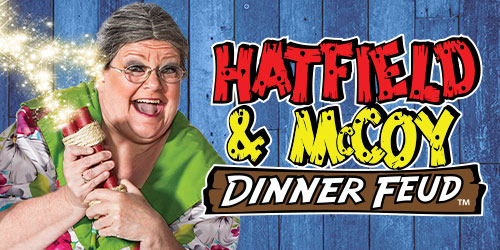 Hatfield & McCoy Dinner Feud
Take part in some feudin' feastin' fun this Thanksgiving at the Hatfield & McCoy Dinner Feud. Granny's country cookin' will never let you down! Enjoy a heap of fried chicken and pulled pork barbecue paired with mashed potatoes, cole slaw, corn on the cob, and of course Granny's special dessert. Come on an empty stomach, because it's all-you-can-eat.
Hatfield & McCoy Dinner Feud
Pirates Voyage Dinner & Show
Join Blackbeard and his quarter master Calico Jack as they lead their crimson and sapphire crews on Thanksgiving day at Pirates Voyage Dinner & Show. The whole family will enjoy this fantastic show while they feast like pirates on a four-course meal including vegetable soup, pan-fried chicken, sugar cured ham, and a peach turnover for dessert.
Pirates Voyage Dinner & Show
Margaritaville
Jimmy Buffett's Margaritaville Restaurant at The Island will be serving a special meal on Thanksgiving Day. The menu includes roasted turkey breast, turkey gravy, traditional bread stuffing, mashed potatoes, honey garlic green beans, cranberry sauce, and pumpkin pie. Pricing is $27.99 for adults and $15.99 for kids under 12. You can call ahead at (865) 210-8530 to reserve your table for Thanksgiving Day.
Shoney's
All Shoney's restaurants in the East Tennessee area will be featuring a Thanksgiving Day Fresh Food Bar on Thursday, Nov 24, 2022 from 11:00 am to closing. Buffet items include slow-roased turkey breast with dressing, baked ham with pineapple topping, country fried steak, seafood, fried chicken, hand-breaded shrimp, mashed potatoes & gravy, green beans, creamed corn, sweet potatoes, peas, carrots, macaroni & cheese, pinto beans, cranberry sauce, and pumpkin pie for dessert.
Restaurants open with special Thanksgiving menus: Applewood Farmhouse, The Old Mill, The Old Mill Pottery House Cafe, Paula Deen's Family Kitchen, Puckett's Restaurant (11:00 am - 4:00 pm), Margaritaville
Other restaurants open on Thanksgiving 2022: Chicken Guy!, Downtown Flavortown, Loco Burro, Johnny Rockets, Puckers, Crawdaddy's, Picnic in the Park Co, Squisito Too
There's still time to plan your Pigeon Forge Thanksgiving getaway! Browse Pigeon Forge hotels, cabins and condos for last-minute lodging options. You'll love ushering in the holiday season here in the Smokies! There's so much to do here this time of year!