The Island in Pigeon Forge is a giant family fun center and entertainment complex beside the LeConte Center. It includes over sixty retail shops, many popular restaurants, live music, rides, games, and a beautiful dancing fountain to set the stage. The Island is open year-round with little variation for business hours during holidays. It was officially opened in the spring of 2014.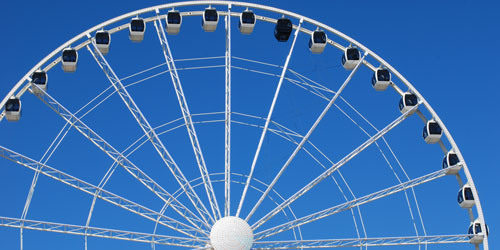 The Wheel
The Island's centerpiece is a massive, 200-foot ferris wheel that promises to deliver some of the most breathtaking views in the Smokies. Dubbed the Great Smoky Mountain Wheel, the attraction features 42 climate-controlled gondolas for year-round rides. All ages can ride the wheel. The 20 minute experience will become even more spectacular at night, with an electrifying LED show with over one million twinkling lights.
The Great Smoky Mountain Wheel is the largest observation wheel in Tennessee. The ride's experience provides visitors panoramic views of the Great Smoky Mountains from each of the observation gondolas which seat up to 8 guests.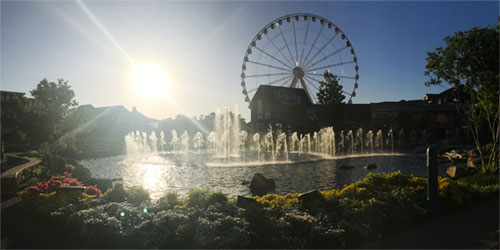 The Fountain
The Island features a state-of-the-art show fountain that performs 14 different choreographed musical presentations. A one of a kind display of water dancing and light, the fountain uses over 89 vertical nozzles to set the show's pace, while six motion-based nozzles swirl gracefully to the beat of the music, and an incredible geyser shoots water 60 feet into the air. You can catch one of the fountain's performances at the top of every hour between 10 am & 11:30 pm Monday through Sunday.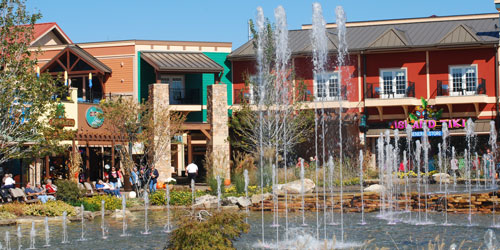 Where Is The Island?
The Island in Pigeon Forge is located at 131 The Island Drive adjacent to the LeConte Center. While there is no admission charge for the 300,000 foot walkable entertainment complex, prices for individual rides within The Island vary.
Where To Park At The Island
The best spot to park if you plan on walking around The Island is in The LeConte Center Parking Lot. From there you can ride on a complimentary tram to the main area during business hours. There is also a parking lot between Timberwood Grill and Paula Deen's Family Kitchen that is available to guests.