The Mountain Mile & Tower Shops is a development in Pigeon Forge with over 1 mile of road frontage. This area is quickly filled with the best shops, restaurants and attractions in the area. Read on to learn all about this new experience in the Smokies.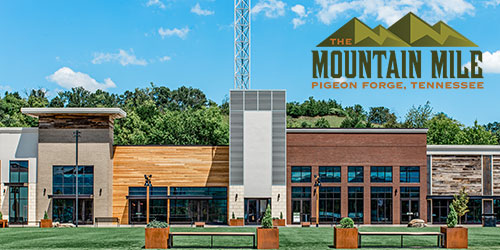 About The Mountain Mile
The Mountain Mile is a 300,000 sq. ft. destination in the Smoky Mountains. The Mountain Mile has attracted some well known brands and stores to open their doors in the new development, as well as plenty of locally owned and operated small businesses. The Mountain Mile is also home to the Mountain Monster, which consists of three separate thrilling rides for adrenaline junkies.
More Info
Where Is It Located?
The Mountain Mile is located at 2655 Teaster Lane in Pigeon Forge. It is within close proximity to popular Smoky Mountain attractions like The Island, Cal Ripken Experience and the LeConte Center. The Mountain Mile's location makes for easy access to downtown Pigeon Forge, Gatlinburg & The Great Smoky Mountains National Park.
Things To Do At The Mountain Mile
The Mountain Mile has much more to do than just shopping & dining. Visitors to the Mountain Mile can take advantage of the large green space and seating areas for picnics, relaxing and gathering with friends. During the winter months, The Mountain Mile has an ice skating rink for additional fun. Warmer months bring outdoor movie nights to the development. There are plenty of fun things to do for everyone at the Mountain Mile.
Restaurants, Shopping & More
The Mountain Mile & Tower Shops is home to a wide variety of shopping and dining experiences. Check out everything that has already opened and learn more about what is coming soon.
Downtown Flavortown
Downtown Flavortown is the Mountain Mile's newest family entertainment center. Not only can you experience Guy Fieri's delicious food, you can avoid gutter balls at their 14-lane bowling alley, play games at the state-of-the-art arcade, and enjoy a drink at the Tiki bar! Downtown Flavortown is the perfect destination for families, friends, or couples.
Downtown Flavortown
Junction 35 Spirits
Junction 35 Spirits is Tennessee's first distillery that offers it's own full service restaurant as well. Junction 35 has a wide variety of premium liquors available for purchase, including Junction 35 Moonshine, Vodka, Rum, Gin & Whiskey, Junction 35 Spirits has a fun, friendly atmosphere that you don't want to miss.
Junction 35 Spirits
The Listening Room Bar & Grill
The Listening Room Bar & Grill is the place to go in Pigeon Forge for an exceptional night of live music, food, and drinks! At The Listening Room, you will experience original music performances with two live shows a night. Patrons can expect an acoustic setting featuring anyone from up-and-coming songwriters to number one hit songwriters.
The Listening Room Bar & Grill
This establishment also showcases local East Tennessee singers, bands, and popular national acts. Guests can walk away knowing they spent an evening dining on good food and listening to even better music.
Azul Cantina
Azul Cantina is coming soon to the Mountain Mile in Pigeon Forge. Azul Cantina will bring a great Mexican Cantina menu, plus a variety of great drinks. The highlight of this new Pigeon Forge restaurant will be the rooftop bar where guests can dine and enjoy great views of Pigeon Forge.
Azul Cantina
Sunnyland Farms
The 4th generation Georgia pecan farm Sunnyland Farms has opened their first ever retail location at The Mountain Mile. Stop by to shop for some delicious fine chocolates, great gifts, and gourmet pecans that will make your mouth water.
Sunnyland Farms
REI
REI brings top-brand gear for outdoor activities to Pigeon Forge. They offer gear and clothing for many outdoor activities including hiking, camping, climbing, paddling and cycling. There is also a full bike shop on site, plus plenty of outdoor rental equipment for you to use on your trip to the Smoky Mountains. If you are planning on taking outdoor excursions while you visit the Smokies but you aren't sure that you have all the right gear, stop by and ask questions, do some shopping and leave prepared for your adventures.
Nike Clearance Store
The Nike Clearance Store has moved locations to the Tower Shops at the Mountain Mile. The new location has all of your favorite clothes and shoes at huge discounts. Stock up on athletic gear on your next trip to Pigeon Forge without breaking the bank. Stop by the clearance store to browse the store and shop all of the best deals on Nike gear.
The Mountain Monster
The Mountain Monster is a trio of rides at The Mountain Mile perfect for thrill seekers and adrenaline junkies.
Monster Fall
The Monster Fall is exactly what it sounds like! Strap into your seat with nothing but a lap belt to hold on to and get ready for a thrilling 200' drop. This thrilling experience is not for the faint of heart, but a blast for those looking to experience an adrenaline rush. Grab your closest friends or your family and take on this challenge together.
Monster Dive
The Monster Dive begins with a ride in a two seat "elevator" that takes you up to the top of the main tower. When you arrive at the top, you'll walk out to the front of the tower and get into the dive cart. The platform below you will open and you will begin to tilt forward until you face the ground. Your cart is then released and you will enjoy a free fall, skydiving-like experience before the restraint catches you and brings you over a water feature.
Monster Launch
The Monster Launch at the Mountain Mile is a completely different experience than the Monster Fall & Monster Dive. Instead of a free-fall feeling, the Monster Launch starts on the ground where you get strapped into the "saddle" and ready to go. Riders are launched 170' straight into the air and experience a negative "G" at the top, with the option to do a flip if you want the extra thrill.
The Mountain Mile & Tower Shops continue to grow and expand. Plan in a trip to shop, dine and experience the fun of this area on your next Smoky Mountain vacation.