The Sinks is a scenic location on the Townsend side of the Great Smoky Mountains National Park. It features heavy cascades that seem to pour into a drain-like basin - thus the name The Sinks. You can access this scenic location via car on Little River Road.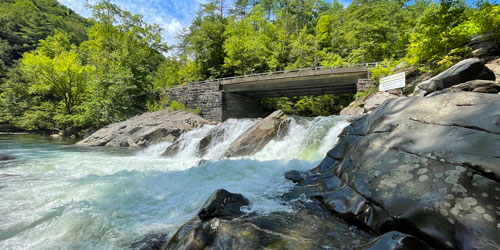 Getting To The Sinks
From the Townsend Wye you will head east toward Gatlinburg on Little River Gorge Road for just over 5 miles before reaching the bridge over The Sinks. There you can turn right into the parking lot. From the Sugarlands Visitors Center just south of Gatlinburg, you will travel west on the same road for approximately 11.7 miles before reaching the cascades.
Map
Swimming At The Sinks
While entering the water around the bridge and near the cascades would be extremely dangerous, there is an access point to the west of the bridge to a calmer portion of water with shallow areas for putting your feet in and a deeper area for swimming. You can also access it by climbing up the steps to Meigs Creek Trail and heading down the hill to the right.
Swimming Holes
Meigs Creek Trail
The Sinks offers a nice summer hike just up the hill behind the jumping rock. Just beyond the parking lot you will find the metal trail sign for the 3.5 mile Meigs Creek Trail. The first mile of the hike is a relatively uneventful up and down, but the remainder of the hike features at least 18 unbridged water crossings. If you need rock hopping practice, this is the trail for you.
Meigs Creek Trail
While there are a handful of amazing waterfalls in the Great Smoky Mountains, this unique location offers a scenic viewpoint that you can reach by car, making it a great option for wheelchair accessibility.