Anakeesta is a can't-miss attraction in Gatlinburg Tennessee. It's a theme park located high above the town in the Great Smoky Mountains. From the park, you'll see incredible views of the area while you enjoy tons of fun activities and adventures. Check out the top 10 things to do while you visit Anakeesta Gatlinburg and start planning your day of fun today.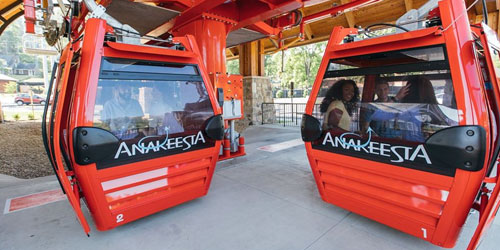 Ride To The Top
There are 3 different ways to get to Anakeesta: The chairlift, chondola or Ridge Rambler. The chairlift is just what you'd expect, an open air chair that glides up the mountain on a cable. Still want the experience but afraid of heights? Chondolas are enclosed cars that travel up the same cable. For visitors who would prefer to stay on the ground, take a Ridge Rambler up the side of the mountain.
Astra Lumina
Experience the magic of Anakeesta at night with this one-of-a-kind immersive celestial experience. Astra Lumina is an enchanted night walk that feels like it brings the stars down to the earth around you. With thousands of coordinated lights, the area becomes completely transformed into a mysterious astral projection.
Astra Lumina
Dueling Zipline
Grab a sibling, spouse or your best friend and soar from tree to tree on Anakeesta's Dueling Zipline Adventure. These side-by-side zip lines let two people glide through the treetops simultaneously. Along the way you'll stop at multiple rappel points and your journey will end with a chondola ride back up to the summit.
More Info
AnaVista Observasion Tower
AnaVista Observation Tower
Downtown Gatlinburg's highest point is the AnaVista observation tower - a 360 degree observation deck. Surrounded by lush botanical gardens with walking trails and play areas, the tower is an 86 step climb that yields some of the best views in Gatlinburg of the surrounding mountains all the way into Kentucky. Descriptive signs help you identify the mountain ranges and peaks.
Smokehouse Restaurant at Anakeesta
Grab A Bite To Eat
In the middle of all the fun you'll be having up at Anakeesta, you'll definitely get hungry. Have some pizza at Kephart Cafe for lunch and then try out the Cliff Top or Smokehouse restaurant for dinner. Be sure to save room for dessert too. Pearl's Pie in the Sky serves up homemade fried pies, hand dipped ice cream, cones, milkshakes, sundaes and more. Satisfy your sweet tooth then get back outside for some more adventure.
Canopy Treetop Skywalk
Anakeesta is home to North America's longest tree-based bridge. Explore over 800 feet of sky bridges suspended in the air. As you walk, try to spot nature and wildlife and take pictures along the way. Depending on the season, you may be able to see bears, woodpeckers, wildflowers and more. The Skywalk is also an incredible way to see fall colors.
Treetop Skywalk
Ride The Rail Runner
The Rail Runner Mountain Coaster is a single-rail ride that will take you on 1,600 feet of downhill twists and turns before taking you back up to the top of the mountain. Riders control their own speed, so make it fast and furious or take it slow and enjoy the views. On this coaster, you'll hit speeds of up to 25 mph and experience the thrill of a lifetime.
Mine For Stones & Fossils
Gem mining at Anakeesta is fun for the whole family. Get hands-on at this interactive activity, where a waterfall and sluice provide the perfect environment for kids to pan for special treasures. Watch with excitement as your whole family discovers new gemstones and fossils in their pans. See who can find the biggest gemstone or fossil on your next trip.
Enjoy A Peaceful Walk
Anakeesta has created a tribute to remember the Gatlinburg fires of 2016 that damaged over 15,000 acres of the Smoky Mountains. The south side of Anakeesta was damaged and is now the site for a beautiful forest memorial. Take a stroll through the Memorial Forest Walk and which recognizes the men and women who helped fight the fires in addition to the many people affected.
Shop Til You Drop
Anakeesta may be best known for it's fun attractions, but you'll also find some incredible shopping up at the summit. Find unique souvenirs to take home with you to commemorate a great trip to the Smoky Mountains, including jewelry, mugs, wind chimes, apparel and more. You can also give back by purchasing specific products like MudLove jewelry, where every product purchased provides one week of clean water to someone in need.
Take a minute to enjoy the mountains in peace. Throughout Anakeesta you will find areas perfect for relaxation. Sit in a rocking chair near the fire pit and talk about your day with old friends and new. Kick back and relax in an adirondack chair and take in some stunning mountain views. The options are endless and the views are unforgettable.
Visit Anakeesta on your next vacation to the Smoky Mountains for endless adventures and thrills. As a bonus, they often have special events, live music and even more fun happening at various times in the year. Check out their website and event schedule for more information.