No matter whether you're piling into the car for a Smoky Mountain vacation or just trekking to Grandma's house for a mini-reunion, chances are you'll be traveling with kids at some point this year. The biggest challenge facing many of today's traveling families is often finding creative ways to keep your little ones entertained in the car for hours on end. Jessica Doppelt knows that many of the folks visiting family-friendly Pigeon Forge, TN, travel to her Smoky Mountain city by car. In fact, that's one of the area's biggest draws.
Traveling With Kids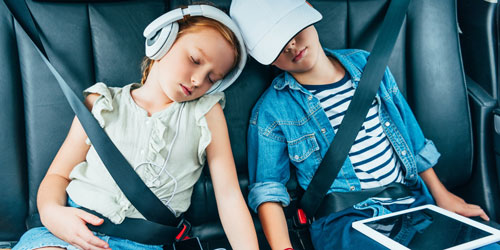 Leave At Night
Pigeon Forge is located within an eight-hour drive of more than two-thirds of the country, making it one of the most accessible destinations in the country. It might sound counterintuitive to pack up the car with pajama-clad children, but planning your next road trip around their sleep schedule can help ensure smooth sailing when you're traveling with kids. Your little ones will likely sleep away their hours in the car if your departure time syncs up with bed time.
Share Driving & Social-Directing Tasks
Even though there's only one steering wheel, a road trip with kids can be a two-adult job. When your partner takes the wheel, you should take over as social director to make sure kids are entertained and happy. If possible, consider even letting an older child ride shotgun for a while to spend time with a cranky toddler in the back seat.
One of the things I love most about Pigeon Forge is that it's so easy to get here. I love meeting folks who are visiting from across the south, midwest and even the northeast. No matter where you're from, you are sure to find something you'll love about visiting Pigeon Forge.

Jessica Doppelt
Bring Car Friendly Snacks
Kids can get cantankerous when they're running on an empty tummies. Always pack a small cooler or lunch box with healthy snacks to keep the family happy when traveling. It's best to shy away from snacks like fresh fruit and yogurt (too messy to be eaten in the car). Instead, opt for treats that travel well like string cheese, pre-cut apple slices, bananas, granola bars, raisins and dry Cheerios.
Go On A Literary Adventure
Instead of listening to Raffi on repeat, consider picking up a few kid-friendly audiobooks at your local public library before heading out on the road. Audiobooks are a great way to entertain older kids in the car. From fun fantasy tales like the Harry Potter series or A Wrinkle in Time, to adventurous tales like Gary Paulsen's Hatchet, popping in an audiobook for your next journey can make time fly by while you're on the road. And, it's important to know that many libraries also offer downloadable MP3 audiobooks in addition to books on CD.
Pack Interactive Toys
Audiobooks aren't the only way to turn a road trip into a learning adventure. Consider packing fun, interactive toys to make the time on the highway pass by with ease when you're traveling with kids. Toddlers and little ones can build hand-eye coordination and fine motor skills by playing with lacing toys; older kids might enjoy stretching their vocabularies with a few rounds of Mad Libs. Be creative and make it fun!
Get The Kids Involved
Encourage the kids to get involved with the planning and packing process. Let each child pack a bag for the road containing the toys and games they will enjoy most while traveling. Whether you have a budding artist who packs colored pencils and a sketchpad, or a social butterfly who travels with a tablet for social media connectivity, they'll be best occupied when they get to choose their own activities.
Prepare To Rest Well
Sleeping in a new place can be stressful for both children and adults alike. Before you arrive at your destination, show your children the hotel, condo or cabin they'll be staying at in Pigeon Forge. Pull up a picture of the room and talk about all the amenities they can enjoy during their stay. This prep work can help your family feel more comfortable in your vacation digs, which will lead to better rest and no tired, cranky children.
Keep A Travel Journal
Family vacations are all about making memories together, and traveling with kids is a great opportunity to get creative with it. Start the process on the journey there by documenting the trip with your child. Younger children can dictate their version of the tale to adults; older children will enjoy writing their own story. Let them illustrate the scenes they see passing by their windows to help make the memories last!
Prepare For Altitude Change
Children can be more sensitive than adults to changes in atmospheric pressure. You'll experience a shift in elevation as you get closer to the Great Smoky Mountains, and this change can cause your ears to pop just like what happens when airplane takes off. Turn it into a science lesson for older kids by explaining pressure changes, then reward them for enduring the lesson with bubble gum or a Tootsie Pop to help relieve the discomfort that might be experience in their inner ears.
Don't Be Afraid To Take Breaks
Young children, especially toddlers, need to be constantly engaged to remain entertained. One way you can keep them occupied in the car is by taking occasional breaks on the road. Consider stopping at rest areas around the highway to let them stretch their legs and breathe fresh air. Or, make the most of your journey and investigate a few of the road side attractions you'll pass along the way. After all, haven't you always wanted to "See Rock City"?
Do you have any tips for hassle-free family travel? Get involved with the discussion at the PigeonForge.com Facebook page!