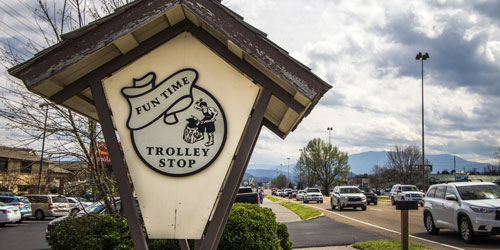 Pigeon Forge Trolley
Since 1986, The Pigeon Forge Trolley has provided a safe, affordable, and convenient form of transportation for all visitors and residents alike. With a fleet of more than 30 trolley buses, the trolley stops all throughout Pigeon Forge as well as a portion of Sevierville. Through the summer, the trolley operates from 8:30 AM – midnight, and in November and December from 10:00 AM – 10:00 PM.
Easy & Affordable
Visitors can leave their vehicle parked at the office at 186 Old Mill Avenue (just beside Patriot Park) and relax on the trolley as they enjoy all the sites and destinations like Tanger Outlets, Dixie Stampede, the Historic Old Mill, and even Dollywood! All it takes is $2.50 for a wristband that allows you to ride all day and get off at any of the stops as many times as you like. You can get your wristband at the Fun Time Trolley Office. When looking for a stop, just find a Fun Time Trolley shelter or a Trolley Bear sign at over a hundred locations.
If you just need a quick ride from one place to another, you can pay a small individual fare; it's only 50 cents for North Parkway, South Parkway, Wears Valley, as well as both Dollywood and Dolly's Splash Country, and it's 75 cents for the Gatlinburg Welcome Center.
Accessibility
The Pigeon Forge Trolley is also handicap accessible. All Fun Time Trolley busses are lift-equipped to accomodate wheelchairs, motorized scooters and other mobility aids. Passengers who cannot get to a designated trolley stop have the ability to schedule a next-day pickup by a paratransit van, which will take you directly to your destination for $1 per person. For more information and to reserve, call 865-453-6444
You can find a trolley running frequently at all of the following routes:
North Parkway: every 20 minutes
South Parkway: every 25 minutes
Wears Valley: every 40-45 minutes
Dollywood: every 15-20 minutes
Dolly's Splash Country: every 15-20 minutes
Gatlinburg Welcome Center: every 25-30 minutes
Fares:
North Parkway: 50¢
South Parkway: 50¢
Gatlinburg Welcome Center: 75¢
Dollywood: 50¢
Dolly's Splash Country: 50¢
Wears Valley: 50¢
All Day Pass Wristband: $2.50
Show Trolley Route