Since 1986, Pigeon Forge's Fun Time Trolley has provided a safe, affordable, and convenient form of transportation for all visitors and residents alike. With a fleet of more than 30 trolley buses, the trolley stops all throughout Pigeon Forge as well as a portion of Sevierville. Through the summer, the trolley operates from 8:00 AM – midnight, and November through March from 10:00 AM – 10:00 PM. Please check the Pigeon Forge Trolley website and the Gatlinburg Trolley website for the most up to date information for your trip.
Easy & Affordable
Visitors can leave their vehicle parked for free at the office at 186 Old Mill Avenue (just beside Patriot Park) and relax on the trolley as they enjoy all the sites and destinations like Tanger Outlets, Dolly Parton's Stampede, the Historic Old Mill, and even Dollywood! All it takes is $3 for a wristband that allows you to ride all day and get off at any of the stops as many times as you like. When looking for a stop, just find a Fun Time Trolley shelter or a Trolley Bear sign at over a hundred locations.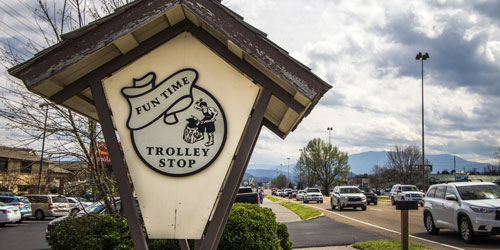 Pigeon Forge Trolley Stops
Look for the Fun Time Trolley stops all over Pigeon Forge. All trolleys depart from and return to Patriot Park at 186 Old Mill Ave. You can find a trolley running frequently on Main Street, in Wears Valley, to Dollywood & Dollywood's Splash Country, and to the Gatlinburg Welcome Center. Fares range from $1.00 - $3.00, and children under 3 ride for free. See below for a route breakdown.
---
Pigeon Forge Trolley Routes & Fares
Pigeon Forge Trolley Routes & Fares
Route
Fare
Frequency
North Parkway
$1.00
every 20 minutes
The North Parkway trolley travels north on the Parkway, through Pigeon Forge, continuing to the Governor's Crossing/Walmart area of Sevierville.
South Parkway
$1.00
every 25 minutes
The South Parkway trolley travels east to Teaster Lane, then north to Jake Thomas Road, stopping at LeConte Event Center. Continuing south on the Parkway, the trolley turns on Pine Mountain Road to MainStay Suites. Back on the Parkway, the trolley continues south to the city limits, serving area campgrounds & Dolly Parton's Stampede.
Gatlinburg Welcome Center
$1.00
every 30 minutes
Gatlinburg Welcome Center trolley suspended until June 1, 2023. This trolley travels nonstop to and from the Gatlinburg Welcome Center, located on the spur just outside of the city limits. Hours of operation are subject to the schedule of Gatlinburg's city trolleys.
Dollywood
$2.50
every 20 minutes
Dollywood's Splash Country
$2.50
every 20 minutes
The Dollywood Trolley travels continuously to and from Dollywood, running 30 minutes prior to the park opening. After the park closes, the trolley transports guests until everyone has returned to Patriot Park.
Wears Valley
$1.00
every 40-45 minutes
Traveling north on Teaster Lane, this trolley passes by the Pigeon River Crossing/Riverview Mall area to traffic light #2. The ride continues to Community Center Drive and Sand Pike Boulevard, then proceeds to Wears Valley Road, servicing area campgrounds and other businesses west of the city.
All arrival times are approximate and may be delayed considerably during high traffic times, including car shows, parades, holidays, and other special events.
---
Handicap Accessibility
Many visitors ask, is the Pigeon Forge trolley wheelchair accessible? Most of the Fun Time Trolley cars are equipped with a wheelchair lift. The trolley drivers will even take special care to drop wheelchair passengers off at a flat area of the Gatlinburg Welcome Center parking lot, where you can transfer betwen the Gatlinburg & Pigeon Forge trolleys easily. Read on for more information about the Gatlinburg trolley.
The Pigeon Forge Drivers and the Gatlinburg Drivers will communicate with each other to ensure the wheelchair passenger is picked up. All of the drivers were so kind.

TripAdvisor Review
Gatlinburg Trolley
There are no fares or fees to ride the Gatlinburg trolleys. Gatlinburg's simple mass transit system is the most hassle-free way to see the sights of the Gatlinburg parkway without the headaches of stop and go traffic or sore feet from hoofing it. Typically there is a period during the summer months where you can ride the Gatlinburg trolley for free.
You can board the Gatlinburg trolley at more than 100 locations throughout the city. Just look for the street trolley signs and check the routes posted on the side of the trolleys. All Gatlinburg trolleys are handicap accessible, with complimentary paratransit services available if found eligible. You can use the city's interactive trolley locator.
---
Gatlinburg Trolley Routes & Fares
Gatlinburg Trolley Routes & Fares
Route
Frequency
Blue / East Parkway & Community Center
every 45 minutes
East Parkway, Community Center, Rocky Top Sports World, Library, Ripley's Aquarium of the Smokies, Convention Center
Purple / North Parkway & Spur Welcome Center
every 30 minutes
North Parkway, Spur Welcome Center, Park and Ride, Ripley's Aquarium of the Smokies, Convention Center
Yellow / Arts & Crafts
every 60 minutes
Runs daily from April through October; Monday through Saturday only in November and December. Departs from Ripley's Aquarium of the Smokies to the Great Smoky Arts & Crafts Community.
---