When it comes to getting around in the Smokies, there are plenty of vehicle rentals to choose from. You can rent a side by side RZR from American UTV Rentals or other ATV options from Ridge Riders Adventure Rentals. Cruise the parkway in a Jeep Wrangler from Smoky Mountain Jeep Rentals. Check out some of the options below.
Smoky Mountain Jeep Rentals
1725 Waldens Creek Road Ste. 102, Pigeon Forge, TN 37862
Your adventure starts at Smoky Mountain Jeep Rentals! We have the newest, most equipped rental Jeeps in the Smoky Mountains. Use our trademarked map and take your next adventure through Cades Cove, Rich Mountain, Cataloochie, the Foothills Parkway and much more! Park the family s... [Business Info]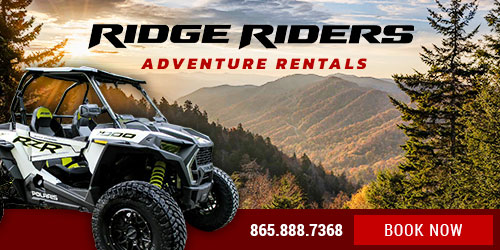 Ridge Riders Adventure Rentals
117 Golf Dr, Pigeon Forge, TN 37863
Located in the heart of the Smokies in Pigeon Forge, Ridge Riders is a family owned and operated local business offering visitors rental of UTVs, golf carts, bikes and other recreational vehicles. At Ridge Riders, we believe in two things – safety and quality. With quality b... [Business Info]
American UTV Rentals
3120 Parkway, Pigeon Forge, TN 37863
There is nothing more frustrating than getting stuck in loud traffic when you would rather enjoy the spectacular scenery that made this area the beloved destination that it is today. With the adventurous, lively, and powerful elements of UTVs, enjoy tranquil routes with the fresh... [Business Info]
Types Of Rental Vehicles
What type of vehicle rental are you looking for? Do you need something practical with plenty of seating for the family, or are you looking to cruise with the top down in style? Jeep rentals are a better option if you need the space, while you might prefer a side by side rental to cruise around in the national park or on the parkway during a nice day.
ATV Rentals
ATV: Sometimes called four-wheelers or quads, ATVs are all terrain vehicles designed to withstand off road conditions. They traditionally have motorcycle-like controls with handlebars and saddle-like seats.
Side By Side: Typically referred to as a UTV (utility task vehicle), side by sides operate more similarly to a golf cart. They have pedals and steering wheels like standard road vehicles. Seats are either bench-like or similar to the ones in your car. The term side by side refers to the traditional two seater UTV.
Jeep: Jeep rentals come in various shapes and sizes. Most vehicle rentals include four seats with an detachable roof, so you can adjust the type of ride you want according to the weather.