Smoky Mountain weddings are made beautifully no matter what you're dreaming of! Choose weddings from log chapels or a private ceremony in your own cabin. You can marry in an elegant Victorian chapel or celebrate your day with picturesque mountaintop views. Our info about getting your Tennessee Marriage License can help your Smoky Mountain wedding plans get started.
RiverStone Resort
212 Dollywood Lane, Pigeon Forge, TN 37863
Riverstone Resort and Spa is a breathtaking wedding venue in Pigeon Forge, Tennessee! The resort offers stunning views, luxurious accommodations, and top-notch amenities to make your day unforgettable. Plus, the serene surroundings will create a beautiful backdrop for your ceremo... [Business Info]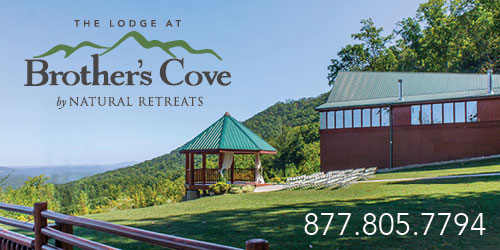 The Lodge at Brothers Cove
2930 Brothers Way, Sevierville, TN 37862
Located in Pigeon Forge, TN, The Lodge at Brother's Cove is the perfect place to say, "I do" in the Smoky Mountains. Set against stunning mountain panoramas, The Lodge is a premier wedding venue situated on the 450-acre Brother's Cove Resort. Its location is ideal for bot... [Business Info]
Moose Hollow Lodge
2610 Waldens Creek Road, Sevierville, TN 37862
Moose Hollow Lodge offers the finest Smoky Mountain Lodge large group cabin rentals in Tennessee. Bring all of your guests to Moose Hollow Lodge for your cabin wedding, family reunion, or church retreat. Located just minutes from local dining and attractions in Pigeon Forge, Gatl... [Business Info]
Wedding Venues
Ready to get hitched in the Great Smoky Mountains? There are countless wonderful wedding venues in Gatlinburg and Pigeon Forge. Whether you're looking for a cozy space or big event hall, you'll find the perfect wedding venue in this area. Getting married is always a magical experience, but tying the knot at one of the most popular places to get married in the Smokies is truly spectacular.
Wedding Venues
Outdoor Weddings
If you are planning an outdoor wedding, keep in mind that the weather in the Smoky Mountains can be unpredictable. Make sure that you have arranged for a back-up plan if the weather turns bad on your wedding day. Also, have more than one location planned for your wedding photos in case of weather – or be willing to reschedule them for another day.
Outdoor Weddings
GSMNP Weddings
There are many pre-approved locations within the Great Smoky Mountains where you can hold your wedding, including historic churches, mountain rivers, streams and waterfalls. The rules of the National Park mean that you can only have two weddings per day in any of these locations. In order to have the most options, you should make your wedding plans as early as possible.
GSMNP Weddings
Permits & Licenses
Of course, in order to have your wedding in the National Park you must have a permit. You must also obtain a Tennessee Marriage License, which you can obtain at the offices of the county clerk in Pigeon Forge, Sevierville and Gatlinburg.
Marriage Licenses
Best Time Of Year
The best time of year for a wedding in the Smokies is the fall. The temperatures are not too hot, the weather is mostly pleasant and the leaves are changing to dazzling hues of red, yellow and gold. What a fantastic setting to celebrate your commitment and love for that special someone in your life.
Fall Guide
Smoky Mountain Honeymoons
You could combine your wedding with your honeymoon and spend a week in a gorgeous secluded mountain lodge, enjoying each other's company and the beautiful stillness of the wilderness. It's affordable. From the marriage license to the venues, the prices here are reasonable so that your wedding doesn't have to break the bank.
Honeymoon Guide
Our wedding section is meant to inform and help you through every step. Discover the best places to propose and find practical solutions for outdoor gatherings. You can even book your honeymoon! If it all seems too overwhelming, take a deep breath, and just go through our wedding checklist to help pacify the process. Smoky Mountain go hand in hand, and PigeonForge.com can help you plan the best day with a lifetime of memories!