Get
married
in the beauty of the
Great Smoky Mountains National Park
! Purchase a special use permit from the park and follow their guidelines for getting started on your weddings. The applications must be received by the park no less than 14 days before the event. You can find the application documents below.
Special Use Permit
All park uses that fall under the catergory of
special events
are required to have a
special permit
. These uses include wedding ceremonies, wedding receptions and wedding photography. Permit requests take between two and four weeks and require a fee. Read below for more information on what you'll need to fill out the special use permit.
The following information is needed to complete the special use permit: name of bride and groom, date and time of wedding ceremony, number of people attending, name of responsible party, preferred location within the park, name of the person performing the ceremony and contact information.
Tennessee Marriage License
If you are a Tennessee Resident, you will now pay $97.50 for a marriage license. You may attend a 4 (four) hour premarital preparation course and present us the certificate of completion to waive the $60.00 fee accessed for not taking this course.
Marriage License
All Non-Tennessee Residents getting married in Sevier County will pay $37.50. We have been fortunate to be categorized in a tourism zone that allows us to offer this special lowered rate. If either you or your spouse has a Tennessee Drivers License you will be charged $7.50.
Wedding Vendor Approval
If you're using a wedding planner, he or she needs to be authorized to conduct business in the park. Additionally, your caterer, photographer, wedding officiant, limo driver and any other paid service provider needs to obtain approval, too.
More Info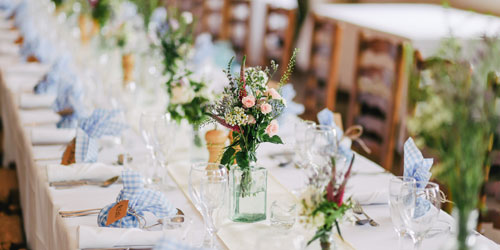 Know Before You Go
When you're planning a wedding in the Great Smoky Mountain National Park, it's important to be aware of a few things. One important thing to keep in mind is that your wedding is taking place on public land — that means anyone can attend, even without an invite. You cannot exclude other park visitors from the site during your wedding, reception or photos.
Know an estimate of how many guests will be attending your wedding before getting in touch with the National Park Service.
---
Popular Wedding Locations in the National Park
---
Other Weddings in the National Park
Foothills Parkway West Overlook #1
Foothills Parkway West Overlook #2
Foothills Parkway West Overlook #3
Foothills Parkway West Overlook #4
Foothills Parkway West Overlook #4.5
Foothills Parkway West Overlook #5
Foothills Parkway West Overlook #6
Foothills Parkway West Overlook #7
Foothills Parkway West Overlook #8
Foothills Parkway West Overlook #9
Foothills Parkway West Overlook #10
Foothills Parkway West Overlook #11
Foothills Parkway West Overlook #12
Foothills Parkway West Overlook #13
Foothills Parkway West Overlook #14
Cades Cove Methodist Church
Primitive Baptist Church
Missionary Baptist Church
Cades Cove LeQuire Cemetary Overlook
Metcalf Bottoms Picnic Pavilion
Metcalf Bottoms Picnic Area
Millsap
Maloney Point
Cataract Falls
Gatlinburg Overlook Parking Area #1
Gatlinburg Overlook Parking Area #2
Gatlinburg Bypass Park Entrance Sign
Twin Creeks Picnic Pavilion
Chimneys Picnic Area
Greenbrier #1
Greenbrier #2
Greenbrier Picnic Pavilion
Cosby Picnic Pavilion
Foothills Parkway East Overlook #1
Foothills Parkway East Overlook #2
Foothills Parkway East Overlook #3
Foothills Parkway East Overlook #4
Oconaluftee Overlook
Newfound Gap Parking Area
Lakeview Drive
Deep Creek Picnic Pavilion
Collins Creek Picnic Pavilion
Rock Wall Curve
Smokemont Church
Mingus Mill
Heintooga Overlook
Palmer Chapel
More NPS Wedding Information